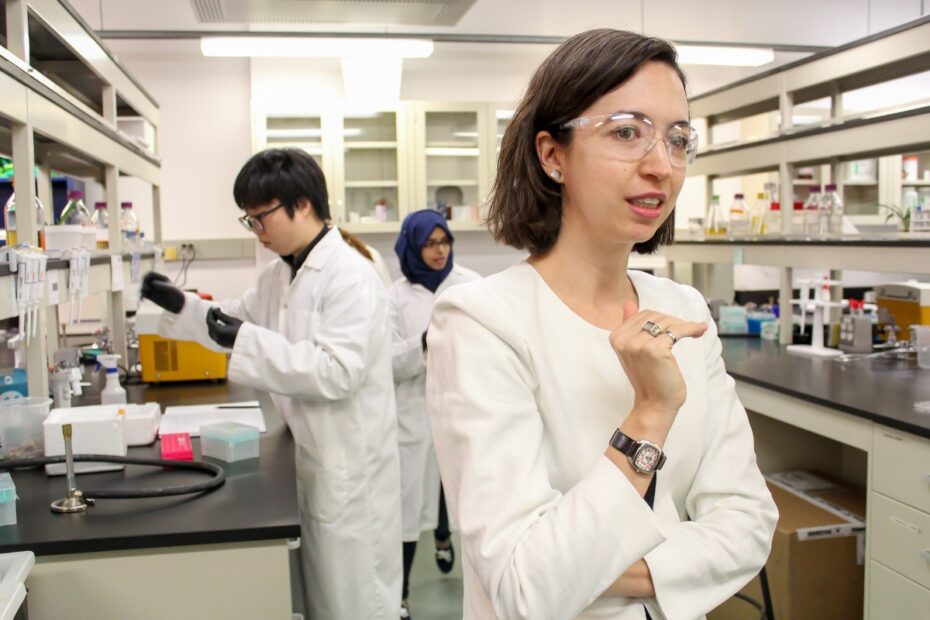 Plastics, textiles, and electronics have revolutionized our modern world, but their massive production has led to the accumulation of non-biodegradable and toxic wastes. This is a problem McGill researcher Noémie-Manuelle Dorval Courchesne hopes to have a hand in solving. Today she was named a Tier 2 Canada Research Chair in Biologically-Derived Materials, in recognition of the importance of her research for Canada's future. Other new Chairs' research projects will focus on pressing societal issues related to our sustainable future, to preserving the narratives of displaced persons, and on governing AI and the data that shape it, among other topics.
The Honourable François-Philippe Champagne, Minister of Innovation, Science, and Industry made the virtual announcement today of more than $295 million for science, research, and engineering in Canada through the Canada Research Chairs (CRC) 2020-2 cycle, the New Frontiers in Research Fund (NFRF) 2020 Transformation results, and the Tri-agency Scholarships and Fellowships. Granted in this round to McGill, nine new and eight renewed CRCs. McGill's researchers will participate as co-Principal Investigators and collaborators on four NFRF-T projects.
"The Canada Research Chairs Program and the New Frontiers in Research Fund support gold-standard research that can chart new directions, forge national and international collaborations, and position McGill as a champion of global science," says Martha Crago, Vice-Principal, Research and Innovation. "My sincere congratulations to the new and renewed CRCs and to the researchers who will help steer the NFRF Transformation projects announced today."
New CRC Dorval Courchesne presented her research at the virtual announcement in conversation with Minster Champagne. "This research chair will be tremendously helpful in supporting my research efforts in the field of biologically-derived materials," she said. "Over five years, it will help me recruit and financially support several talented graduate students and trainees.  It will also facilitate my group's access to state-of-the-art facilities and foster collaborations, which will be crucial in our multidisciplinary field."
The Dorval Lab for Biologically-Derived Materials & Devices is specifically designed for multidisciplinary research, working at the intersection of materials science, chemical engineering, synthetic biology, and nanotechnology. A virtual tour, which highlights many of the federal investments in equipment, can be seen here. Dorval Courchesne's main research goal for the next few years is to fabricate materials derived from biological building blocks to solve sustainability challenges.  Specifically, her group is interested in applying protein-based assemblies and "living" materials to create bio-plastics, functional textiles, and novel bio-electronics.
Living histories, living AI, and eco-systems under stress
Among the other new Tier 2 Chairs announced today is Diana Keown Allan, Assistant Professor in the Department of Anthropology, and a filmmaker, who is focused on the histories of the 1948 displacement of Palestinian refugees to Lebanon. Her project, the Anthropology of Living Archives, will employ ethnographic, archival, and audiovisual methods to explore the decolonizing potential of refugee narratives to challenge the logics of modern state-formation. She hopes her work will invite new ways of thinking about sovereignty, territoriality, and redress in an era of settler-colonial reparations.
Ignacio Cofone, Assistant Professor, Faculty of Law, will lead the project, Artificial Intelligence Law & Data Governance, with a specific focus on making AI less discriminatory and more accountable. Departing from the prevailing focus on remedying abuses, his research will examine how to prevent them.
Professors Murray Humphries, Director of the McGill Centre for Indigenous Peoples' Nutrition and Environment (CINE), and Treena Delormier and Hugo Melgar-Quinonez, both from the School of Human Nutrition, will play key roles in the NFRF-T project, Biodiversity Conservation and the Health and Well-being of Indigenous Peoples, led by the University of Alberta. In response to Canada's Truth and Reconciliation Commission and recommendations of recent global assessments to rethink conservation, research will focus on communities and ecosystems under stress, where biodiversity has been lost, species are at risk, and where land-use conflicts and lack of government protections have created conditions of vulnerability. "This initiative strengthens the position of CINE and McGill's Faculty of Agricultural and Environmental Sciences to contribute to reconciliation and the well-being of Indigenous Peoples and biodiversity in Canada and globally," says Humphries.
The CRC program is a tri-agency initiative of the Social Sciences and Humanities Research Council (SSHRC), the Natural Sciences and Engineering Research Council (NSERC) and the Canadian Institutes of Health Research (CIHC).
NFRF-T supports world-leading interdisciplinary, international, high-risk/high-reward, transformative and rapid-response Canadian research. Under the strategic direction of the Canada Research Coordinating Committee, it is administered by the Tri-agency Institutional Programs Secretariat, which is housed within the Social Sciences and Humanities Research Council (SSHRC), on behalf of Canada's three research granting agencies: SSHRC, the Canadian Institutes of Health Research and the Natural Sciences and Engineering Research Council.
List of McGill's new and renewed 2020 CRCs:
Diana Allan, Canada Research Chair in Anthropology of Living Archives, SSHRC, Tier 2 (New)
Ignacio Cofone, Canada Research Chair in Artificial Intelligence Law and Data Governance, SSHRC, Tier 2 (New)
Myriam Denov, Canada Research Chair in Children, Families, and Armed Conflict, SSHRC, Tier 1 (Renewal)
Noémie-Manuelle Dorval Courchesne, Canada Research Chair in Biologically-Derived Materials, NSERC, Tier 2 (New)
Yaell Emerich, Canada Research Chair in Transsystemic Property Law and Sustainable Communities, SSHRC, Tier 1 (New)
Ichiro Fujinaga, Canada Research Chair in Music Information Retrieval, SSHRC, Tier 1 (New)
Eric Galbraith, Canada Research Chair in Human-Earth System Dynamics, NSERC, Tier 1 (New)
Ahmad Haidar, Canada Research Chair in Artificial Pancreas Systems, CIHR, Tier 2 (Renewal)
Dennis Jensen, Canada Research Chair in Clinical Exercise and Respiratory Physiology, CIHR, Tier 2 (Renewal)
Susan Kahn, Canada Research Chair in Venous Thromboembolism, CIHR, Tier 1 (Renewal)
Nicole Yee Key Li-Jessen, Canada Research Chair in Personalized Medicine of Upper Airway Health and Diseases, Tier 2 (Renewal)
Sara Mahshid, Canada Research Chair in Nano-Biosensing Devices, CIHR, Tier 2 (New)
Damiano Pasini, Canada Research Chair in Mechanical Metamaterials, NSERC, Tier 1 (New)
Selena Sagan, Canada Research Chair in RNA Biology and Viral Infections, CIHR, Tier 2 (Renewal)
David Theodore, Canada Research Chair in Architecture, Health, and Computation, SSHRC, Tier 2 (Renewal)
Ian Watson, Canada Research Chair in Functional Genomics of Melanoma, CIHR, Tier 2 (Renewal)
Stephanie Weber, Canada Research Chair in Spatial Organization of Living Systems, CIHR, Tier 2 (New)
List of NFRF-T collaborators:
BIOSCAN: Tracing the Patterns of Life on a Changing Planet, University of Guelph

Paul Hebert – Nominated Principal Investigator
University of Guelph, Integrative Biology Canada
Director and Canada Research Chair
Centre for Biodiversity Genomics
Melania Cristescu – Co-Principal Investigator
Associate Professor, Department of Biology, McGill University
Andrew Gonzalez – Co-Principal Investigator
Professor, Department of Biology, McGill University
Protection of Metallic Surfaces from Bulk to Nano Through Molecular-level Innovation, Queen's University

Cathleen Crudden – Nominated Principal Investigator
Professor, Chemistry Canada, Queen's University
Janine Mauzeroll – Co-Principal Investigator
Professor, Department of Chemistry, McGill University
Mend the Gap: A Transformative Biomaterials Platform for Spinal Cord Repair
The University of British Columbia

John Madden – Nominated Principal Investigator
Professor, Electrical & Computer Engineering, The University of British Columbia
Alyson Fournier – Co-Principal Investigator
Professor, Department of Neurology and Neurosurgery, McGill University
Biodiversity Conservation and the Health and Well-being of Indigenous Peoples (Ărramăt), University of Alberta
Brenda Parlee – Nominated Principal Investigator
Professor, Resource Economics and Environmental Sociology, University of Alberta
Murray Humphries – Co-Principal Investigator
Full Professor, Department of Natural Resource Sciences, McGill University
Director, Centre for Indigenous Peoples' Nutrition and Environment (CINE)
Treena Delormier – Co-Applicant
Associate Professor, School of Human Nutrition, McGill University,
Hugo Melgar-Quinonez – Co-Applicant
Associate Professor, School of Human Nutrition, McGill University