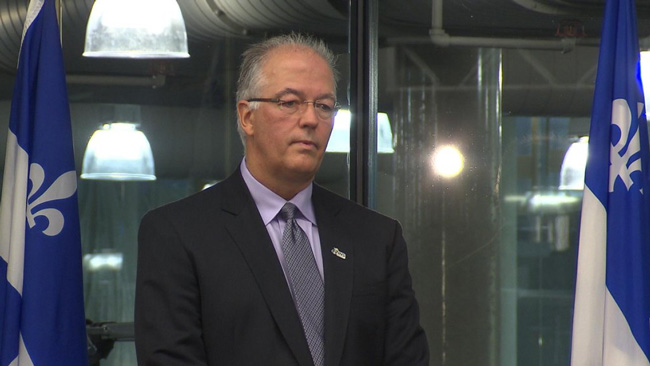 By McGill Reporter Staff
Marc Gélinas, a former Pittsburgh Pirate pitching prospect and a McGill alumnus with strong sports leadership background at both federal and provincial levels, has been appointed the new Executive Director of McGill Athletics and Recreation, Deputy Provost (Student Life and Learning) Ollivier Dyens announced on Monday, April 4.
Gélinas, who holds both undergraduate and graduate degrees from McGill, brings more than 20 years of sports leadership experience to his new role, most recently as CEO of the Institut national du sport (INS) du Québec.
In the eight years he has led the institute, the INS has grown to become the largest sports institute in Canada, offering specialized medical and scientific services to both athletes and coaches. Prior to that, Gélinas worked as the Director for Athlete and Community Relations for the Canadian Olympic Committee (COC) and supervised the redesign of the COC's Olympic School Program in order to have a greater impact with Canadian youth.
"McGill is very, very happy to welcome Marc Gélinas as our new Executive Director of Athletics and Recreation," Dyens said. "Marc has done amazing work as CEO of the Institut National du Sport du Québec, and is a highly regarded Quebec, Canadian and world leader in high-performance sports.
"Marc has also led important educational initiatives to create a better, more supportive academic environment for athletes. The (search) committee was impressed by Marc's leadership abilities, his understanding and support of our wellness strategy and his lifetime dedication to integrating an active lifestyle with intellectual development.
"We are lucky to be able to bring in such a wonderful, experienced, and knowledgeable individual to lead Athletics and Recreation."
Since 1983, when he graduated from McGill with a BEd in physical education (six years later he also received an MA in Education from McGill), Gélinas has indeed been active in all aspects of the world of sports, from research and development, to sports broadcasting and writing, to hands-on coaching. He is looking forward to coming back to McGill and taking on this sports leadership position.
"I am both honoured and very excited to take on this role in a university with such an impressive international reputation," Gélinas said. "The culture of excellence at the university is palpable at all levels – among the leaders, the staff and the students. I am looking forward to meeting all the Athletics and Recreation staff and to working alongside them to make significant contributions to McGill's educational mission, its campus life and its pride."
Gélinas will be joining McGill on June 1.