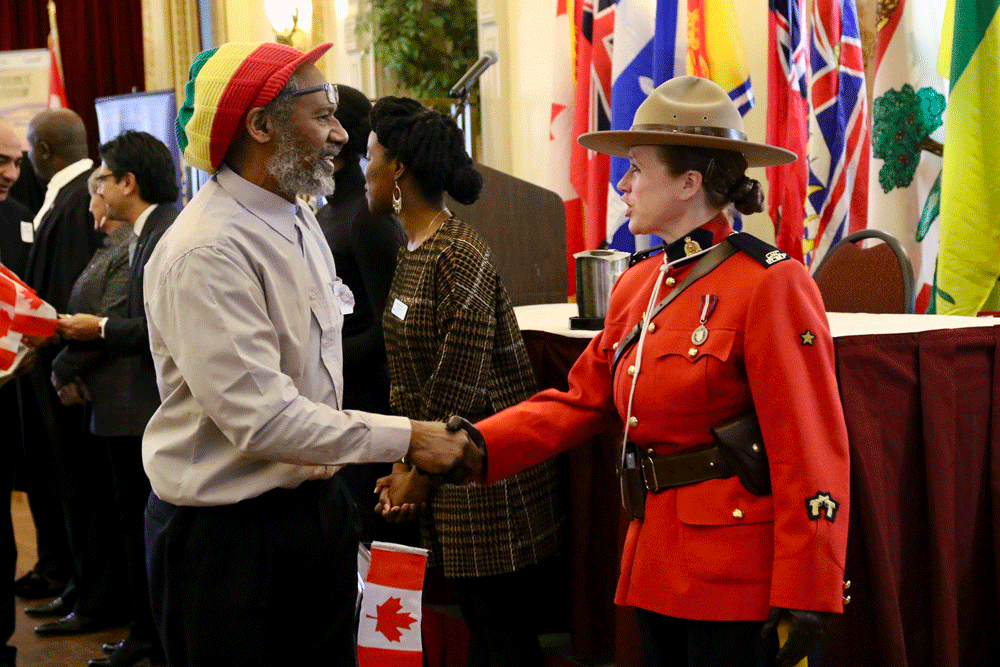 Smiles and Canadian flags were the order of the day at the Faculty Club this morning, when 51 people from 23 countries were sworn in as new Canadians. Little children laughed and waved miniature flags of their new home as they helped lead a rousing rendition of O Canada. Proud parents beamed and hugged one another and total strangers congratulated each other with heartfelt handshakes. Men and women, young and old proudly took the Oath of Citizenship, before signing their Certificate of Canadian Citizenship – the final step in the process of becoming a Canadian citizen.
"Every Canadian should attend one Citizenship Ceremony in their life," remarked Louis Arseneault, Vice-Principal (Communications and External Relations), to a colleague following the event. "It's so moving."
The Ceremony was organized by the Institute for Canadian Citizenship (ICC), in partnership with Immigration, Refugees and Citizenship Canada (IRCC) and McGill.
"I salute your courage and tenacity"
"Like many people before you, you've come from far away, worked hard and chose to leave your homeland to rebuild your life here in Canada," said Manzi-Serge Mpaka, Presiding Official, IRCC. "In doing so, you've agreed to adapt to a new culture, a new climate… Some of you had to learn a new language. I salute your courage and tenacity because I know that life is not always easy.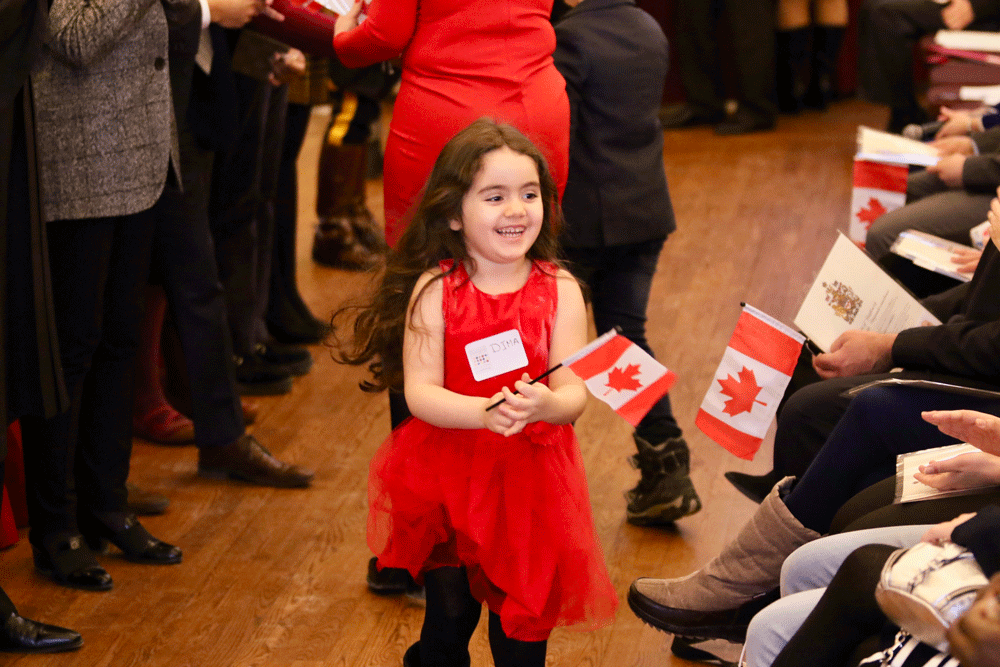 "[We] live in a democracy where we share a common set of values; where individual rights and freedoms are respected and equally protected by law. Those individual rights and freedoms are respected without discrimination based on sex, ethnic or national origin – without discrimination of race, religion age or mental or physical disabilities," continued Mpaka. "With these rights, comes a promise. A promise to keep every day. A promise, as Canadian citizens, to contribute to our country, to respect our institutions and law, to help and understand each other and to build a better country for generations to come."
Joining the large Canadian family
Once the Oath of Citizenship was taken, Principal Suzanne Fortier welcomed Canada's newest citizens to McGill. "I must say, it's a special pleasure for me to hear the young voices [in the crowd] today. It's a source of inspiration for me because I can see them as students one day – perhaps here at McGill," she said. "Today you join our large Canadian family, a family that gets its strength from its diversity. As stated by our Prime Minister, the Right Honourable Justin Trudeau, Canadians understand that diversity is our strength. We know that Canada has succeeded – culturally, politically, economically – because of our diversity, not in spite of it. It is my pleasure to welcome you here today, as a fellow Canadian citizen.
"You have taken your Oath of Citizenship at a particularly important moment in the year. February is Black History Month and we understand how important it is to be fully committed to diversity and inclusion," continued the Principal.
Citizenship roundtable
Prior to the ceremony, Adrienne Piggott, Chair, Subcommittee on Racialized and Ethnic Persons, hosted a roundtable in which new Canadian citizens shared their journeys to citizenship and reflected on what Canadian citizenship means to them. McGill staff and students joined in the discussion.
Piggott, whose father Glyne Piggott is Emeritus Professor of Linguistics, addressed the new Canadians during the Ceremony, speaking of her family's history of immigration. "Not that far back in my family's history, we were slaves. But my grandparents understood that we didn't have to be defined by that history. They taught their children that education and a good moral upbringing would take them where ever they needed to go," she said, telling the audience how her father moved from his home in Barbados to go to school in Jamaica and then Toronto.
"My dad arrived [at McGill] in 1973 and decided to build his family's legacy here with my mother," Piggott said, saying how her mother, her sister, her brother in law, her nieces and she herself, all went to McGill. "We were fortunate because the life my parents were able to give us was due, in large part, to those decisions and sacrifices that came before… Because of that difficult decision to leave that tiny island of Barbados and come to Canada for a future that, at the time, was uncertain… I know that leaving your home countries was not easy, [leaving behind] friends and family and the life that you knew. But you come to a place where many possibilities await you. I hope you will find in Canada the same kind of dream my family found."