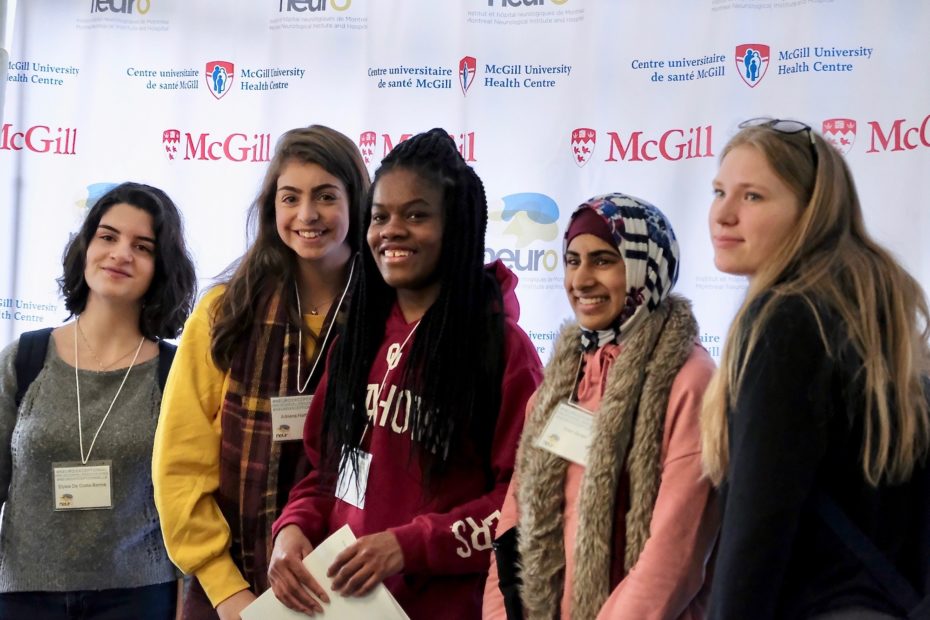 On March 15, sixty female high school students from across Montreal met with women leaders in science and medicine at the NeuroXXceptional Speed Networking event. The event capped off the #NeuroXXceptional series profiling exceptional women at The Neuro who tdiscuss what drove them to become scientists and clinicians, and what they love about their work.
"It was a really interesting day, we had the opportunity to meet women who are pioneers in the neuroscience industry, and to ask them questions about this field and they relayed their experiences and their passion for science to us," said Amel Melanson, a student at The Study. "I also found it really interesting to learn about real life experiences to relate back to class."
Myriad of professional opportunities
The day provided students with the opportunity to learn about the various career paths and possibilities that are open to them. The teachers were grateful that their students  finally had inspirational female scientists and clinicians as role models with whom they could relate.
Over the course of the event, the students asked insightful questions that led to wide-ranging – sometimes poignant – discussions about background and career paths; experiencing life and death at work; the impact of open science; and research and patient care at The Neuro.
The students learned about a variety of topics including: mini-brains being used to study disease; nursing care for neurological patients; the importance of clinical trials; neuropsychological evaluation of patients before and after neurosurgery; the effects of noise on the brain, as well as studying the developing nervous system in transparent fish.
"I thought it was just going to be a little discussion but, the event was so informative, and I learned so much about neuroscience, that now I am considering it as a career – it opened up my mind to this topic," said Vrinda Mohanlal, a student at Royal West Academy.
Discovering each 'creative signature'
Gillian Ferrabee, founder of the Creative Innovation Agency, Kite Parade, gave a thought-provoking presentation titled The Adventure of Innovation that challenged students to self-reflect and discover their unique 'creative signature' which will help to motivate and enhance their future careers.
"It was an amazing day," said Maryse Thomas, PhD student at The Neuro and speed networking host. "If through today's event and through the NeuroXXceptional series we can show girls around the world that we have much in common, they can see us as role models and hopefully be inspired to pursue their passions and dreams for careers in science and medicine."
NeuroXXceptional delves into the inspiring world of nurses, doctors, neuroscientists and young students who are on the front-line of advancing treatments for diseases including Parkinson's, ALS, and stroke, and who are exploring the mechanics of memory, music, decision-making and language in the brain. The videos shine a spotlight on positive role models – with the aim of encouraging more women and girls to choose a career in science, as well as to underscore the important contributions of women in the field. Watch the videos and read their profiles.