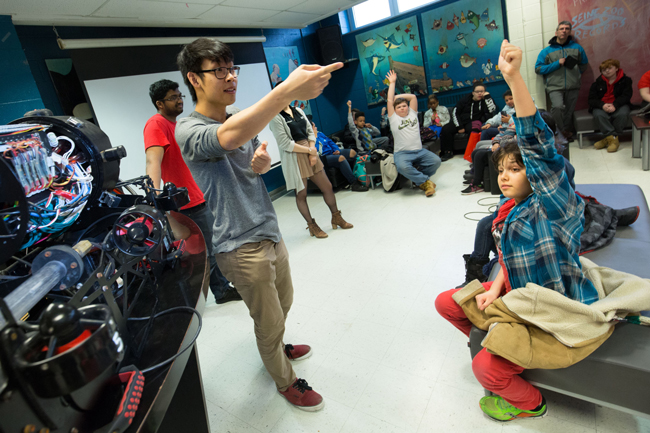 On April 6 and 7, children from seven elementary schools found out what it was like to be a McGill student as part of the fifth annual My Day@McGill.
The popular initiative, a partnership between McGill's Social Equity and Diversity Education Office (SEDE) and the Lester B. Pearson, English Montreal school boards and the Centre Communidée homeschooling centre in St-Henri, targets youth from under-represented Quebec communities in hopes of combating Quebec's ever-increasing high school dropout rates. MD@M is an attempt to break down psychological barriers to post-secondary education by engaging youth in interactive workshops on campus that promote learning and present options for youth before they begin high school.
"Montreal's downtown core is surrounded by neighbourhoods of varying socioeconomic backgrounds. A lot of these neighbourhoods are not well represented at McGill," says Sophie Birks, SEDE's Community Engagement Events Associate. "This program is aimed at introducing those elementary school students who see higher education as an intimidating prospect to the various sides of higher education – to show the fun side, the creative side and the accessible side."
In all, more than 100 elementary students, ranging in age from 7–12, took part in a wide-ranging selection of workshops and activities hosted by various McGill departments and clubs. This included everything from hands-on chemistry and robotics activities to theatre and a cappella workshops.
"We didn't want it to be too science heavy or too arts heavy," said Birks "We wanted to have a real balance to show the variety available to them. Most of all, we wanted to show them that university isn't only about classes."
With the exception of the children from the Centre Communidée homeschooling centre, all the students who participated are being tutored by a McGill student as part of SEDE's Homework Zone after-school mentoring program. "This is kind of an exchange program because the McGill mentors visit these elementary schools every week to tutor the studnets. Now the students are visiting their tutors' school," says Birks.
"We get a lot of feedback from principals and Homework Zone coordinators and the kids were really excited to be part of MD@M. It opens up a whole new world for them," says Birks. "The best moment was at the end when some of the kids told me they didn't want to leave."