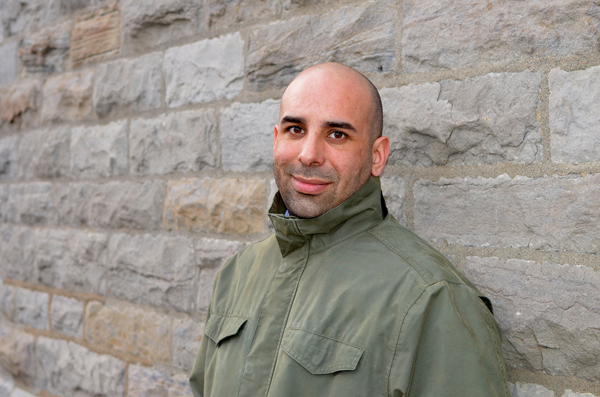 By Neale McDevitt
On April 8, at the concert commemorating the 70th anniversary of D-Day and the 100th anniversary of the First World War, there will be lots of butterflies among the more than 100 musicians who will take part. Chances are no one will be more stoked than Moe Touizrar, the doctoral student in Music Composition who was commissioned by Alain Cazes, Director of the McGill Wind Symphony to write a special piece just for this event. "It is my first commissioned piece," says Touizrar. "It's pretty exciting."
But there was a time not that long ago when Touizrar was a lot less excited with the idea of composing music. It was 2010, and he was at a crossroads. "I had been doing my masters degree here at the Schulich School of Music, but I was at a stage in my life where I had doubts. I wasn't sure if I was doing the right thing," he says. "So I withdrew from the program to try and figure things out."
With no clear plan in mind, Touizrar happened upon a job posting to work with Canadian soldiers in Afghanistan as a member of the Morale and Welfare Unit. He signed up. "It sounded kind of crazy, so I went for it," he says, deploying for a six-month tour in Kandahar, working closely with soldiers in the Canadian Armed Forces base.
Although, he had no prior experience ("I'm a musician!") Touizrar was promoted at the end of his tour and asked to go to Cyprus, where virtually every Canadian soldier serving in that region, must pass through on his or her way home.
"When a soldier's tour is up or a battalion is sent home, they have to stop in Cyprus for three days for things like mental-health screening," says Touizrar. "But it was also a three-day chance for units to decompress together and say goodbye before going back to their families."
It was in Cyprus that Touizrar found a sense of purpose. "It exposed me to a very wide pallet of experiences and emotions that human can undergo in crazy situations," he says. "You see the terrible cost of war but you also see the way conflict can bring out the best in people – the camaraderie, and the ability for units, friends and family to band together.
"It was profoundly moving… and a privilege of experience that perhaps most people don't get to have," he says. Touizrar was so inspired that signed up for anther two tours in Cyprus.
But while connecting with "virtually every soldier heading home from 2010 until last summer," Touizrar also reconnected with music, finishing his master's thesis and applying for his PhD in Music Composition in the downtime between tours.
"I suppose that I had doubts about my own creative abilities, and the extended time in Afghanistan and Cyprus forced me to dig deep and ask myself 'what constitutes a fulfilling existence?'" he said. "I know it sounds cliché, but having been stripped of everything we take for granted in daily Western life, I realized that I had something to say, and I found the courage to pursue it."
In August 2013, Touizrar was contacted by Cazes to compose a special piece for the April 8 concert. "Alain really felt like it would be nice to be able to talk about other more recent periods in Canadian military history as part of the concert," said Touizrar. "That's where I came in."
By that time Cazes had already picked out the program for the concert. Because the Wind Symphony is very linked to military marching bands and military repertoire in general, Touizrar thought it would be interesting to write in a way that was not traditional.
"In military music you find a lot of marches with ceremonial or processional music and some of it can be quite bombastic," said Touizrar. Familiarizing himself with the wide variety of pieces programmed for the April 8 concert, Touizrar challenged himself to do something different.
Not surprisingly, he found inspiration in his own experiences overseas. Setting Sun (Still Life) is written for the McGill Wind Symphony, which is comprised of some 45 musicians playing percussion, brass, woodwinds, piano and harp.
"Kandahar Airfield [in Afghanistan] is incredibly busy with aircraft landing and taking off every minute, 24 hours a day. And, because you're in the desert, all these helicopters and jets landing and take taking off kicks up a whole lot of dust in the air," says Touizrar. "Some pilots say they know where Kandahar is – even 100 miles away – because of this huge column of dust rising in the distance. But when you're there, in the middle of it every day, you don't notice it. Until the sun goes down, that is. Then you really see it.
"Sunsets in Kandahar are really elongated and all this dust refracts the light and makes it almost majestic," said Touizrar. "I thought it would be interesting to write a piece of music that conveys the strange beauty that we can find even in the midst of conflict."
Though Setting Sun (Still Life) is the subject of the interview, Touizrar keeps steering the conversation back to the men and women with whom he worked – the Canadian Armed Forces personnel. They, he reiterates, deserve the attention. "The real story lies in others and the sacrifices they made in body and mind," he says. "I was merely a witness, and I suppose that means that the music for this concert is a sort of testament without words."
The concert 'In Memory of D-Day' will take place on Tuesday, April 8, at 7:30 p.m. at the Church of Saint-Jean-Baptiste located at 4237 Henri-Julien (corner Rachel). For ticket purchase and reservations call 514-398-4547. Tickets are $15 / $10 (students/seniors) and are also available at the door prior to the concert. For more on the concert, go here.