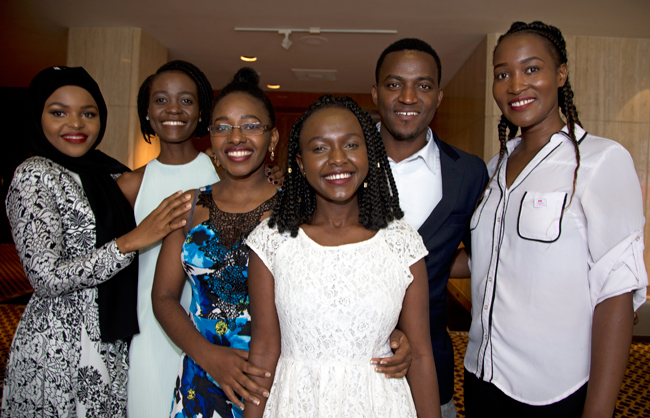 By McGill Reporter Staff
Every student who crosses the stage to receive their degree during Convocation is both ending one journey and beginning another. But for the graduating members of McGill's first cohort of MasterCard Foundation Scholars, that journey has already covered many, many miles.
Initiated at McGill in 2013, the MasterCard Foundation Scholars Program provides academically talented young leaders from Sub-Saharan Africa with access to a world-class university education. The Program provides comprehensive financial support for the students, as well as leadership development opportunities that reinforce ethics and a commitment to the betterment of students' home communities, mentorship, career guidance, and internships in their home regions during the course of their studies.
A central goal of the Program is to create a globally educated and highly qualified group of future leaders, who, upon graduation, can return to Africa to help foster the region's development.
On June 6, at a celebratory luncheon in honour of the Scholars, Reeta Roy, head of the MasterCard Scholars Foundation, and newly minted Honorary Doctor of Laws, McGill 2017, reiterated this point., "We are here to celebrate your moment of accomplishment, both academic and personal. The key value of the program is your leadership, and the importance of giving back," said Roy. "You are young leaders on a special assignment – to transform your home countries and the world."
McGill Principal Suzanne Fortier also congratulated the Scholars and reminded them that, while they will be moving on, McGill will always be with them.  "It is a real privilege to work with all of you and I want to thank all of you for taking a bet on McGill. We truly hope it was a good choice for you to come to McGill and now, with Reeta Roy, you are all members of the McGill family," said Fortier. "Now you must make a bet on yourselves, with your aspirations, ambitions and dreams. Your McGill family will be with you."
McGill welcomed 11 scholars as part of the first cohort in 2013. In all, the Program will support 91 promising students, including 67 at the undergraduate level – up to half of whom will be coming from French-speaking countries – and 24 students at the Master's level.
In the eyes of Fabrice Labeau, faculty mentor to the MasterCard Foundation Scholars, the word 'promising' is an understatement. When asked how he feels about the scholars he laughs and says "Apart from feeling like a loser when I compare my achievement at their age to theirs?"
Prospective students must first apply to and be accepted into McGill (or the university of their choice). Once over that hurdle, they apply to the MasterCard Foundation to become MasterCard Foundation Scholars. Only a small and highly accomplished group is accepted.
Nicholas Toronga is one such student.
Toronga is one of McGill's newest MasterCard Foundation Scholars, arriving from his hometown of Bulawayo, Zimbabwe, in the fall of 2016, to pursue a Bachelor of Commerce, Finance, with a concentration in Business Analytics. While he had been accepted by UC Berkeley, Michigan State and one Ivy League school, Toronga took a bet on McGill.
"I really like McGill; the diversity and the multiplicity of ideas in most of my classes is really valuable. I grew up in Zimbabwe; so, it's interesting, and sometimes hard, to be part of an environment as diverse as McGill," he says. "Most of the things are foreign to me, very foreign! Academics are not easy as I thought, but I am forging my way ahead."
Toronga is being modest about his achievements. Diving right into campus life, he recently won second place and $7,000 in the Innovation Driven Enterprise Track in the Dobson Cup, McGill's flagship annual startup competition. His team won for its work on FamKeepa, a startup that gives people working outside their home countries a web-based platform that enables them to buy goods directly from retailers in their home countries.
But the Scholars are having as positive an impact on McGill as the University is having on them.
"They add an incredible sense of the value of diversity, in terms of its impact on our community," says Labeau, an Electrical and Computer Engineering professor, and Associate Dean (Faculty Affairs). "The Scholars have continually showed me that the rich kaleidoscope of cultures and backgrounds they bring to McGill is an asset that is not to be underestimated. Of all the things I have done at McGill, this is one of the most rewarding activities."