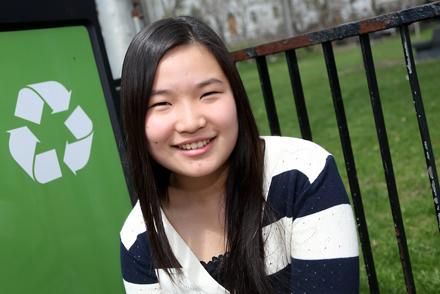 By Neale McDevitt
Talented McGill student wins international acclaim and attention for trail-blazing research.
Talented McGill student rolls up sleeves to help save the environment.
Talented McGill student uses downtime to help people in need.
All three of these storylines have been seen on these pages more than once, but this time, they all have to do with the same person; U0 Science undergrad, Miranda Wang.
The 19-year-old Wang was recently named to Maclean's magazine's annual list of Canada's Future Leaders Under 25, for her groundbreaking research into breaking down plastics in landfills using bacteria. She and her friend Jeanny Yao started the work last year as a Grade 12 student back home in Vancouver following a visit to a local landfill.
"We saw how much plastic waste is in our everyday garbage and we could hardly believe it," said Wang just days before returning home for the summer. "Right now the way that plastic is being treated [in landfills] – well, it isn't being treated. When it gets to the dump it gets mixed with everything else – organic matter, concrete – it's a really big mess right now."
Back at school, the pair began looking at existing research that addressed the issue. They came across a paper by researchers who had explored the degradative potential of mangrove soil bacteria in Asia. "Using bacteria or some sort of bacteria consortium to degrade plastics seemed like a very promising solution," said Wang.
What Wang found particularly promising was that the researchers noted a significant reduction of weight in the plastic – a difficult trick to accomplish. "The problem with plastic is that is often just breaks down into smaller and smaller pieces without really disappearing, but there was a measured reduction in weight – some 30 per cent – over a nine-month period." In short, the bacteria were eating the plastic.
So Wang and Yao began their own search for plastic-eating bacteria from samples they collected from the nearby Fraser River. Specifically, they were looking for bacteria that would metabolize phthalates, a ubiquitous plasticizer used to increase the flexibility of plastics. Phthalates can be found in everything from adhesives and textiles to electronics and children's toys. Easily released into the environment, phthalates have been linked to breast cancer, obesity and birth defects.
The pair was able to isolate 14 different strains of bacteria collected from the Fraser River. Research into breaking down phthalates is nothing new, in fact it's been studied for decades, said Wang.
"In the end we sequenced three of the strains and two of the three had not been previously associated with phthalates degradation. This was the novel part of our research."
Their project earned them an invitation this past February to speak at the TED 2013 conference in Long Beach, Calif. Also on the speaker list? U2 frontman, Bono. Not bad company to keep.
Wang says the TED experience only further inspired her to continue her research, which she has done here at McGill, thanks in large part to her earning a scholarship to attend McGill. The scholarship program that Wang benefited from began with a generous bequest to the Martlet Foundation from Harold Greville Smith, a distinguished industrialist and a former member of the Board of Governors of McGill.  Under the leadership of Richard Pound, the University's Chancellor Emeritus and a Martlet Trustee at that time, the program evolved to include unique guidelines – including high academic standing and demonstrated qualities of leadership – that led to Greville Smith's gift becoming one of the top undergraduate awards programs in Canada.  Other generous donors joined the initiative, and so these high value awards are collectively known as McGill's Prestige Scholarships.
Before arriving in the fall, Wang introduced herself to adjunct professor Charles Greer, an expert in the study of the microbial ecology and activity of bacteria involved in the degradation of organic pollutants. This past year, she worked in Greer's lab at the National Research Council. "I've been working on phenanthrene degradation," said Wang. "We got a sludge sample from the Athabasca River in Alberta and we're looking for things that can break down the phenanthrene from the Tar Sands pollution."
But when it comes to making the world a better place, Wang isn't a one-trick pony. In her downtime she can be found playing violin (the former leader of her high school orchestra's 2nd violin section, she played with the McGill Choir last semester) or helping coordinate deliveries of fruits and vegetables from local farms to people in and around the downtown campus neighbourhood.
The latter project, called The Good Food Box, is Wang's own initiative and one designed to promote collective purchasing, healthy lifestyles and buying local. Proceeds from the Good Food Box help fund another Wang project called Femmedere, a student-run group that delivers free workshops on nutrition and budgeting to Montreal women's shelters.
"[Working on the Good Box and Femmedere] isn't onerous at all," said Wang when asked where she finds the time and energy to coordinate these activities on top of studying and doing her research. "It's very refreshing to do something outside of academics."
Refreshing, indeed.