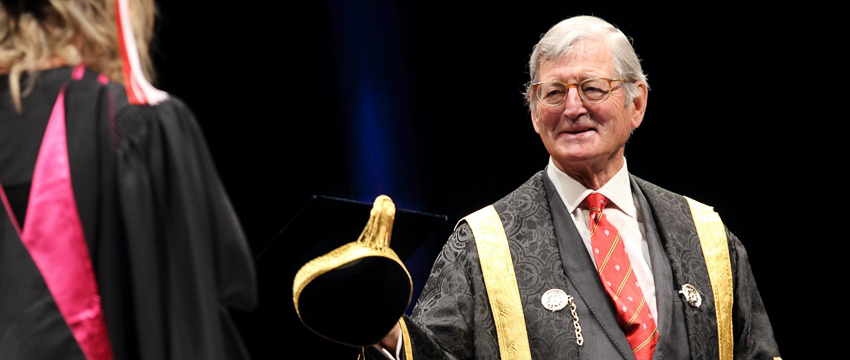 Whether presiding over convocation ceremonies, meeting alumni and students, contributing to University governance, or championing McGill around the globe, Michael Meighen, BA'60, LLD'12. has definitely put his unique stamp on the role of chancellor with his gracious demeanour, unqualified support for students, and a fierce commitment to his alma mater and its importance in today's world.
It's been a remarkable odyssey for the former McGill student who once took on the role of crowd control during the Winter Carnival, the same student who later let a Université Laval classmate named Brian Mulroney borrow his Volkswagen (only to have it run out of gas).
But Meighen's student adventures took a back seat to his early fascination with policy and politics, a prelude to a remarkable career of public service to Canada.
As a lawyer, he served as co-counsel for the Deschênes Commission on War Criminals in the mid-1980s. On the political stage, he was elected president of the Progressive Conservative Party of Canada and, in the Senate of Canada, he served with distinction as a respected member of the Upper House for more than 21 years.
He and his wife Kelly have generously supported numerous organizations across Canada in support of education, the arts, mental health – and McGill.
Throughout his life, Meighen has remained strongly connected to McGill, not just as a donor but as an engaged volunteer. He has served on the Board of Governors, on several committees and he took on the role of co-chair of Campaign McGill: History in the Making.
His ultimate role at the University came in 2014 when he was appointed McGill's 19th chancellor. After seven years, Meighen is stepping down as his successor John McCall MacBain, BA'80, LLD'14, prepares to begin his tenure on July 1, 2021.
The McGill News recently had the chance to sit down with Chancellor Meighen as he reflected on his years as chancellor. We are reprinting the article here.
What was your reaction when you were approached to be McGill's 19th chancellor?
I was totally floored. I was utterly delighted. I had no idea that I was going to receive such an invitation from [then] Principal Heather Munroe-Blum, and such an honour. I was especially fortunate to be installed by former Chancellor Arnold Steinberg. He was a wonderful man and did so much for the University.
Can you give us an idea of what your work entails as chancellor? What kinds of things you would be called upon to do?
Well, for example, first and foremost, there are my roles as a member of the Board of Governors and Senate (ex officio). I also chair the Senate's Honorary Degrees Committee.
Then there are many McGill events and ceremonies which require my participation including the McGill Alumni Association's Honours & Awards banquet, the McGill Toronto Excellence Awards, the 1821 Society and numerous Homecoming events where I have the chance to recognize members of the McGill community and congratulate them for their achievements and ongoing support. There is a fair bit of travel to events, branch activities and meetings with donors. At the beginning of my tenure, I also made a point of visiting every faculty and school.
When you accepted the position, did you have any specific goals or objectives?
I just wanted to do the best possible job. I knew when I accepted the position that the most important event, by any measure, was convocation. It's the most significant ceremony over which the chancellor presides and I certainly felt the importance of it. I felt that the students got a lot out of it and valued it.
Every convocation was a rich experience for me, and every one rekindled my admiration for McGill students today. In talking to them and congratulating them, I came to realize how extraordinarily talented they are.
You've attended a lot of convocations over seven years. How much stamina does it take to participate in so many ceremonies?
I didn't regard it as an obligation, but as a joyful event and something I looked forward to every year. I think I only missed one convocation in my seven years – and that was because a close relative passed away. Each ceremony was memorable in its own way. There were so many different reactions from the students. Some were extremely nervous, some forgot that we're not supposed to shake hands, some asked for a selfie. Others would say something like, "how's it going, man?"
During your tenure you emphasized guidance and support for students and you also emphasized the critical importance of personal interaction as part of the educational experience. Why are those two things important to you?
Two of my sons attended McGill and so I learned, as a parent, some of the challenges and difficulties each had in navigating the University looking for information and guidance.
This is particularly daunting for a young student coming from out of town or from another country, someone who may be away from home for the first time. Those students often need help. Kelly and I made a donation in support of this back in 2007 [the Kelly and Michael Meighen Endowment for Student Advising and Support] and I think the Service Point [created in 2010] is a real improvement. We're not perfect yet, but I think we're on the right track.
As for personal interaction, as opposed to virtual meetings and electronic communication, I think that face-to-face meetings with other students is critically beneficial and important. I'm so pleased to see the way the students are working in groups, pooling their skills and diverse expertise on projects, and getting together to collaborate in an entrepreneurial way. I'm delighted to see the new physical spaces across our campuses which encourage these collaborations and soft skills which are so important to success and in today's world.
Looking back over your tenure, a lot has happened. Are there any particular highlights or lowlights that come to mind?
The pandemic comes to mind, of course, as a low point. At the same time, I am full of admiration for the way in which McGill has risen to the challenge.
I've had a number of parents say to me that the virtual classes, while they're not what the student bargained for, were excellent and that McGill's faculty and staff rapidly developed a really exceptional virtual program. I think the whole McGill community deserves great credit for how they have responded to the pandemic.
In terms of highlights, the New Vic project stands out. It's dedicated to sustainability systems and public policy and is so timely for the future of our world. Without question, it's a landmark opportunity for Montrealers, Quebecers, and Canadians and I'm looking forward to seeing the project progress.
How do you think the McGill you experienced as a student compares with today?
I don't think you can say better or worse. There are certain characteristics which have become more important, for example, student involvement in the administration and governance of the University. Back in my student days, the role of the students was to take notes and study and leave the administration to other people.
That's certainly not the case today and I think that's a great improvement. That doesn't mean that every point of view, whether it's from the students or from the administration, is correct or even the best way forward, but the involvement and discussion is important and useful – as long as people are respectful of differing opinions.
Do you have one piece of advice for the incoming chancellor [John McCall MacBain]?
I did tell John that his already remarkable commitment to McGill is well known and well established, that his advice, involvement and support will be invaluable in guiding our University, and that our faculties and schools will benefit from his counsel. I said, "you'll be just fine and certainly your reputation will enhance McGill in Canada and the world."
When you began your tenure, you said you hoped to fulfill the Chancellor's role in a way that would make your grandfather, [Arthur Meighen, Canada's ninth Prime Minister], proud. Do you think you succeeded?
I'd like to think so. I didn't see him that often growing up, but whenever I did do something that deserved modest praise, he was always there. I think my seven years as chancellor has certainly been a wonderful experience for me. I never thought that I would occupy such a post and I hope I've been of some use to the senior administration and students at McGill and, if I have, I know my grandfather would consider that it was a job well done and he would be proud.
This article was originally appeared by the McGill News.