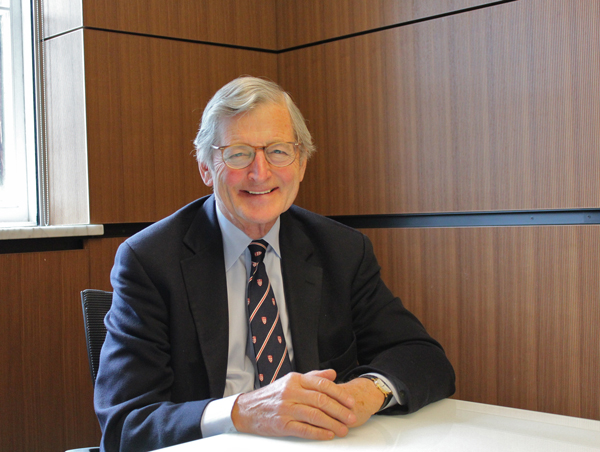 By Doug Sweet
Michael A. Meighen, a co-chair of Campaign McGill, will succeed H. Arnold Steinberg as McGill's 19th Chancellor on July 1, the Board of Governors decided Thursday. Meighen has been appointed for a three-year term.
Meighen, a prominent lawyer, political player and former Senator, is a graduate of McGill and was presented with an honorary degree by the University in 2012. Grandson of former Prime Minister Arthur Meighen, he served as co-counsel for the Deschênes Commission on War Criminals in the mid-1980s, was elected president of the Progressive Conservative Party of Canada from 1974-1977 and twice sought federal office, unsuccessfully, in the Montreal riding of St-Antoine-Westmount.
"Michael is an outstanding McGill alumnus who has made significant contributions to Canada, to McGill and to many other community organizations. He has given very generously both of his time and his resources," said Stuart H. "Kip" Cobbett, Chair of the Board. "I am delighted that he has accepted this appointment and will bring his considerable experience and wisdom to this important post."
"I view it as an extraordinary honour," Meighen said in an interview with The Reporter. "I was absolutely floored. I hadn't expected it at all when I got a call from Heather Munroe-Blum last year. I said Yes with great enthusiasm – mixed with a reasonable degree of apprehension that I would be able to fill the shoes of my immediate predecessor, Arnold, and those of other Chancellors I've known."
Principal and Vice-Chancellor Suzanne Fortier, said she looks forward to working with Meighen, and she also noted the contributions he has made to McGill.
"I am extremely pleased with the Board's appointment," Prof. Fortier said. "I have immense respect for Michael as an individual who has already devoted time and energy to McGill, who cares deeply about the University and who has, through his generous contributions, helped to improve the lives of our students in many ways."
"At the same time that we welcome Michael to this new chapter in his long relationship with McGill, I would like to express our deep appreciation and gratitude for Chancellor Arnold Steinberg's service," Prof. Fortier added.
Among Meighen's gifts was a substantial one that helped make the new McTavish St. Service Point for students a reality. He said he and his wife, Kelly, decided to help support student services after two of their three sons attended McGill and observed that the area was under-resourced, and that sometimes the "guidance, mentoring and even the administrative processes were bewildering and often didn't match up to the students' expectations.
"My wife and I tried to put ourselves in the position of a young person coming to Montreal and McGill for the first time, and to a large university like McGill and trying to find their way without sufficient guidance and support.
"These people are 17, 18, sometimes even 16 years old, and away from home for the first time. A university can be a very bewildering place. It's quite easy for some people to stumble and lose their way and kind of get lost in the shuffle. And then they may or may not be able to recover," he said.
"And so we thought it was crucial to try and provide the resources so that McGill would be in a position to offer more help and guidance where needed or requested, in choosing courses, in electives, in seeing how to deal with the administrative processes every student is faced with. And great strides have been made. The Service Point is a terrific addition. And I've heard nothing but praise for it. It's one-stop shopping instead of having to traipse all over the campus from one department to another to get a question resolved."
Meighen has also contributed to a variety of organizations supporting education, health, the arts, poverty, youth at risk, drug addiction and nature conservation and has served on the boards of numerous corporations and non-profit organizations. The only Conservative senator to vote in favour of same-sex marriage, he was appointed to the Upper House in 1990 and resigned in 2012. He also received honorary degrees from Mount Allison University Western University and the University of New Brunswick, and served for a decade as the Chancellor of the University of King's College.
In his Convocation address in October 2012, Meighen touched on a challenge confronting universities as well as society in general when he urged graduates to not let electronic communication take the place of human relations.
"Cyberspace will never replace the power of a handshake or the comfort of a hug, the joy of a one-on-one conversation or a morning spent volunteering in a mental-health centre and, yes, the writing of a cheque for a worthy cause," Meighen said, adding that he was pleased that Campaign McGill brought more than $1 billion to the University.
As for the courtly role of Chancellor in a fast-paced, digitized world, Meighen said the endurance of the position testifies to its importance.
"There are lots of people who persist in believing that roles that have a significant ceremonial component, or roles that have been in existence for a long time, are outdated and generally not of great use in this day and age. But the fact that they have persisted for so long I think gives lie to that. They have persisted for a long time because, generally speaking, they have been useful. Otherwise, I'm sure, they would have been dropped before this. I suspect that the role is to a significant extent that which you make of it…
Meighen said his predecessor, Steinberg, "has done a remarkable job. He's been a great leader, he's been extraordinarily generous to the University with his time and with his financial support" and "a great source of strength" to both Munroe-Blum and Prof. Fortier. "That perhaps is a role the Chancellor can best play."
Meighen lives in Toronto, but said now that he has retired from both the Senate and his law practice, he expects to be able to spend sufficient time in Montreal to discharge his duties.
"Obviously with this new responsibility I will be much more frequently in Montreal. I certainly would like to attend Board meetings as much as possible, to keep up to date with what's going on."
He spoke somewhat wistfully of his grandfather, who served two brief terms as Canada's Prime Minister from July 1920 to the end of December 1921 and through the summer of 1926. The elder Meighen also spent a decade in the Senate.
"In the early '50s, I believe, he was asked if he would like to be Chancellor of the University of Toronto," Michael Meighen said. "And he agreed, but subsequently there was some opposition raised and his name was dropped. However, I never heard him complain about it.
"So, in some small way, perhaps, I hope I can fulfill a Chancellor's role in a way that would make him proud and kind of make up for the loss that he suffered."