Student to skate for Canada in Roller Derby World Cup
By Jim Hynes
The other team's jammer didn't stand a chance. Not with Jess Bandit blocking the way.
Several nights a week from February through September, Bandit is a star blocker on the News Skids on the Block of the Montreal Roller Derby League. By day, she's Jessica Paternostro, a 25-year-old Kirkland resident and second-year McGill undergrad studying Physical and Health Education.
Paternostro discovered roller derby five years ago, signing on as a player at the behest of her friend and current New Skids teammate, Alyssa Kwasny, a.k.a., Georgia W. Tush, a Thunder Bay, Ont. native who founded the Montreal Roller Derby League in 2006.
"I wasn't that great at first. I didn't know how to skate very well," Paternostro said. "I had to work more at it than other people who had stronger athletic backgrounds than me, and practice on my own. And I still do."
Days of blood and thunder
The hard worked paid off. Today, Paternostro is one of the strongest players on one of the top-ranked roller derby teams in the country. So good, in fact, that she's been selected to skate for Team Canada in the upcoming Blood and Thunder Roller Derby World Cup in Toronto, Dec 2-4.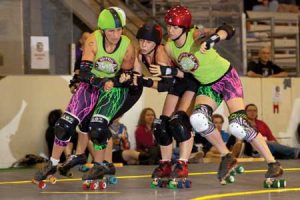 A patient, physical player, Paternostro has developed into a highly effective blocker. Employing a wide stance, she uses her hips, legs and superior positioning to shut down any gaps hopeful opposing jammers (the star-helmeted designated scorer on each team) may try to squeeze through to score a point, while creating openings for her own jammer at the same time.
This isn't your crazy uncle Jim-Bob's roller derby. Unlike the exciting but very much staged "wrestling on wheels" variety that in the 1970s made household names of stars like Los Angeles Thunderbirds' jammer extraordinaire Gwen "Skinny Minnie" Miller and the villainous Yolanda "Baby Rocco" Roacho of the notorious Texas Outlaws, today's game is a legitimate sport with strictly enforced rules and penalties. It remains fast and hard-hitting, but the days of gratuitous violence, real or fake, are over.
"Now it's more of a strategic sport," said Paternostro, who is still trying to decide whether to pursue a Master's degree or find work as a Physical Education teacher after she graduates. "It's still a contact sport. There is hitting, but there's always thinking behind it."
That said, with the mix of speed, wheels and physical contact, spills continue to be a common part of roller derby. And injuries are too, with fingers, wrists and arms taking the brunt of the beating. Paternostro herself suffered a concussion in her first ever game.
 The name game
With all of the games, tournaments and travel involved (the sport has already taken her to London, England and Texas), juggling school and competitive roller derby requires discipline, Paternostro said.
"I'm very organized. At least I like to think so. I always know our schedule in advance so I try to get everything done ahead of time."
The staged fights and other hijinks may be a thing of the past, but modern roller derby remains a colourful sport in more ways than one, starting with the New Skids' neon green uniforms. Then there are the wacky player names: On Team Canada, Jess Bandit will be joined by Hell 'on Keller, Maiden Sane, and a new transfer from Paris – Francey Pants. And if there were such a thing, the Best Name award at the World Cup might go the US's Shenita Stretcher, with an honourable mention to Team England's Dee Mise.
Team Canada will take on France, Sweden and Brazil in the preliminary round at the World Cup before moving on to compete in the elimination and, hopefully, placement rounds. You can track the team's progress at http://rollerderbyworldcup.com/.