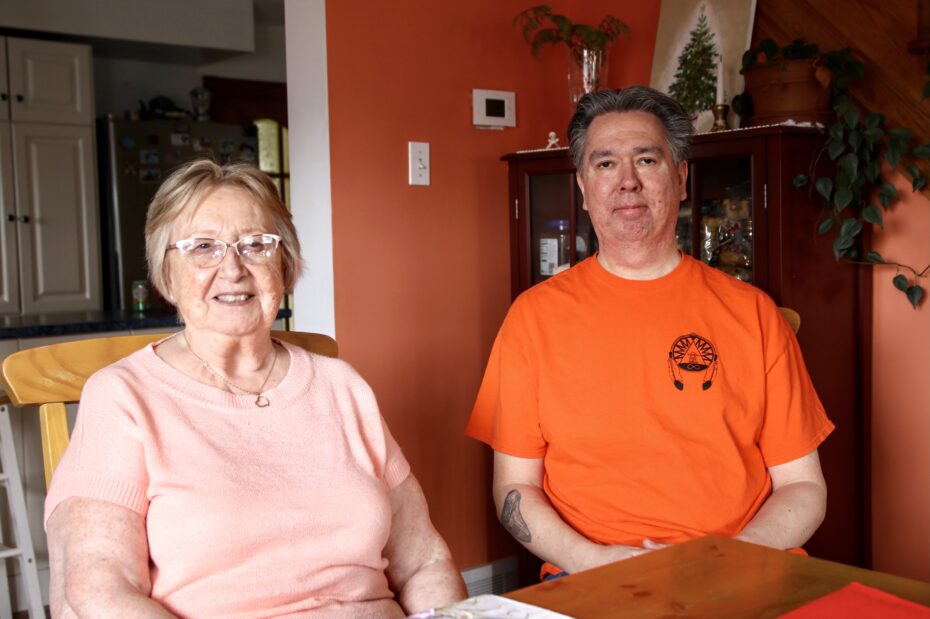 When Terry Young talks about Geraldine and Mike Standup, prominent Elders and Healers from Kahnawake, his admiration is obvious.
"They are renowned everywhere, not only in their community," says Young, Program Manager, Indigenous Studies and Community Engagement Initiative (ISCEI). "But you would never know it from them. They are just so humble. But the impact that they have made on the lives of hundreds, even thousands of people, is incredible."
"It was so important to bring them to McGill because we wanted the students to have the opportunity to learn from them."
The mother-son duo has been serving as the inaugural Visiting Elders at McGill since January 2021, providing guidance and mentorship to Indigenous students.
Managed by the ISCEI, the program is one of the initiatives supported by the US$1.25-million gift to McGill made by the Andrew W. Mellon Foundation in 2019.
The Elder's role includes:
Facilitating Sharing Circles, where participants are given a safe space to discuss issues they are experiencing in a positive and supportive group setting;
Providing personal consultation, conversation, guidance, and mentorship;
Providing cultural and spiritual support through one-on-one guidance sessions;
Sharing knowledge and expertise in different areas through cultural teachings; and
Offering access to medicines and smudge.
Speaking their truth
Because of the pandemic, the Standups have done the bulk of their consultations virtually, although Mike has managed to hold a number of in-person sessions on campus.
"They are very personal issues," says Geraldine. "Many new students have trouble adjusting. They have moved outside their milieu and into a highly cosmopolitan cityscape. They are trying to find a niche for themselves. I encourage them to come out of their shell and speak their truth, whatever that may be, because it's worth hearing. It's helping students adjust to their new environment."
"The well-seasoned students are really political beings. A lot of our discussions have to do with issues of honesty and integrity. Of course, it's been very interesting for me, because I have an opinion on everything," she says laughing.
The program is based in First Peoples' House, a place Mike knows well.
"I was working for First People's House way back in 2009 or 2010. That was my first taste of working with university students and I enjoyed it very much," says Mike.
"Many times, I help people remember their power, and connect with their good mind," he says. "People lose that connection for various reasons, sometimes through trauma or tragedy. When I consult with them, I'm mostly listening. I really try to give them a platform to find their voice and speak about what is troubling them, what their motivations are, and what their dreams are."
Forged in fire
Both Geraldine and Mike underwent a period of enlightenment in and around 1990, during challenging times in their respective lives.
"It was an entirely spiritual experience, a metamorphosis into a larger understanding. This is what native people are all about – we are highly spiritual beings," Says Geraldine. "It was a transition from living a purely physical life and moving into a broader vision of what the world, our life, and our place in it really is."
"Observing my mom's spiritual awakening was an important event for myself as well, because I was viewing the turmoil that she went through, but it was also my own turmoil at the same time," says Mike. "That whole being-forged-in-fire kind of thing helps you develop an understanding of what is hurting people because you're experiencing it.
Finding the power within
One of the common issues the Standups address is what they call the "decolonization process." People come to them in crisis, looking for a diagnosis as to what is wrong with them, and, of course, a remedy. The entire process, they say, strips the person of their personal power.
"The key factor in our approach to healing is that we're not looking for problems. We're seeing you as whole and complete," says Mike. "We're not looking for sickness. We're advising you of your wholeness and wellbeing. And that causes an immediate change in a person, because they've been taught to see, and fear, the weakness in themselves."
"Where they see illness, we see transition," says Geraldine.
"It's about decolonizing. Our people have been lied to for 500 years," says Geraldine. "They're beginning to think that the only solutions are found in [Western] medicine, psychiatry, and psychology.
"But we had our own way. We had our own way and we were healthy people. So why are we sick now? We have re-learn how to think – and the best way to learn how to think is to go back to your language, because everything that you need to know and understand about life exists in the language," says Geraldine.
Grand awakening
"We're here to provide that teaching, but also to teach them the ability to heal themselves," says Mike. "We don't want people to become dependent on the healer because they have the power themselves.
"This is part of our decolonization process. It's a really big one because so many people need another person to connect to God, right? You don't need a middleman, you have your own power already to do that," continues Mike.
This is part of the grand awakening of many people at this time – not just Native people – we've all been colonized to a certain extent, and it doesn't matter, which continent you come from."