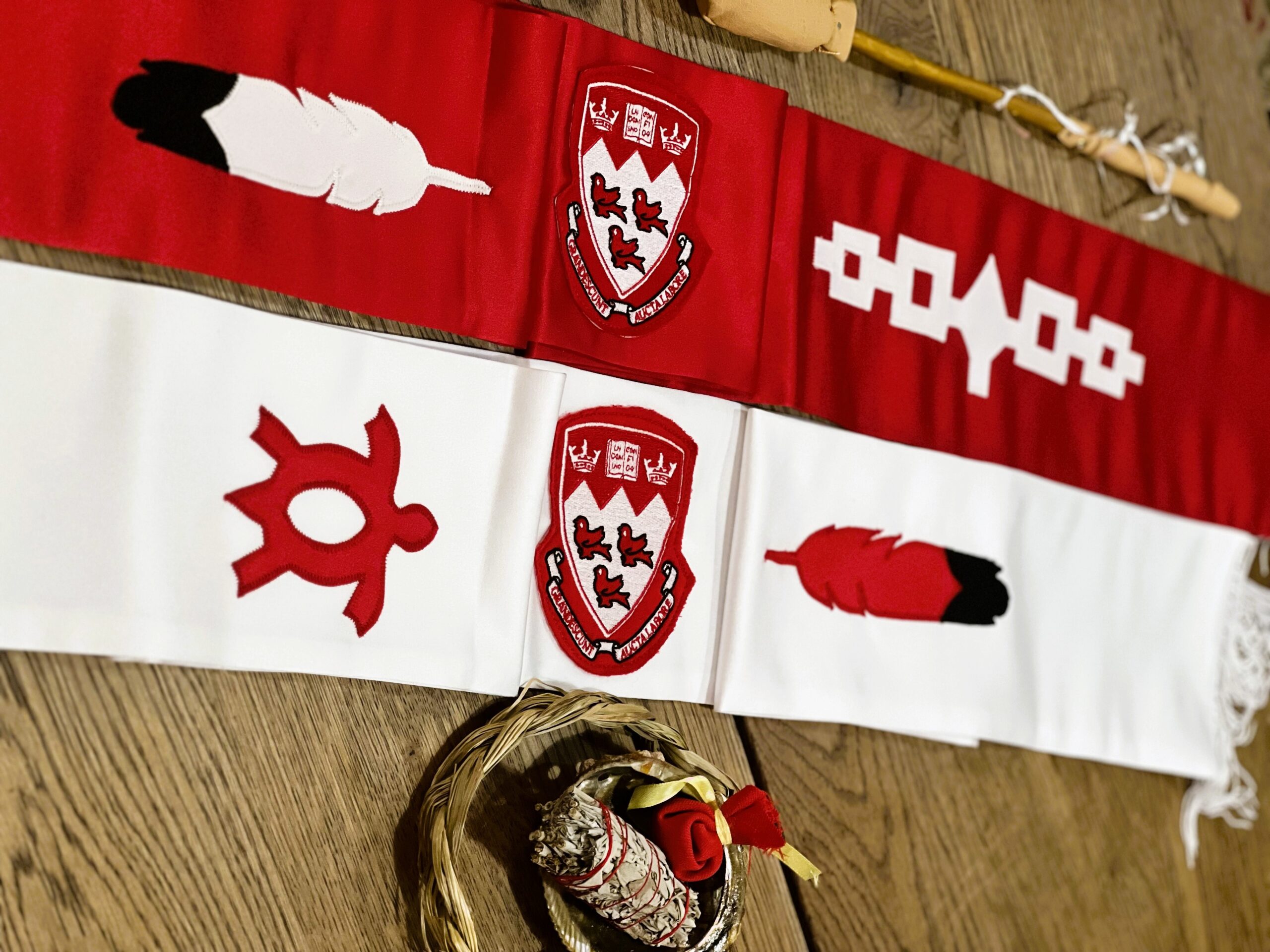 First Nations, Inuit, and Métis students were the guests of honour at McGill's latest Scarf Ceremony, which celebrates the University's Indigenous graduates.
Hosted by the First Peoples' House and the Office of Indigenous Initiatives, the virtual event on November 16 honoured 49 graduates ahead of McGill's Fall 2023 Convocation ceremonies on November 20. The cohort included recipients of doctoral, master's, and undergraduate degrees, as well as certificates and diplomas.
The event opened with words from Faithkeeper Charlie Otsitsakenra Patton, followed by remarks from Provost Christopher Manfredi and Associate Provost (Indigenous Initiatives) Celeste Pedri-Spade.
"Each of you are inspiring and essential role models for the First Nations, Métis, and Inuit students who will follow in your footsteps," said Manfredi. "These scarves are not only a tribute to your talent, but also to your determination, hard work, and resilience, and I would like to offer you my most sincere congratulations."
"Today is a day to celebrate your hard work and dedication," said Pedri-Spade. "We're celebrating all that you have accomplished during your time here, and all that you have contributed to your bundle. Congratulations, you did it!"
Keynote address
The event's keynote address was given Janine Metallic, PhD, a four-time McGill alumna and assistant professor in the Faculty of Education. She reminisced on her own university experience and commended the graduates on their achievements.
"I know what it's like to be the only Indigenous person in a classroom, and it's not easy," said Metallic, a Mi'gmaw from the Listuguj Mi'gmaq First Nation. "But I realized we could have a place in the University, and that it was important to take up that space. You're all a testimony to the change that's been happening, and I'm so happy to be a witness to that."
"You're all leaders and role models now; you show it can be done. Your families, your friends, and your communities are so proud of you, and I wish you all the best."
Shared stories
The ceremony continued with a vocal performance by singer-songwriter Theresa Bear Fox, congratulatory messages from McGill representatives, and the reading of all graduates' names.
Students and their guests were then invited to speak to the group, eliciting a range of emotional stories and tears of joy. One graduate acknowledged a passed loved one who'd encouraged their studies; another expressed thanks to First Peoples' House and the Indigenous community for their ongoing support.
Guest Melvin Pachanos expressed gratitude for the Scarf Ceremony and offered an inspirational message to the event's honourees. "That scarf goes around your neck and extends beyond. It's up to you now to reweave the material at the ends of those scarves, and that means the work you're going to do. I acknowledge the work that you do; that you went to school and worked hard. You should always hold your head up and walk tall."
Signature scarves
The scarves bestowed upon Indigenous graduates are created by Kahnawake-based designer Tammy Beauvais from the Mohawk Nation.
Red scarves are offered to degree recipients and white scarves go to diploma and certificate recipients. All include the McGill crest and an eagle feather, representing the eagle thought to serve as the messenger between First Peoples and the Creator. The bestowing of an eagle feather recognizes the good work of others and is a gesture expressed with great significance.
The red scarves also feature an appliqué of the Hiawatha Wampum Belt that represents the founding of the League of Six Nations, while white scarves feature a turtle – a symbol of creation for many first nations which is intended to represent all the Original Peoples of North America.