Every day, women, girls and LGBTQ2 individuals continue to face crisis levels of violence. Over half of Canadian women have been victims of at least one act of physical or sexual violence since the age of 16.  Women with a disability are nearly twice as likely as women without a disability to have been sexually assaulted in the past 12 months. Intimate partner violence and sexual assault cost our country over $12 billion a year. Given these statistics, almost certainly, you know someone in your own life who has been touched and forever changed by this pervasive, yet preventable epidemic.
On December 2, McGill's Institute of Human Development & Well-being announced the official launch of the More Than Words (MTW) website, created to support the 4-year research project (2019-2023), More Than Words: Studying the Impact of Arts Based Survivor Engagement on Families and Communities. The project received a grant of over $900,000 earlier this year, funded by the Department for Women and Gender Equality (formerly known as Status of Women Canada), as a part of a national $50 million Gender-Based Violence program promising practices to support survivors and their families.  McGill University and numerous partners contributed additional cash and in-kind contributions, bringing the total investment of the project to more than $2 million.
The importance of taking action and creating art
MTW is led by Claudia Mitchell, a Distinguished McGill Professor in the Department of Integrated Studies in Education, Project Director of Networks for Change, Director of the McGill Institute of Human Development and Well-being (IHDW), and founder and director of the Participatory Cultures Lab.
The project seeks to investigate and learn from the use of Indigenous-focused youth-led survivor engagement through the arts, looking at impacts on the producers themselves – young people⁠ – and on their families and communities in relation to their experiences of sexual and gender-based violence (SGBV). The title of the project is meant to symbolize the importance of action over words and refers to the significance of images and art as critical entry points to reflection and meaning making.
"We will use this website together with tools and events to help grow our Indigenous-focused network on the arts in youth-led approaches to support sexual and gender-based violence survivors and their families," said Mitchell.
Supporting a generation of youth leaders
The newly launched website will help advance MTW's goal to support a generation of youth leaders as they mentor a new generation of youth and organizations across Canada engaged in similar endeavours to form a network of young people, practitioners, and researchers focused on arts-based and storytelling approaches to address SGBV.
The website highlights artwork and stories created by MTW and its partners that are related to the theme of addressing and studying SGBV, promotes intergenerationality and mentorship (or aunty-ship) to inspire participatory arts-based work to younger generations, and seeks to deepen the understanding of well-being, cultural safety and trauma-informed work with young people. The website posts information about MTW organized events including mentorship conferences, dialogue events, networking events, and more.
16 Days of Activism against Gender-Based Violence
The website was launched during the ongoing 16 Days of Activism against Gender-Based Violence international campaign that runs annually from November 25 (International Day for the Elimination of Violence against Women) to December 10 (World Human Rights Day). The 16 Days are an opportunity to unite with partners around the world and reflect on what we can each do in our own communities and in our own lives to eliminate the disproportionate violence faced by women, girls and LGBTQ2 individuals.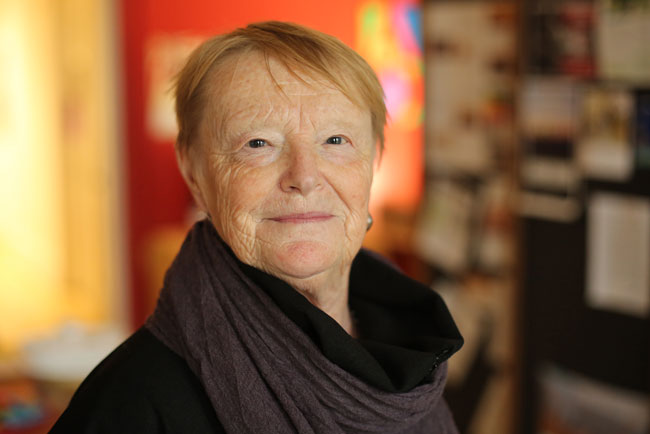 The 16 Days also include Canada's National Day of Remembrance and Action on Violence against Women on December 6, in remembrance of the 14 young women who were murdered at l'École Polytechnique de Montréal in a shocking act of gender-based violence.
Last Friday, on the 30th anniversary of the massacre, several memorials events around Montreal took place. At McGill, a special ceremony took place on McTavish Street in front of a plaque and tree dedicated in memory of the young women who lost their lives, where students, staff and faculty came together to pay their respects and to reflect on SGBV. In the evening, the Sexual Assault Centre of the McGill Students' Society (SACOMSS) invited the community to a Vigil in Birks Heritage Chapel to come together to stand in solidarity with all those who have, and still are, experiencing gendered and sexual violence in their daily lives.
The city of Montreal commemorated the anniversary with a light beam ceremony on Mount Royal. At 5:10pm, the exact time that the first shots were fired, 14 light beams shone over the Montreal skyline. As the names of each of the 14 women who were killed were said aloud, a beam of light was lit in their honour. Following a minute of silence, a 150-person choir sang two musical pieces to conclude the ceremony.
"It is fitting for us that this website launch coincides with the 16 Days of Activism against Gender-Based Violence," says Mitchell. "We recognize that #OurActionsMatter more than ever before, and we are grateful to the Department of Women and Gender Equality for supporting our work over the next four years."