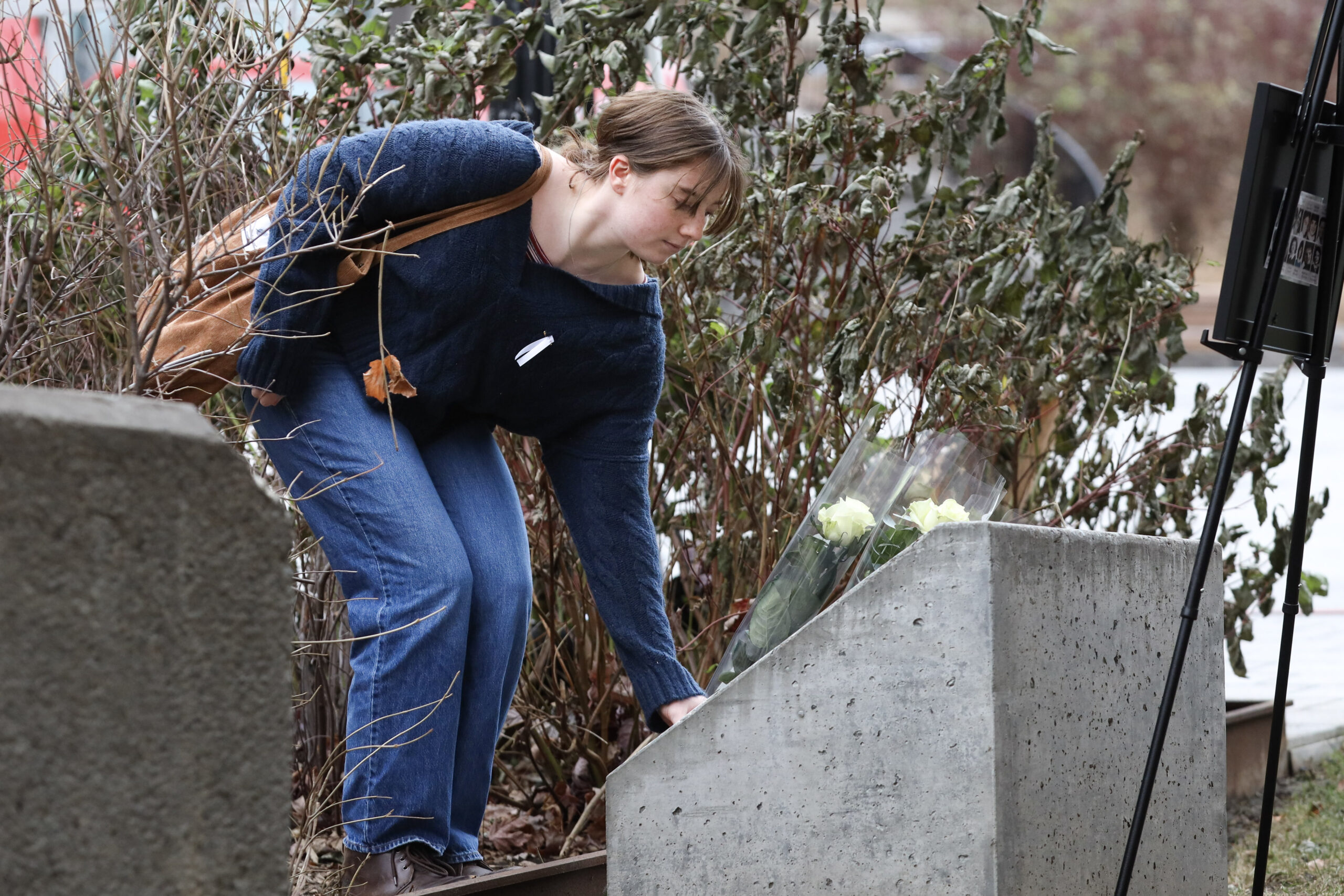 For the first time since 2019, McGill University was able to hold an in-person memorial to remember the 14 women who were murdered, and 13 others injured, in an anti-feminist attack at Montreal's École Polytechnique in 1989. At 11:30 this morning, close to 100 members of the community gathered under grey skies at the memorial plaque and tree across from the University Centre on McTavish Street.
"This commemorative plaque and tree are deeply meaningful fixtures on McGill's downtown campus," said Interim Principal Christopher Manfredi. "They serve to remind us that eliminating violence against women in our society requires a concerted and sustained effort."
In 1991, the Parliament of Canada designated December 6, the anniversary of the École Polytechnique massacre, as the National Day of Remembrance and Action on Violence Against Women. Many of the people at the McGill service wore white ribbons, a symbol of both mourning for all women lost to violence, and an affirmation to fight gender-based violence, misogyny, and hatred. McGill's flags are flying at half-staff to mark the day.
Louis Arsenault, Vice-Principal (Communications and External Relations), emceed the somber event. "Words cannot express the tremendous grief we experience over the tragedy of December 6, 1989, at École Polytechnique," he said. "As a community, we mourn the tragic loss of lives and injuries, and our deepest sympathies go out to the victims, their families and friends."
"We must strengthen our commitment"
Professor Angela Campbell, Co-Acting Provost and Vice-Principal (Academic), acknowledged the progress that has been made in the 33 years since the Polytechnique murders, but stressed that there is much more work to be done to make our communities safe and free from gender-based violence.
"The 14 victims of the attack at École Polytechnique were targeted, fundamentally, because they were women," said Prof. Campbell. "They were targeted because they were university students, and identified as being in a field that was historically the purview of men.
"Too many women, girls, and gender minority people continue to be murdered or assaulted each year simply because of their gender identities…. Collectively, we must strengthen our commitment to address gender-based violence. As such, McGill will continue its efforts to build a community premised on respect and inclusion where all feel welcomed, safe, and supported in their flourishing."
The McGill Senate Subcommittee on Women represents the interests of women students, faculty and staff at McGill University. Co-chair Prof. Brigitte Pientka read a statement from the Subcommittee, calling on the McGill and Montreal communities to reflect on the chilling reality of violence against women in Canada.
"Violent deaths of women in this country are on the rise," said Prof. Pientka. "We recognize and highlight the ongoing systemic violence against Indigenous women in Canada — those who are missing and murdered number in the thousands. This year, we mourn in particular the deaths of 14 Quebec women who were violently killed by their intimate partners. On average, one woman or girl is killed every other day, somewhere in our country."
Prof. Pientka noted that women are far more likely to experience violence than men, and the risk is higher still for single mothers, women with disabilities, trans women, Indigenous women, immigrant, refugee, and racialized women.
"We call upon our communities to recommit to ensuring the deaths at École Polytechnique were not in vain," she said. "We call for policies that lead to gender equity, and an end to structural and individual violence against all people who face gender-based oppression."
The 14 Not Forgotten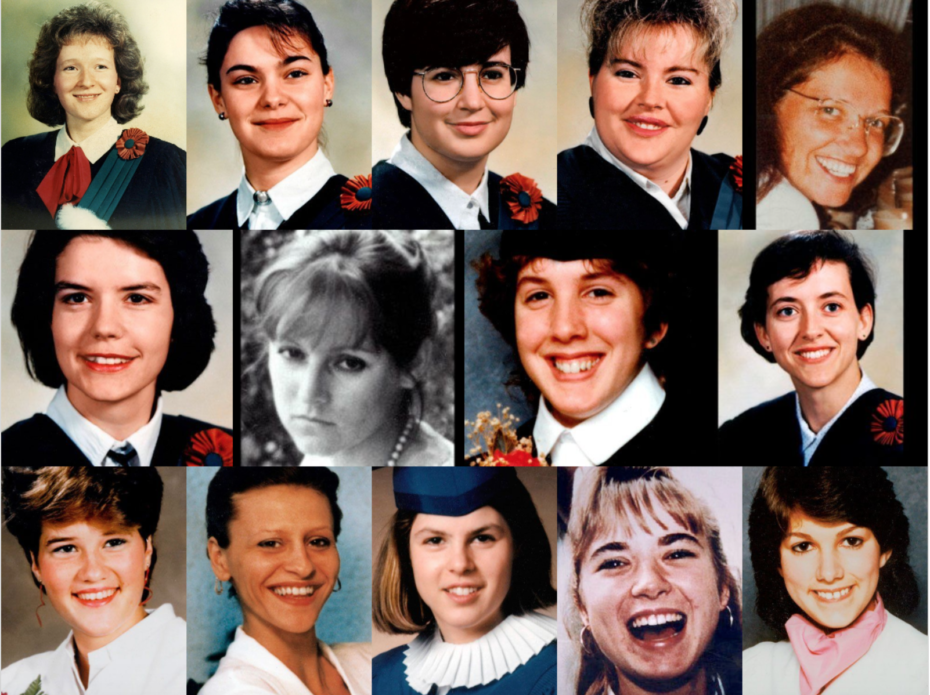 Perhaps the most poignant moments in a tearful morning came when 14 McGill students read tributes to each of the 14 Not Forgotten before laying a white rose on the commemorative plaque. The young women are all members of POWE (Promoting Opportunities for Women in Engineering), a philanthropic, student-run club dedicated to creating an open community to support self-identifying female engineers. Their short but vivid portraits powerfully conveyed the 14 vibrant lives cut violently short, their potential and promise forever unfulfilled:
Geneviève Bergeron: "She was a civil engineering student who had just turned 21. She played the clarinet, she sang in the Montreal Symphony Orchestra, and she had even babysat Montreal mayor Jean Doré's youngest child."
Hélène Colgan: "She was at the end of her degree in mechanical engineering. She was 23 years old when she died. She was a strong student who was looking forward to what came after her degree. In fact, she had three job offers lined up."
Nathalie Croteau: "She was friends with Hélène Colgan, both of whom were planning to vacation someplace warm after their exams. She was three months from graduating and she was only 23 years old."
Barbara Daigneault: "Her father was a mechanical engineering professor and she worked alongside him as a teaching assistant during her degree. She would share her notes with other students, always trying to help. She liked chocolate cake with whipped cream. She was 22 years old."
Anne-Marie Edward: "She was 21 years old. She was studying chemical engineering. She loved rock climbing, downhill skiing and whitewater rafting."
Maud Haviernick: "She was studying materials engineering and she already had a bachelor's degree in environmental design. She made community living habitats. It was her dream to pursue a career in engineering and design. She made sculptures as a hobby. She was 29 years old."
Barbara Klucznik-Widajewicz: "She was studying engineering, logistics and economics. She loved to read. She spoke five languages. She was studying nursing and was 31."
Maryse Laganière: "She was a budget clerk for the department of finance. She had 13 older siblings. She tried to stop the gunman from entering the building. She was 25 years old."
Maryse Leclair: "She was the oldest of four sisters. She was studying in her fourth year of mechanical engineering. She was in love with a classmate named Benoit. She loved listening to music."
Anne-Marie Lemay: "She was a mechanical engineering student inspired to study mechanical devices because her friend had lost a leg and she was fascinated by the importance of mechanical devices in his rehabilitation. She was 22 years old. She played in a band."
Sonia Pelletier: "She loved rock music. Her favourite song was 'Still Alive.' She was days away from graduating at 28 years old in mechanical engineering."
Michèle Richard: "Her nickname was Mimi. She was a second-year materials engineering student. She was 21 years old. She wanted to buy a place and live in Lac-Mégantic where she was from."
Annie St-Arneault: "She was an only daughter. She was attending her last mechanical engineering class before graduating. She wrote poetry. She liked to work with her hands and she was passionate about the environment. She was 23 years old."
Annie Turcotte: "She had won a Women in Science bursary while attending Polytechnique. She was studying metallurgical engineering. She was a protector of nature and the environment. She taught swimming lessons for free at a summer camp for children with disabilities. She was 20 years old."
After the fourteenth rose was laid, the crowd observed a minute of silence. The McGill community also observed a minute of silence at 10:37 yesterday morning, during the final day of classes.
Fostering a safe and inclusive environment
Despina Sourias, city councillor for Côte-des-Neiges–Notre-Dame-de-Grâce and Special Advisor on the Status of Women, Youth, Diversity and Seniors, underlined the importance of keeping the 14 murdered women in our collective memory.
"Violence against women is a continuing threat," said Ms. Sourias. "We are making progress but we are far from solving all the underlying issues. That's why it's so important to keep up our efforts to raise awareness and fight against all forms of violence against women and girls."
Two provincial representatives were also in attendance: Sophie Boulos, attachée for Jennifer Maccarone, member of the National Assembly of Quebec for Westmount-Saint-Louis and Official Opposition Critic for the 2SLGBTQIA+ Community and for Public Security; and Nikolitsa Michelakis, advisor to Greg Kelley, member of the National Assembly of Quebec for Jacques-Cartier.
Although the grief and shock of the 1989 murders continue to be profoundly felt across  Montreal and Canada, the engineering community was particularly shaken. The murders have spurred engineering educators and professionals to take action to improve gender diversity and be more supportive of women pursuing studies and careers in a traditionally male-dominated field. In 2020, for example, McGill's Faculty of Engineering established the 1989 Polytechnique Memorial Scholarships for women in undergraduate programs in the Faculty of Engineering.
"As a university we have a huge responsibility to ensure we foster a safe and inclusive environment where women and gender-diverse students feel supported and have the opportunity to pursue their goals and dreams," said Prof. Jim Nicell, Dean of the Faculty of Engineering. "This includes continuing our important work to sensitize our faculty, staff, and students to recognize gender-based violence within our community, and to work toward building a more equitable space to grow in. It also includes supporting our students and student groups such as POWE, who have been doing remarkable work to encourage and guide future generations of women in the field ever since. In addition, it involves providing guidance, resources and opportunities to help our female students to thrive.
"These are just a few ways of honoring the victims and taking concrete steps to support women within our faculties and in the broader community. We must continue to do that work, to listen, to pay attention, to support, and to act."