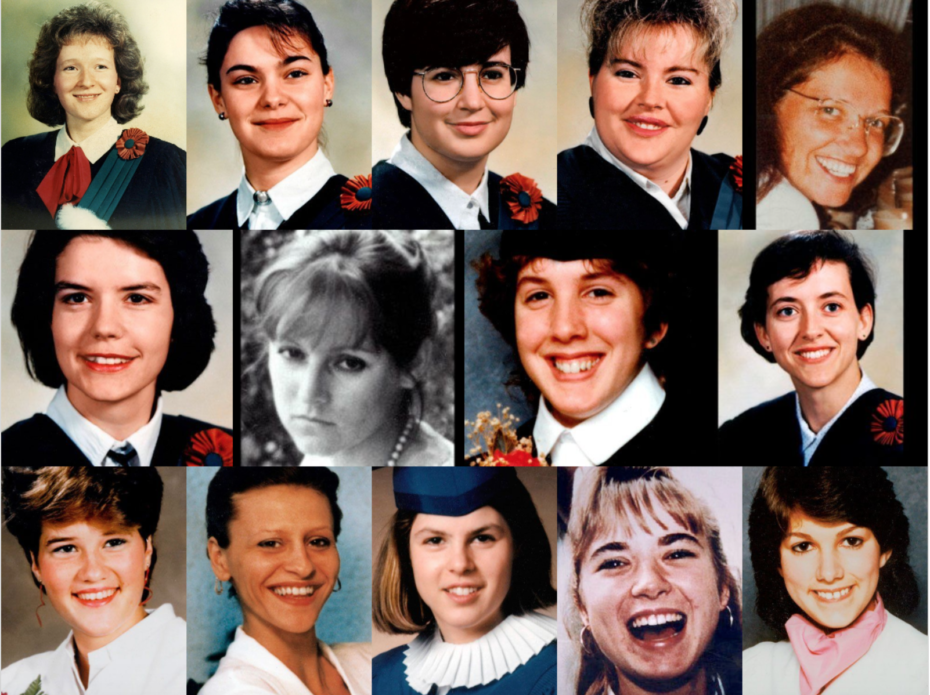 On December 4, some 150 members of the McGill community, including students, staff, faculty and administrators, came together to honour the 14 women murdered at École Polytechnique on December 6, 1989.
Hosted by Angela Campbell, Associate Provost (Equity and Academic Policies), the virtual vigil featured speakers that included Principal Suzanne Fortier; professor Allison Gonsalves; members of McGill's POWE (Promoting Opportunities for Women in Engineering); and Jim Nicell, Dean of the Faculty of Engineering.
"December 6, 1989, is a day we will never forget. It is a day that shook and profoundly saddened our country, our city, and each one of us," said Principal Fortier. "In remembering the 14 lives tragically lost, we remember our responsibility to continue working for women's equality and to end violence against women and girls."
Statement by the Senate Subcommittee on Women
Allison Gonsalves, co-Chair of McGill's Senate Subcommittee on Women along with Sarah Turner, gave the following statement on behalf of the Subcommittee:
The McGill Senate Subcommittee on Women represents the interests of women students, faculty and staff at McGill University. Each year, on December 6th, we commemorate the lives of 14 women who were killed in an anti-feminist attack at École Polytechnique. The Senate Subcommittee on Women invites the McGill and Montreal community to reflect on the reality that violence against women continues to be a part of our present.
Canada is still not a safe country for all women who live here, with women more likely than men to experience violence sometime in their lives, usually before they are 25. For some women, those most marginalized, these risks are even greater. Societal and structural policies and programs continue, especially to harm single mothers, women with disabilities, trans women, Indigenous women, immigrant, refugee and racialized women.
We call upon our communities to recommit to ensuring the deaths at École Polytechnique were not in vain. As we mourn these deaths, as well as the many women and girls murdered or abused since then, we need to continue to work for gender equality, for policies that lead to gender equity, and an end to structural and individual violence against all people who face gender-based oppression.
Say their names
One of the most poignant moments of the ceremony saw female Engineering students reciting the names of the murdered women, and giving details of their respective lives. It was an emotional moment as the McGill Engineering students are all at similar stages of their lives as the women of Polytechnique.
Annie St-Arneault
"She was an only daughter. She was attending her last mechanical engineering class before graduating. She wrote poetry. She liked to work with her hands and she was passionate about the environment."
Hélène Colgan
"She was at the end of her degree in mechanical engineering. She was 23 years old when she died. She was a strong student who was looking forward to what came after her degree. In fact, she had three job offers lined up."
Nathalie Croteau
"She was friends with Hélène Colgan, both of whom were planning to vacation someplace warm after their exams. She was a three months from graduating and she was only 23 years old."
Barbara Daigneault
"Her father was a mechanical engineering professor and she worked alongside him as assistant during her degree. She would share her notes with other students, always trying to help. She loved chocolate cake with whipped cream."
Anne-Marie Edward
"She was 21 years old. She loved rock climbing, downhill skiing and white water rafting. She was studying chemical engineering."
Geneviève Bergeron
"She was a civil engineering student who had just turned 21. She played the clarinet, she sang in the Montreal Symphony Orchestra, and she had even babysat Montreal mayor Jean Doré's youngest child."
Maud Haviernick
"She was studying materials engineering and already had a bachelor's degree in environmental design. She made community living habitats. It was her dream to study engineering and design. She made sculptures as a hobby."
Anne-Marie Lemay
"She was a mechanical engineering student inspired to study mechanical devices because her friend had lost a leg and she was fascinated by the importance of mechanical devices in his rehabilitation. She was 22 years old. She played in a band."

"She was studying engineering, economics and food logistics. She loved to read. She knew five languages. She was studying nursing and was 31."
Maryse Laganière
"She was a budget clerk for the department of finance. She had 13 older siblings. She tried to stop the gunman from entering the school. She was 25 years old."
Maryse Leclair
"She was the oldest of four sisters. She was studying in her fourth year of mechanical engineering. She was in love with a classmate named Benoit. She loved listening to music."
Sonia Pelletier
"She loved rock music. Her favourite song was Still Alive. She was days away from graduating at 28 years old in mechanical engineering."
Michèle Richard
"Her nickname was Mimi. She was a second-year materials engineering student. She was 21 years old. She wanted to buy a place and live in Lac-Mégantic where she was from."
Annie Turcotte
"She had won a Women in Science bursary while attending Polytechnique, She was studying metallurgical engineering. She was a protector of nature and the environment. She taught swimming lessons for free at a summer camp for children with disabilities. She was 21 years old."
New scholarship honours the women of Polytechnique
The last speaker was Jim Nicell, Dean of the Faculty of Engineering.
"We just heard the names of 14 women who were killed on December 6, 1989, in an act of senseless violence borne out of hatred for women," said Nicell. "We need to name them like we did this morning to remind ourselves that they are not just names from a distant 31 years ago, but young people who had family, friends and colleagues who grieve their loss to this day."
"But we also need to acknowledge that our losses don't end there. We lost the unfulfilled potential of 14 women – so many in a field that is still sorely lacking in gender diversity," continued Nicell. "We in the field of engineering need women. We need their experiences, we need their perspective, their ideas. We as problem solvers need them to make us better in our professional lives, in the work we do to solve problems through technology and design, and even in the types of problems we choose to work on as engineers."
The ceremony ended with Nicell announcing the new 1989 Polytechnique Memorial Scholarships. Established through the generous donation of Ian Van Cortlandt McLachlin (BEng '60), the Scholarships will be granted to women in undergraduate programs in the Faculty of Engineering.
"Thank you in for working to ensure that the memory of these 14 women live on and for doing all that you can to improve the prospects of women who have chosen engineering as their profession," said Nicell, addressing McLachlin, who was in attendance along with his three daughters.
****
Two other online vigils will be held on Sunday, December 6. From 4 to 5 pm, the Sexual Assault Centre of the McGill Students' Society will host a secular vigil and share information about how we can take action in addressing violence against women. At 5 pm, MORSL and the students and staff of the McGill-affiliated theological colleges will hold a vigil that will include prayers, psalms and hymns, as well as petitions for action against violence and abuse so we may build a better world.
Watch the December 4 vigil below