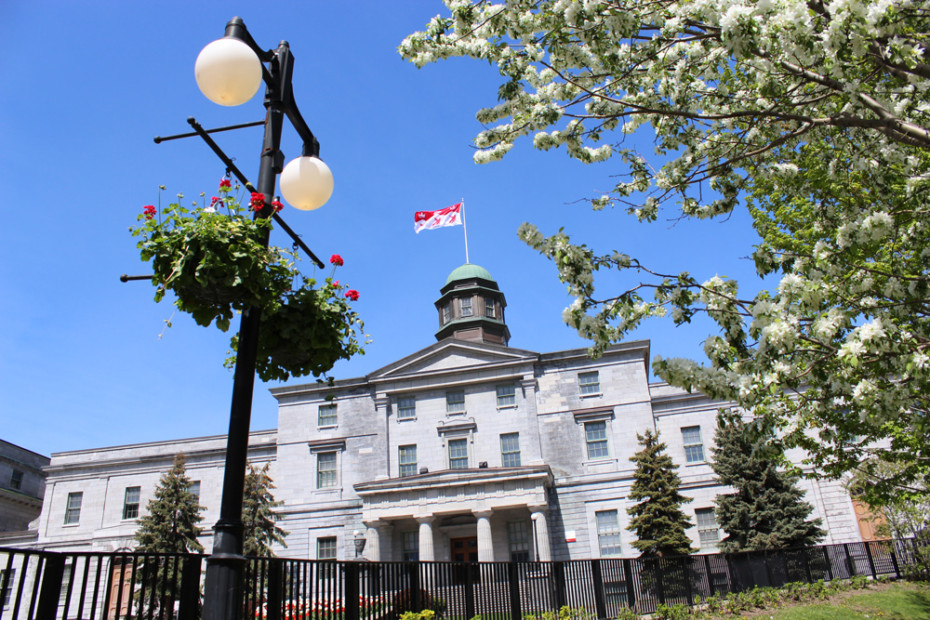 The following was a message sent to the McGill community on April 30 by Provost Christopher Manfredi
Dear members of the McGill community,
From the onset of the COVID-19 crisis in Quebec, my team and I have been working hard to keep the community apprised of how the University is navigating this crisis and its impact on academic life at McGill. I am committed to maintaining ongoing communications with the McGill community as we continue to persevere through this period of adversity and uncertainty together.
Today, I write to update you on another important element of the future: the University's Fiscal Year 2021 Budget. Last Thursday, April 23rd, McGill's Board of Governors approved a provisional FY21 budget. This is exceptional. In normal circumstances, the Board approves a final budget for the upcoming fiscal year, including a five-year forecast of revenues and expenditures. However, because of the uncertainties associated with COVID-19, the Board agreed to accept a provisional budget and forego the usual five-year forecast, on the condition that I present an updated, revised budget six months into the fiscal year.
The largest budgetary uncertainty we face concerns revenues. Like all universities, McGill's revenues are enrolment driven: 80% of our revenues come from student tuition and fees and the enrolment-driven Quebec grant to support our academic activities.
McGill, again like all universities, is anticipating a decline in student enrolment, due to many factors. In McGill's case, the fact that approximately 50 percent of our students are from outside Quebec makes this a particularly high risk. Consequently, the provisional budget I prepared includes several expenditure control measures to mitigate the impact of enrolment-driven revenue losses. These measures include:
Suspension of tenure-track and contract academic hiring until further notice (with the exception of course lecturers where necessary to ensure program continuity)
Suspension of administrative and support staff hiring until further notice
Salary freeze for all senior administrators and Deans
Six-month deferral of merit-based salary increases for all non-unionized academic and administrative support staff
Deferring planned expenditures across all sectors of the University
Additional non-salary expenditure reductions of approximately 3%
Restricting new expenditure allocations to mission-critical activities (including those that may be necessary to adjust to post-COVID 19 conditions), core operations, and contractual obligations.
Because capital projects are not funded from the operating revenue of the University, critical capital infrastructure projects will continue.
I am confident that these measures will allow McGill to enter the post-COVID 19 world with strength, unimpaired in our capacity to fulfill our essential mission.
These measures will be reviewed after six months, at which point I hope that financial circumstances will permit the easing of some. Having said this, in the interests of being fully transparent, I must be clear that additional measures may be necessary should the University's financial position deteriorate further than the provisional FY21 budget anticipates.
In the coming weeks, I will be holding a series of town halls to hear from members of the McGill community on budget and academic planning.
In closing, my sincere thanks to each of you for your understanding and collaboration as we continue to work through this challenging period as a community.
Christopher Manfredi
Provost and Vice-Principal (Academic)
___________________________________________________
À tous les membres de la communauté mcgilloise,
Depuis le tout début de la crise de la COVID-19 au Québec, mon équipe et moi-même nous sommes fait un point d'honneur de bien informer notre communauté sur les mesures que prend l'Université pour gérer les répercussions de cette tempête sur la vie mcgilloise. J'ai la ferme intention de garder ouvertes ces voies de communication avec vous tous afin que nous restions unis en ces temps d'adversité et d'incertitude.
La présente a pour but de vous informer sur un autre élément important de notre avenir, à savoir le budget de l'exercice 2021. Jeudi dernier, soit le 23 avril, le Conseil des gouverneurs de l'Université a approuvé un budget provisoire. C'est là une mesure exceptionnelle. Normalement, le Conseil donne son aval au budget final du prochain exercice, assorti d'informations prévisionnelles sur les revenus et les dépenses des cinq années à venir. Toutefois, en raison de l'incertitude entourant la COVID-19, le Conseil a convenu d'accepter un budget provisoire et de renoncer aux habituelles prévisions sur cinq ans, sous réserve du dépôt d'un budget actualisé et révisé après les six premiers mois de l'exercice 2021.
L'incertitude budgétaire la plus importante a trait aux revenus. L'essentiel des revenus de l'Université McGill provient des inscriptions, comme c'est d'ailleurs le cas de toutes les universités. Ainsi, nous tirons 80 % de nos revenus des droits de scolarité et frais connexes ainsi que de la subvention de fonctionnement du gouvernement du Québec, établie selon le nombre d'inscriptions.
Or, l'Université McGill – ici encore, à l'instar de toutes les universités – prévoit une diminution des inscriptions imputable à de nombreux facteurs. Dans notre cas, ce risque est particulièrement élevé, puisqu'environ 50 % de nos étudiants viennent de l'extérieur du Québec. Afin d'atténuer les répercussions de ce manque à gagner, j'ai donc prévu plusieurs mesures de contrôle des dépenses dans le budget provisoire, notamment :
le gel des embauches de professeurs à des postes menant à la permanence et d'enseignants contractuels jusqu'à nouvel ordre (à l'exception des chargés de cours essentiels à la poursuite d'un programme);
le gel des embauches de personnel administratif et de soutien jusqu'à nouvel ordre;
le gel des salaires de tous les cadres supérieurs et doyens;
le report de six mois des augmentations de salaire au mérite pour l'ensemble du personnel enseignant, administratif et de soutien non syndiqué;
le report des dépenses prévues dans tous les secteurs de l'Université;
la diminution d'environ 3 % des autres dépenses non salariales;
la restriction des nouvelles dépenses aux activités indispensables à la réalisation de notre mission (notamment pour nous adapter à la conjoncture au décours de la crise), à notre fonctionnement de base et à nos obligations contractuelles.
Comme les projets d'immobilisations ne sont pas financés à même les revenus de fonctionnement de l'Université, les projets d'infrastructure essentiels se poursuivront. 
J'ai bon espoir que ces mesures conféreront à l'Université toute la vigueur dont elle aura besoin pour s'acquitter de sa mission en pleine possession de ses moyens après cette crise.
Nous procéderons à une réévaluation de ces mesures après six mois, et j'espère que nous pourrons alors alléger certaines d'entre elles. Cela dit, je tiens à vous dire en toute transparence que la prise d'autres mesures pourrait s'imposer si les finances de l'Université étaient plus ébranlées que ce que nous avons prévu dans le budget de l'exercice 2021.
Dans les semaines à venir, j'organiserai une série d'assemblées générales pour prendre le pouls de la communauté mcgilloise sur les questions budgétaires et la planification de l'enseignement.
Je vous remercie du fond du cœur pour votre compréhension et votre collaboration en cette période difficile pour notre communauté universitaire.
Christopher Manfredi
Vice-principal exécutif et vice-principal aux études