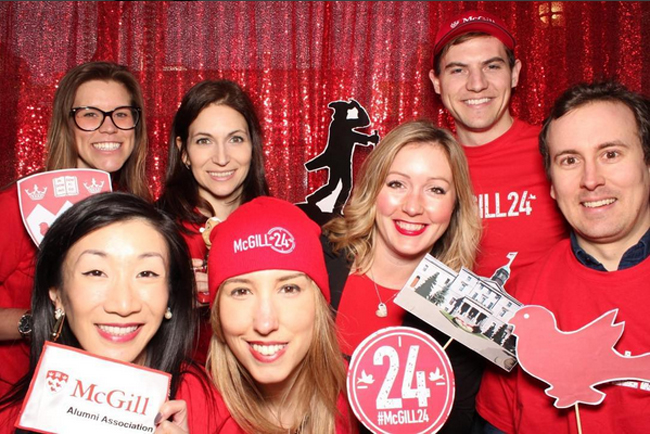 By Katie Mullen
Two McGill philanthropic initiatives, McGill24 and A Brilliant Night, have earned gold and silver respectively in the CASE District I Awards. The annual awards honour individuals and schools for producing innovative work in the fields of fundraising, alumni relations, stewardship, special events, advancement services and communications. The highly competitive field boasts members such as Harvard, Dartmouth and Boston University.
McGill24 is the University's annual day of giving, a 24-hour digital fundraiser that aims to increase awareness of the importance of philanthropy to McGill. The campaign won gold in the Annual Giving Fundraising programs category. The largest fundraiser of its kind in Canada, McGill24 raised nearly $1.4 million in 2017 from over 3,400 donations made by supporters around the world. Since its inception, McGill24 has raised more than $2 million.
McGill24 tapped into the sense of pride alumni, students, faculty and staff feel for the University. The campaign's two hashtags – #McGillProud and #McGill24 – were the top trending hashtags in Montreal and Canada on the day of the campaign. McGill24-themed events also brought together nearly 400 alumni in London, Montreal, Toronto, Washington, D.C., Calgary and San Francisco.
The third McGill24 is right around the corner on March 14, and will once again tap into the #McGillProud sentiment of the University community.
The Neuro's second annual A Brilliant Night gala, held in October 2016 to raise funds for brain cancer research, won silver for Special Events in Fundraising and Alumni Relations. The event brought in $895,000, which was donated directly to groundbreaking research programs at The Neuro.
Unlike many gala events, the mission of A Brilliant Night is not solely to entertain but to educate attendees about brain cancer and the importance of research in this field. Through exciting interactive and immersive installations – including a simulation where attendees could identify and zap cancer cells with state-of-the-art equipment – and culinary delights provided by some of Montreal's top chefs and restaurants, the event successfully combined entertainment and education, while also paying tribute to families whose lives have been affected by brain cancer and the researcher teams working tirelessly in the fight against this disease.