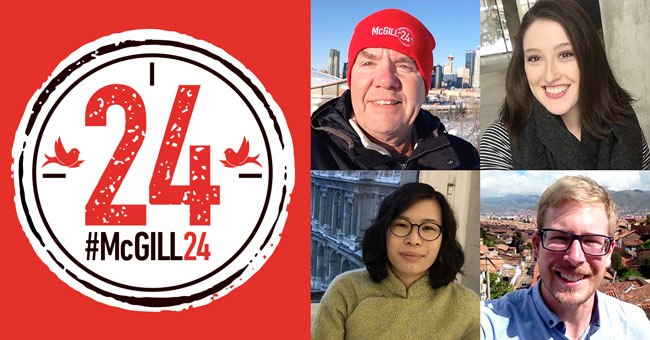 By Katie Mullen
Mother Nature may have played a cruel, late winter trick on Montreal and McGill, forcing the University to cancel classes for the first time since the ice storm of 1998. But that didn't stop McGill alumni, faculty, staff, students and parents from banding together online to support McGill24, the University's second annual day of giving, which on Wednesday, March 15, raised a record-breaking $1.39 million on the strength of nearly 3,500 gifts.
In last year's inaugural campaign, McGill24 raised $793,000 from 1,641 donations.
A digital fundraising initiative, McGill24 played out primarily on Facebook, Twitter, Instagram and the web, where alumni and fans showed how they are proud to be affiliated with McGill though photos and videos using the hashtag #McGillProud. Well-known alumni like Olympic gold medalist Jennifer Heil, hockey legend and former Member of Parliament Ken Dryden, author and scientist Dr. Joe Schwarcz, and Caesars CEO and Cirque du Soleil chairman Mitch Garber shared how their time at McGill has shaped their lives and careers through their own videos.
Participants from around the world gave generously in support of student programs, academic faculties, libraries and more. New to this year's campaign were challenge funds and matching gift commitments, all of which were met, releasing thousands of additional dollars.
While much of the campaign occurred online – #McGill24 was a top-trending Twitter topic in Montreal – there were also McGill24 celebrations in restaurants and pubs in Montreal, Toronto, Calgary, London, Washington and San Francisco. And while the snow may have curtailed activity on the downtown and Macdonald campuses, it couldn't prevent people from getting onto social media and joining in.
"This is an incredible achievement and a confirmation of the power of the McGill community when it comes together," says Gabrielle Korn, Executive Director of the McGill Alumni Association. "After the success of last year's inaugural edition of McGill24, we knew we would try again, but this result is beyond even our highest expectations. We are deeply grateful to all the graduates, faculty, staff and friends of McGill who gave so generously to make this happen. We really are McGill Proud."
By the end of McGill24, the campaign was not just a show of pride from McGill supporters, but a global demonstration of the importance of philanthropy and its impact on McGill students, research and the community.
The McGill24 website will continue to feature information and statistics about the campaign's achievements.