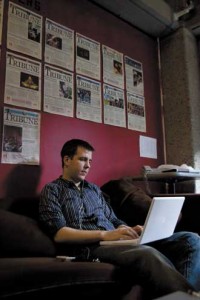 Student journalist combines passion for sports and writing
By Jim Hynes
There are so many different things to study at McGill, but journalism is not one of them. What to do then, when your dream of a career as an ink-stained wretch is matched only by your desire to attend the University?
Matt Chesser faced that dilemma, and somehow found a happy compromise. A few weeks after the 20-year-old Vancouver resident came to McGill, he started writing for the McGill Tribune. That was two and a-half years ago. Today he's the student newspaper's Editor-in-Chief.
"Being Editor-in-Chief was always something I wanted to do in the long run when I started writing for the paper," Chesser.  "It sounds dorky to say but it was a goal of mine to get there eventually. I just got there a lot more quickly than I had planned to."
Chesser (English Literature and Political Science) started out at the Tribune covering his greatest passion of all, sports. He reported on some of McGill's varsity teams in his first year at the University before taking over as the Tribune's Sports Editor in his second.
"The two passions for me have always been writing and sports, and I figured out pretty early on that I was not good enough to play sports at a high level," Chesser said. "I played for a long time – Rep. hockey and everything. But I have no natural athletic ability. It's all just hard work and clumsiness. Sports journalism always seemed like the next best thing for me, to get paid to go watch games and write about them."
Chesser combined his interest in sports and journalism as far back as Grade 10 when he tagged along at a Vancouver Canucks practice and game with sportswriter Gary Mason as part of a mentoring program at his high school. Still, when it came time to decide to if he should pursue post-secondary studies in journalism, Chesser was facing a dilemma.
"I knew that sports journalism was what I wanted to do," Chesser said.  "But coming to Montreal and especially coming to McGill had always been a dream of mine for some reason. So I thought, 'I can go and get this degree first and see what happens'."
What happened was that he ended up as the Editor-in-Chief of one of McGill's two English language newspapers in his third year at school, about as big an extracurricular commitment as there is. Chesser leads a team of 16 editors and a revolving cast of contributors in putting out the weekly paper, which adds about 30 more hours a week to his already substantial schoolwork load.
"I wish I could say that one didn't suffer because of the other, but obviously the school aspect suffers a little bit because of how much time I put into the Tribune. You do the best you can to find balance," Chesser said. "I've always been the type of person who believes the busier you are the better you do.  It forces me to be a lot more organized in terms of the time I spend on things because I know that I have that commitment to the Tribune and if I don't get my schoolwork done then I'm not going to be able to do my job properly at the Tribune and I'm going to let people down there," he said.
The Tribune is still linked to the Students Society of McGill University (SSMU). But Chesser has recently had to spend some time working through the red tape of the paper's official status after SSMU's legislative council mandated it to become independent last year. The Tribune is working towards getting a Memorandum of Agreement with the University that would allow them to use the McGill name and distribute the paper on campus once its ties with SSMU are officially severed. McGill students would also need to vote in a referendum to approve a new fee for an independent Tribune
"Basically all of the groundwork is laid. "All we need now is approval from the University and the students and we'll be independent," Chesser said.
Chesser will be back at McGill and the Tribune next fall, but not likely as the Editor-in-Chief.
"I'll definitely be involved in some capacity, hopefully as an editor if they choose to have me back. But to me the McGill Tribune is a learning experience and I wouldn't want to stop someone else from having the same experience I got to have as Editor-in-Chief. It's been incredible. I've learned an enormous amount about journalism… and about myself too."