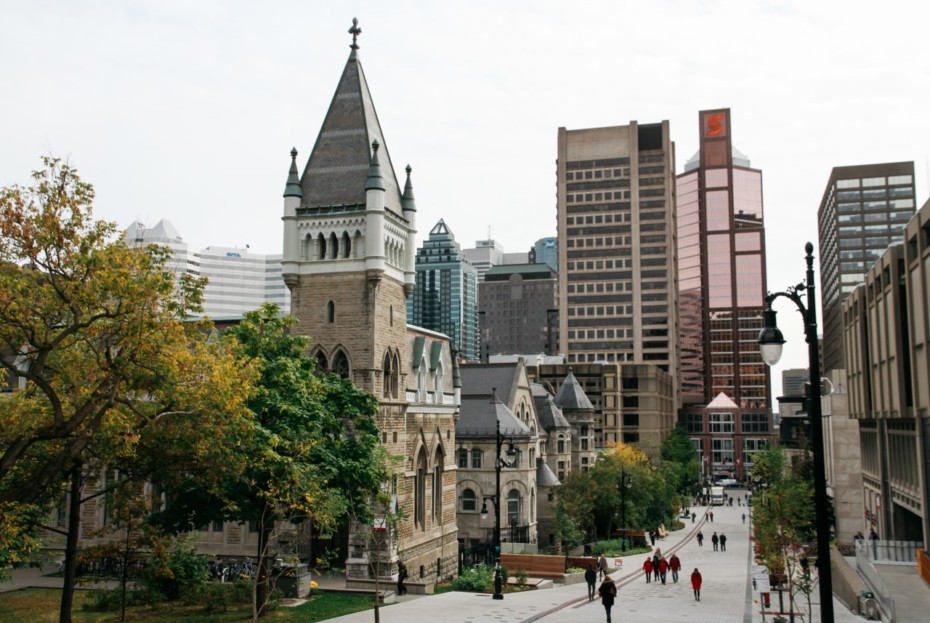 This message was sent to the McGill community by Fabrice Labeau, Deputy Provost (Student Life and Learning), on July 27.
Dear members of the McGill community,    
As Provost Manfredi and Vice-Principal Beauchamp wrote to you last week, our society is now living in a period of learning to co-exist with COVID-19. The success of our ongoing, multi-phase research ramp-up is proof positive that, together, well-considered institutional directives and conscientious individual efforts can result in safely re-opening our physical spaces. We will now take significant steps in the weeks to come to increase the resumption of all types of activities across our campuses.   
At the same time as the fourth and last phase* of select on-campus research activities is being deployed, we are now planning what we are calling Phase 5, which will also involve resuming administrative and other non-research activities. Even with fall courses being primarily delivered remotely, the University is committed to safely re-establishing a vibrant campus experience for our students. As noted in last week's message, this phase is about collaborating with the Faculties on implementing in-person teaching activities through teaching hubs, safely designed study and learning spaces, and other innovative opportunities for student engagement. In addition, we are also working with unit heads to have back-to-campus transition plans properly implemented to support our community as we get ready for the fall semester. These will enable employees to gradually come back to work on campus and, as individual unit needs allow, to start to alternate between working on-campus and working from home.   
Our main priority has always been, and continues to be, the safety and well-being of our students, staff, faculty, instructors and researchers.  
To support our community in getting ready for a safe fall semester, starting this week we will be posting amended directives for resuming on-campus activities on McGill's coronavirus resource webpage. We will also be holding a series of Phase 5 Town Halls for our faculty, staff and student community. The first, for academic and administrative staff, will be held this Thursday, July 30. A separate invitation is forthcoming. Dates and other details for other Town Halls will be shared with you when finalized.   
*Phase 4 includes the following buildings:  
550 Sherbrooke   
Bronfman Building    
Currie Gymnasium   
Duggan House and Coach House  
Elizabeth Wirth building  
Leacock Building  
Strathcona Music Building  
Thank you for your time in reading this. I hope you have a great week.  
Sincerely,       
Fabrice Labeau       
Deputy Provost (Student Life and Learning), on behalf of the Emergency Operations Centre   
___________________________________________
Chers membres de la communauté mcgilloise, 
Comme l'ont écrit le vice-principal exécutif Christopher Manfredi et le vice-principal Yves Beauchamp la semaine dernière, notre société apprend à vivre avec la COVID-19. La réussite de notre reprise des activités de recherche en plusieurs phases est la preuve irréfutable que, mis ensemble, des directives institutionnelles sensées et des efforts individuels consciencieux peuvent permettre la réouverture sécuritaire de nos espaces physiques. Nous allons maintenant accélérer de façon marquée la reprise de tous les types d'activités sur nos deux campus au cours des prochaines semaines.  
Parallèlement au déploiement de la quatrième et dernière phase* de la reprise de certaines activités de recherche sur les campus, nous planifions ce que nous appelons la Phase 5, qui comprendra la reprise d'activités administratives et d'autres activités non liées à la recherche. Si les cours de la session d'automne seront principalement donnés à distance, l'Université est néanmoins déterminée à offrir à sa population étudiante une expérience dynamique du campus, et ce, en toute sécurité. Comme il a été mentionné dans le message de la semaine dernière, cette phase – issue de la collaboration avec les facultés – a trait à la mise sur pied d'activités d'enseignement en présentiel sous la forme de bulles d'enseignement, de stations d'étude et d'apprentissage sécuritaires et d'autres propositions novatrices pour dynamiser la vie étudiante. De plus, de concert avec les chefs d'unité, nous sommes à définir les modalités de retour sur le campus en prévision de la session d'automne. Selon les besoins de chaque unité, ces modalités permettront aux employés de revenir graduellement sur le campus et de travailler en alternance en présentiel et à distance. 
Notre priorité absolue a toujours été, et continue d'être, la sécurité et le bien-être de nos étudiants, des membres de notre personnel et du corps professoral et de nos chercheurs.   
Afin d'aider notre communauté à se préparer pour une session d'automne en toute sécurité, de nouvelles directives en lien avec la reprise des activités sur le campus seront publiées sur la page sur le coronavirus du site Web de McGill dès cette semaine. Une série d'assemblées générales sur la Phase 5 à l'intention de nos enseignants, nos employés et nos étudiants sera également organisée. La première assemblée, qui aura lieu le jeudi 30 juillet, s'adressera au personnel enseignant et administratif. Une invitation sera envoyée sous peu. De plus, nous vous communiquerons la date des autres assemblées, ainsi que des renseignements supplémentaires, dès que possible.  
 *La Phase 4 concerne les immeubles suivants :  
550, rue Sherbrooke 
Pavillon Bronfman 
Gymnase Currie 
Maison Duggan et maison Coach.
Pavillon Elizabeth-Wirth 
Pavillon Leacock 
Pavillon de musique Strathcona 
Je vous remercie de votre attention et je vous souhaite une excellente semaine.  
Cordiales salutations, 
Fabrice Labeau 
Premier vice-principal exécutif adjoint (études et vie étudiante), au nom du Centre des opérations d'urgence