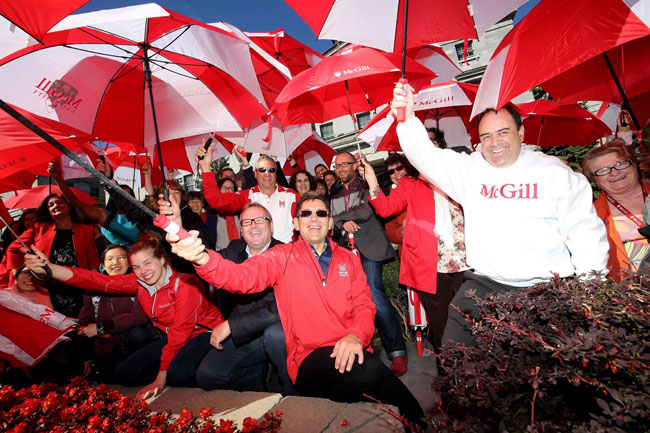 McGill has again dug deep and come up with more than half a million dollars for Montrealers in need.
The final tally has come in for last fall's Centraide/United Way campaign at $513,493, well beyond the target of $500,000.
"This is not just about McGill," said campaign co-chair Ollivier Dyens, Deputy Provost (Student Life and Learning). "This is about supporting Montrealers in need. As usual, McGill has shown great generosity toward people in the community in which we live."
Although this year's result falls a little shy of last year's all-time fundraising record of $525,606 – which handily surpassed that campaign's goal of $475,000 – there was another small increase in the percentage of McGill employees who contributed.
"If all our employees contributed just $2 per paycheque, we'd surpass $700,000," said Dean of Education Dilson Rassier, another of the McGill co-chairs. "We'll keep working on that, but we are very grateful for the generous support we have received in this and previous campaigns. Well done, McGill!"
The 2016 Centraide campaign for the greater Montreal region was also a success raising $55,050,000 thanks to the generosity of several tens of thousands of donors. This amount will allow Centraide to support about 350 agencies that fight against poverty and exclusion in Montreal, Laval and on the South Shore. The 2015 citywide campaign raised a total of $54.3 million.
"I am extremely proud of the exceptional results we have achieved. I salute the amazing work and passion of the Cabinet members who brought this campaign to fruition, as well as the exemplary solidarity on the part of donors. This tremendous outpouring of generosity will contribute toward breaking the cycle of poverty in Greater Montreal," said Isabelle Marcoux, co-chair of the greater Montreal campaign, in a statement made public by Centraide.
"Montreal would not be the same without the invaluable contribution of the companies, organizations, volunteers and citizens who support the largest network of aid agencies in Quebec. This campaign will improve the lives of hundreds of thousands of people in our community," added Mitch Garber, also a co-chair.
Every fall, Centraide (known as the United Way outside Quebec) conducts a citywide fund drive to support 350 agencies in and around Montreal dedicated to providing services to low-income, socially marginalized and vulnerable populations. Centraide estimates that the agencies they support are accessed by one in seven residents of Montreal, Laval and the South Shore.
As part of its commitment to serving the city of Montreal, McGill has been one of the top workplace fundraisers for Centraide over the past decade.