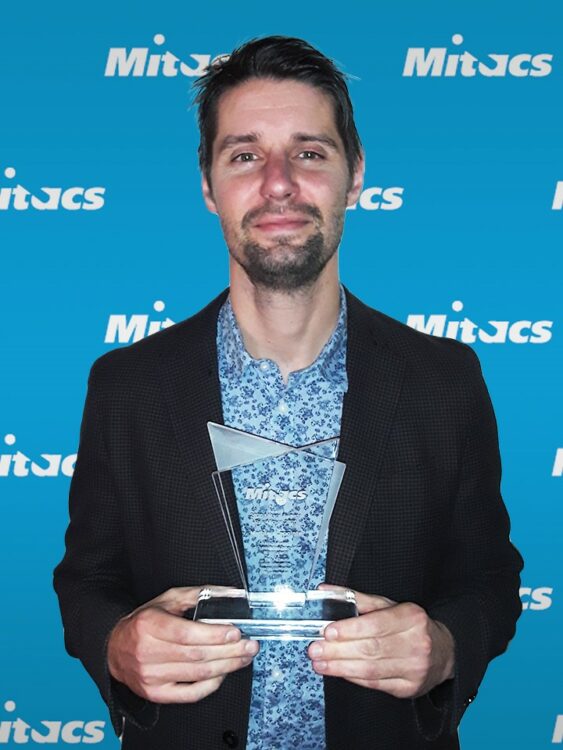 Amid the challenges of a global pandemic, an early-stage researcher at McGill University has been recognized for his innovative work to remove microplastics during water treatment, ensuring safe drinking water and helping to combat the growing environmental problem of microplastic accumulation in aquatic ecosystems, soils and surface waters.
The breakthrough work has earned Mathieu Lapointe the Mitacs Award for Outstanding Innovation — Postdoctoral, awarded by Mitacs, a national innovation organization that fosters growth by solving business challenges with research solutions from academic institutions. The award was presented at a virtual ceremony on November 24.
Lapointe – a researcher supervised by Professor Nathalie Tufenkji in McGill's Department of Chemical Engineering – is being touted for identifying the most promising chemical (advanced coagulant) and conditions that successfully remove microplastics in the early stages of water treatment, forcing them to the bottom of large settling tanks and leaving cleaner water at the top. The chemical, a form of aluminum chlorohydrate, is currently marketed worldwide by Kemira Water Solutions. 
"Global release of primary microplastics into the ocean is estimated to be greater than four million tons per year and is only expected to increase," said Lapointe, noting that outflowing water from wastewater treatment plants is a significant source. "Water treatment plants around the world were not initially designed for microplastics removal and could be optimized to do so."
High success rate
By studying the surface chemistry of both coagulants and microplastics, Lapointe optimized the water treatment process to successfully target and remove microplastics such as polyethylene, polyester fibres and polystyrene debris. In challenging conditions (high pH), whereas current water treatment processes remove 80 per cent of polyethylene particles, for example, Lapointe demonstrated microplastic removals as high as 97 and 99 per cent using the advanced coagulant.
"We are among the first researchers in the world to clearly optimize and adjust the process in order to improve the removal of microplastics," he said, adding his work also clearly showed that pristine polyethylene is one of the most problematic types of plastic. "Thanks to our research, water treatment plants globally now have the option to improve their processes and reduce the amount of microplastic slipping through."
"Breakthrough work is changing the way we live and work"
The Mitacs Award for Outstanding Innovation — Postdoctoral is presented to a Mitacs postdoctoral fellow who has made a significant achievement in research and development innovation through international collaboration. 
Lapointe is one of eight Mitacs award winners nationally, chosen from thousands of researchers who take part in Mitacs programs each year. The remaining seven recipients were recognized for outstanding innovation, commercialization or exceptional leadership in other areas of research. 
In congratulating the winners, Mitacs CEO and Scientific Director John Hepburn said Canada benefits from innovation derived from strategic partnership between industry, government and academia, ultimately helping to retain top talent on our home turf and spurring economic recovery.
"Whether our researchers study abroad and bring their expertise back to Canada, or develop ground-breaking ideas by tapping into resources across our country, their breakthrough work is changing the way we live and work," Hepburn said. "Mitacs is honoured to play a role in supporting this important research and helping to advance innovation for the benefit of Canadians."    
Read the Mitacs press release and see the full list or winners