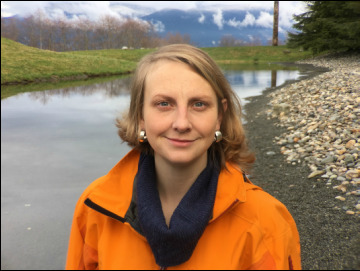 Jennifer Sunday, an assistant professor in McGill's Department of Biology, has won a Genome Canada grant of $757,409 to monitor biodiversity in Canada's marine protected areas.
Sunday, a William Dawson Scholar, was one of four award recipients who will receive a total of $8 million for research projects under Genome Canada's Genomic Applications Partnership Program (GAPP).
The grant was announced through Génome Québec, which is partly funded by Genome Canada.
The Génome Québec press release said that the GAPP program promotes "partnerships between academic researchers and users in order to meet the needs of key sectors, such as health, agrifood, forestry and the environment. GAPP-funded research translates scientific innovations into benefits for the economy and Canadians."
"The agrifood, agriculture, health and environmental sectors offer tremendous potential for genomics solutions. These sectors are critically important for Québec's competitiveness and for the well-being of Quebecers," said Daniel Coderre, President and CEO of Génome Québec. "This is why I am particularly pleased to see the level of excellence of our laureate teams. The research projects and public-private partnerships we have here hold tremendous opportunities for Québec's future and for its industrial fabric."
Difficult to monitor habitats
There are about 800 000 km2 of Canadian marine areas under protection, Génome Québec said.
Canada works to "preserve marine biodiversity and promote healthy, functional, and resilient marine ecosystems. However current biodiversity sampling methods are inadequate to monitor biodiversity within a conservation network of this size."
Sunday said in an email that "Canada has invested in protecting many of its coastal habitats through marine conservation, but it is surprisingly difficult to monitor those habitats, making it difficult to see a 'return' on our investment."
"I am interested in using environmental DNA to improve our capacity to observe marine life in the oceans and to understand the changes in ecological communities through time," Sunday added. "I work closely with [British Columbia's] Hakai Institute on this pursuit, and together, our interests have all aligned."
Her project co-leaders are Emily Rubidge and Ryan Stanley, both of Fisheries and Oceans Canada.
Prof. Sunday said she has "always been fascinated by the diversity of life in our oceans, growing up on the west coast of Canada, and I have more recently become enchanted with the puzzle of piecing together how life has changed over time, especially over the past 60 years of climate change. For impacts, I hope to transform how we observe and understand our oceans in the future by transforming the volume of observational data that we may have and developing more predictive models of how species respond to global change."
Earlier this year, Sunday was one of three extraordinary early career researchers at McGill named as recipients of the 2020 Sloan Research Fellowship.