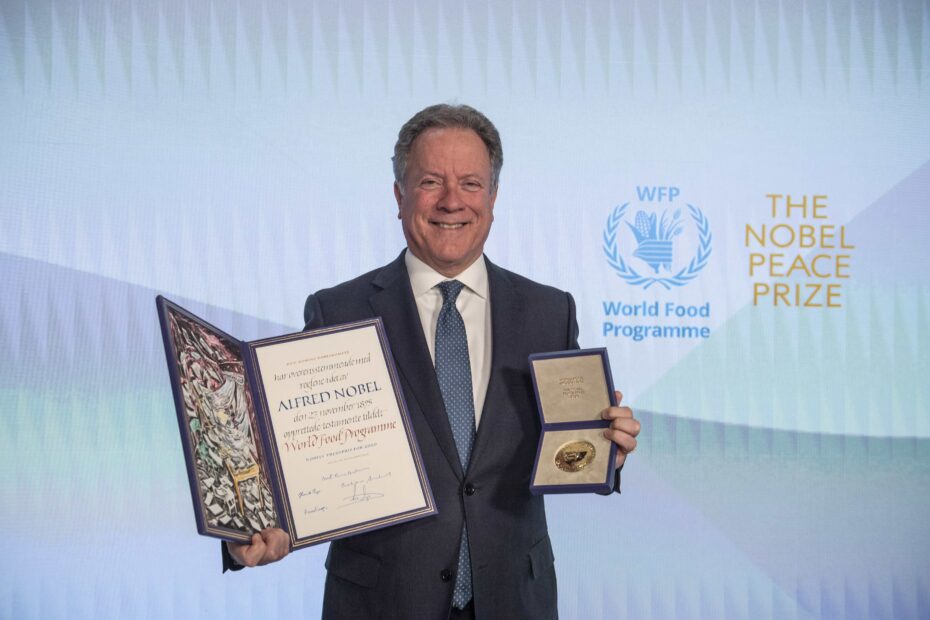 December 10, was a typical day at the office for Kate Sinclair… Kind of, but not really. Not by a long shot.
Her job, as an International Nutrition Consultant for World Food Programme Sri Lanka, was uneventful that day. But when Kate returned home, she tuned in to the virtual Nobel Peace Prize ceremony where the UN World Food Programme (WFP), was awarded the Nobel Peace Prize for 2020.
It's not every day that you and your 20,000 colleagues around the world win a Nobel Peace Prize.
In fairness, the Norwegian Nobel Committee actually announced the award on October 9, with the virtual ceremony taking place on December 10. It gave Sinclair, and her 20,000 co-winners, two months to process the good news.
"It was a real surprise to hear the World Food Programme won the Nobel Peace Prize – I was not expecting that," says Sinclair in an email interview from Sri Lanka, where, on top of working for the WFP, she is completing her PhD in Human Nutrition at McGill. "It is such an honour for all of us working at WFP, including myself. Being awarded this prize is such a humbling moment for us all."
First on the scene in some of the world's most desperate situations 
The largest humanitarian agency in the world, WFP delivers vital food assistance in emergencies – often first on the scene to deliver vital food to the victims of war, civil conflict, drought, floods, earthquakes, hurricanes, crop failures and natural disasters. About two-thirds of WFP's work goes to people facing severe food crises, most of them caused by conflict, where people are three times more likely to be undernourished than those living in countries without conflict. In 2019, WFP assisted an astonishing 97 million people in 88 countries.
"The Nobel Peace Prize was awarded to WFP in recognition of our efforts to combat hunger, our contribution to bettering conditions for peace in conflict-affected areas and for acting as a driving force to prevent the use of hunger as a weapon of war and conflict," says Sinclair. "The award recognizes food as the pathway to peace and acknowledges the work of WFP staff who put their lives on the line every day to bring food and assistance to more than 100 million hungry children, women and men across the world."
A journey that began at McGill
Sinclair's road to Sri Lanka began at McGill.
She says she was first drawn to McGill's School of Human Nutrition because the Applied Master's program allows participants to earn their Master's degree while also completing their dietetics credentialing.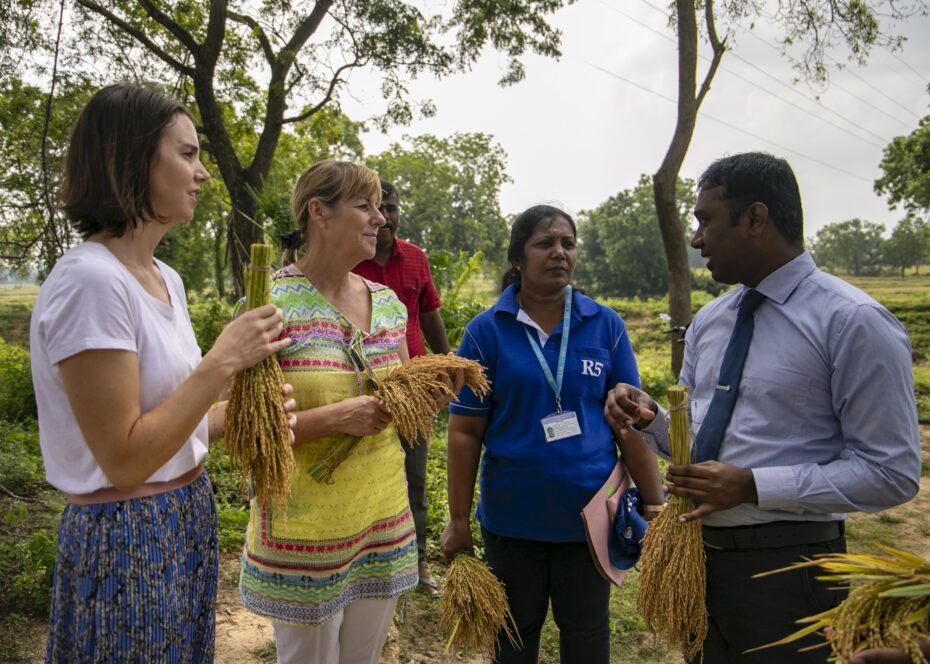 "It was only after taking a Public Health Nutrition course during my first semester, which was taught by Dr. Hugo Melgar-Quiñonez, [the Margaret A. Gilliam Faculty Scholar in Food Security at the Margaret A. Gilliam Institute for Global Food Security] who is now my PhD supervisor, that I was inspired by the work he was doing and switched to the thesis stream, allowing me to do a more in-depth research project," said Sinclair. "Hugo's passion and positivity has hugely motivated my ever-growing enthusiasm for global food security, nutrition and academia."
Sinclair fed that burgeoning interest in global food security by doing research projects around the world. "I have learned a tremendous amount from conducting research during my time at McGill both professionally and personally," she says. "These experiences helped prepare me for my role at WFP in many ways. It has honed my ability to adapt and work in different contexts with individuals from diverse backgrounds… I have been fortunate enough during my time at McGill to live and work in many different countries – Colombia, Haiti, Costa Rica, Barbados and now Sri Lanka."
Sinclair's work at WFP Sri Lanka started modestly enough when, in August 2018, she began a six-month internship. Two years later, as WFP Sri Lanka's International Nutrition Consultant, she supports the development, implementation and evaluation of a wide range of nutrition-related programs. This includes school feeding, rice fortification, knowledge management and resiliency building, among others.
"Also, given my strong background in global food security, I have been supporting the Research Assessment and Monitoring team as well, namely related to food security assessments, knowledge management activities and policy review," says Sinclair.
Doing a lot with a little
WFP is funded entirely on donations. WFP Sri Lanka is a "small Country Office in a middle-income context" that faces constant funding challenges. "However, we are quite an innovative and dynamic team, working closely with the government, which allows us to often 'do a lot with little,'" says Sinclair.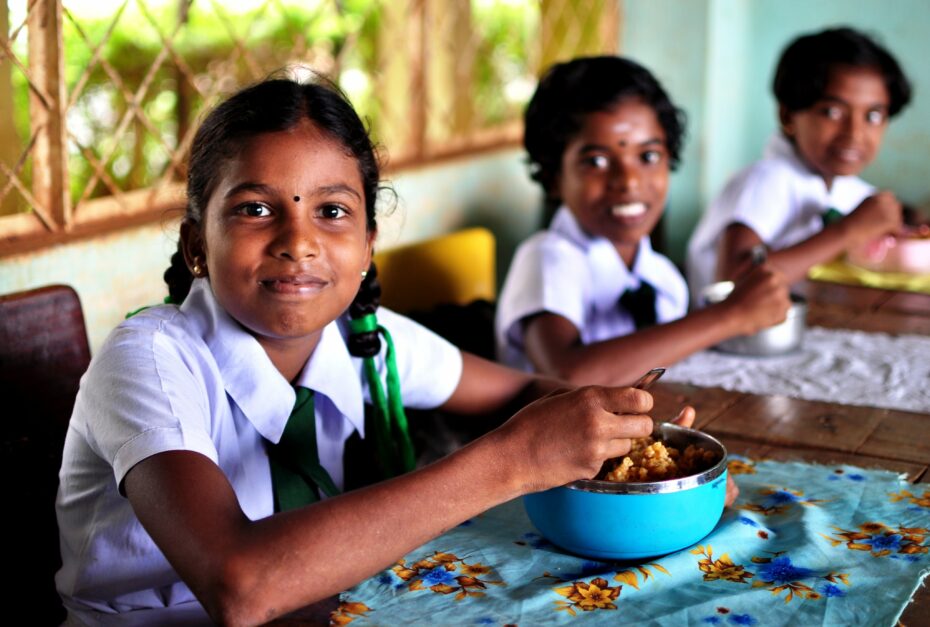 In terms of challenges, however, COVID-19 has presented a challenge "unlike any other," says Sinclair.
In Sri Lanka, Sinclair and her colleagues are monitoring the situation closely, adapting existing programs to continue helping people in need, and working closely with the government to respond to needs as they arise.
In mid-March the Sri Lankan government closed schools to help curb the spread of the virus. But it meant that many children were suddenly cut off from the free meals they received as part of a long-standing national school meal program supported by WFP.
"With the protracted closure of schools and disruption to the school meal program, WFP together with the Government of Australia worked with the Ministry of Education and other government partners to supply take-home food rations as an alternative method of providing food security to children until the recommencement of the national school meal program," says Sinclair.
Food security: Multifaceted challenge requiring multifaceted response
Despite tremendous research advances in food production; storage and processing; food safety; nutrition and health, more and more people around the world are going hungry. "From 2000 to 2015, the world witnessed a prolonged decline in the overall number of hungry people; however, recent estimates indicate that for the first time in 15 years this number is now on the rise," she says.
It is a multifaceted problem that requires a multifaceted response. "We need nutrition-sensitive investment across the food system, including efforts to reduce food loses and enhance efficiencies," she says. "Strengthening livelihoods and building resilience amongst smallholder farmers, particularly those who are vulnerable to recurrent natural shocks and climate change will be imperative. Redressing agriculture policies and incentives will be foundational in these efforts."
And then there is conflict.
"The link between hunger and armed conflict is a vicious circle: war and conflict can cause food insecurity and hunger, just as hunger and food insecurity can cause latent conflicts to flare up and trigger the use of violence," says Sinclair. "Without peace and stability, we cannot hope to achieve food security for all or end hunger."
Watch the video made during Kate Sinclair's original internship with WFP Sri Lanka in 2018