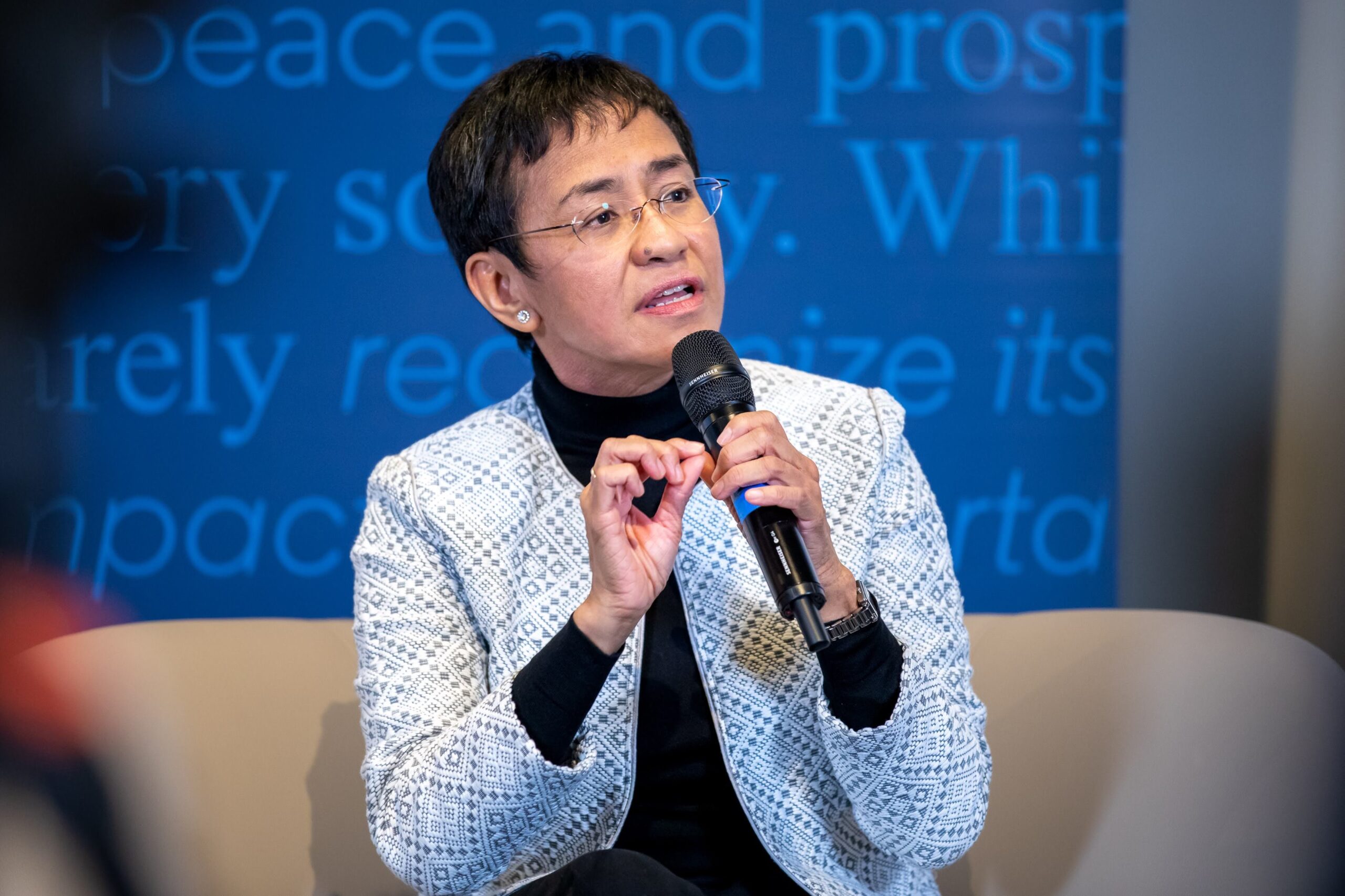 Nobel Peace Prize Laureate Maria Ressa, a seasoned Philippines journalist with over 35 years of experience, knows what it's like to be on the receiving end of online harm. The victim of a state-sponsored cyberbullying and disinformation campaign for her work, Ressa has gained invaluable insight into overcoming the trauma and how to counter it.
Ressa delivered the 68th annual Beatty Lecture at McGill University on October 20. Established in 1952, the Beatty Lecture is McGill's most distinguished lectureship, and one of Canada's longest running lecture series. For the 2nd year, CBC Radio Ideas host Nahlah Ayed emceed the event.
For two decades Ressa worked as CNN's bureau chief in Manila and is the co-founder of Rappler, an investigative journalism website. A staunch critic of the ruling elite in the Philippines, in 2020, she was arrested on charges of cyberlibel, a law criticized by human rights advocates as an attempt to suppress press freedom. She is currently appealing her conviction to the Supreme Court in the Philippines.
Threat to democracy
Ressa believes the proliferation of disinformation through social media is threatening our democratic way of life. She warns that unless advanced democracies counter online disinformation campaigns with short-, medium- and long-term strategies we will inevitably live under authoritarian rule – and it will likely further devastate the well being of our children.
It was during her on-going online abuse that Ressa developed a strategy in her native Philippines to oppose online disinformation, she explained to the Beatty audience.
"In the short term, especially for people like me living in countries like the Philippines, we have no choice. We must figure out what civic engagement means in the age of exponential lies," Ressa said at a packed Pollack Hall.
Fact-checking campaign
Ressa's solution was leading a 16-newsroom fact-checking counter campaign, the first time such an effort took place in the Philippines. The coalition found something interesting happens when journalists combine resources.
"This, the creation of fact-checks, they don't spread (on social media). They're really boring, right?" Ressa said. "So what we did (is create) the second layer called the Mesh. This is civil society, NGOs, human rights groups, environmental groups, the church and businesses. Their goal, their instructions were to share those boring fact checks with emotions. You have to add emotions. And then, the crazy thing we found is inspiration spreads as fast."
In conversation with Max Bell students 
Ressa's Beatty Lecture appearance capped a two-day event with experts fighting online disinformation as well as hate and harmful speech.
Before arriving at Pollack Hall, Ressa spoke at the Global Governance of Online Harms Conference organized by the Max Bell School of Public Policy and its Centre for Media, Technology and Democracy led by Beaverbrook Chair in Media, Ethics and Communications, Taylor Owen, and the Centre for International Peace and Security Studies led by Canada 150 Research Chair in Global Governance and Security, Jennifer Welsh.
In a conversation presented by the Beatty Lecture, Master of Public Policy students got a chance to ask Ressa as well as Frances Haugen, the prominent Facebook whistleblower, questions about the future of social media and how government should regulate it.
"What does democracy look like? What does civic engagement look like, in the age of exponential lies?" Ressa asked the students. "How do we change it? People like Frances have to give lawmakers and citizens the language. We need to rename, reclaim, and demand rule of law."
"The ultimate thing that protects freedom of speech is rule of law," Haugen commented. "If we don't believe in rights, we don't believe in due process, [then] very rapidly we are losing freedom of speech. The thing we are seeing around the world is a rise in populace, undemocratic movement that are often xenophobic and authoritarian. And the thing that I am scared of is us not acting out of fear of having the government get involved and paying the cost of losing our rights in the process."
The 2022 Beatty Lecture and discussion between Maria Ressa and Nahlah Ayed will be featured on an upcoming episode of CBC Radio Ideas. Stay tuned to the Ideas schedule.