On the afternoon of Thursday, January 26, 2023, McGill University held its inaugural International Holocaust Remembrance Day commemoration. The event took place in the atrium of the Macdonald Engineering Building on the downtown campus.
In 2005, the United Nations designated January 27 as an international day to honor the six million Jewish victims of the Holocaust and millions of other victims of Nazism, and to develop educational programs to help prevent future genocides. The UN chose the date because it marks the anniversary of the 1945 liberation of the Auschwitz-Birkenau concentration camp.
Because January 27 falls on a Friday this year, McGill held its commemoration one day early out of respect for the Shabbat.
Honouring the victims
The event was hosted by Professor Angela Campbell, Co-Acting Provost and Associate Provost (Equity and Academic Policies).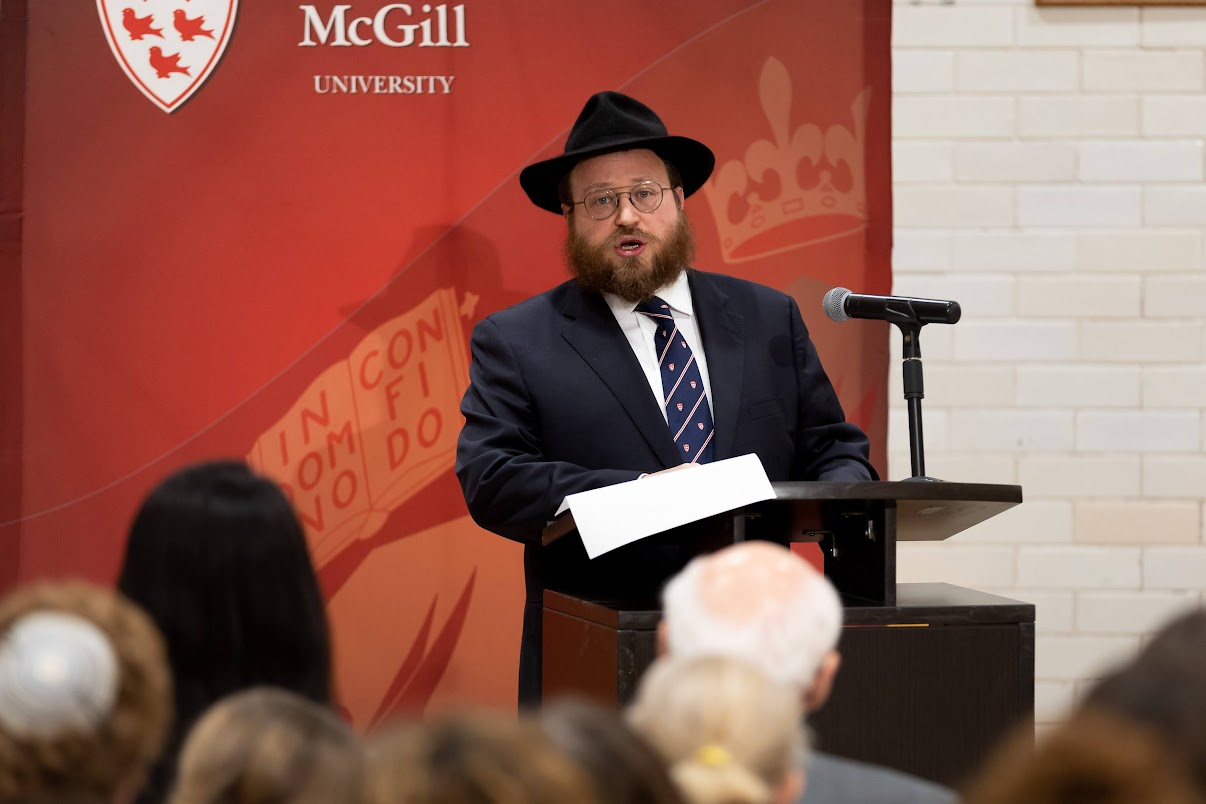 "Today, we come together to pay tribute to the millions of victims of one of the darkest pages of human history," she said in her opening remarks. "The Holocaust is a tragedy whose magnitude, barbarity, and cruelty have led us to rightly call it a crime against humanity, and it is our responsibility, individually and collectively, to ensure that this horrifying chapter is never forgotten and that the memory of the victims is forever honored."
Prof. Campbell acknowledged that, although Jewish people were the principal victims of Nazi hatred and persecution, "the regime also targeted many other groups including Black people, members of the 2SLQBTQIA+ community, people living with disabilities, Roma and Sinti people, Muslim people, and several other groups who did not fit into the regime's delusions."
She added that "hate speech, anti-Semitism, discrimination, and oppression in all their forms have no place at McGill and will not be tolerated."
More work to do
Interim Principal Christopher Manfredi noted that periods of social turbulence, such as the COVID-19 pandemic, can feed anti-Semitism, xenophobia, and discrimination—making "awareness, education, and a concerted effort from all of us" more important than ever. He called McGill's first observance of International Holocaust Remembrance Day an important step in transforming the recommendations of the University's Initiative against Islamophobia and Anti-semitism final report into "meaningful action."
"The observance of this commemorative day will be an important way of raising awareness among our community about Jewish history for years to come," said the Interim Principal. "But there is still much work to be done. Together, we will continue the fight against anti-Semitism and all forms of discrimination to make our university stronger, more diverse, and inclusive."
Constant vigilance
Two public officials were on hand to mark the solemn occasion.
Paul Hirschson, Consul General of Israel, expressed his gratitude for how the world has embraced International Holocaust Remembrance Day, which started as an initiative of the Israeli Foreign Ministry, and particularly Canada, which in 1831 became the first place in the British Empire to allow Jews the right to vote.
"It gives me a great sense of pride to be the representative of the Jewish state here in Quebec," said Hirschson. "Thank you all those years later. Yet the work isn't over. Even in Canada, we see anti-Semitism has reared its head. Allow me to say to the survivors and to everyone: We've been there, and we're not going there again."
City councilor Peter McQueen, who represents Côte-des-Neiges–Notre-Dame-de-Grâce, spoke about the vigilance required to make Montreal open, safe, and welcoming. "Every day, we must fight against racism and discrimination," he said. "And every day, we will affirm our commitment to fight anti-Semitism." But, McQueen added, "we're not doing this work alone," praising the Montreal Holocaust Museum as a particularly important partner in the first against anti-Semitism.
Lessons from the past
Eta Yudin, vice-president of the Centre for Israel and Jewish Affairs, offered some sobering statistics: Although the Jewish community makes up only one per cent of the Canadian population, 14 per cent of hate crimes—and more than half the hate crimes targeting religious groups—target Jewish people.
"We know all too well that a rise in anti-Semitism is like the canary in the mine, a predictor that things are not right, that we need to do more to fight against anti-Semitism and all forms of racism. We need to learn from the past, not just what happened, but the context that allows such hatred to flourish."
Holocaust survivor tells her story
Almost 78 years have passed since the end of World War II, and the number of living survivors of the Holocaust is dwindling. The McGill community was honoured by the participation of Judith Nemes Black, a child Holocaust survivor and double McGill graduate, who shared her lived experiences.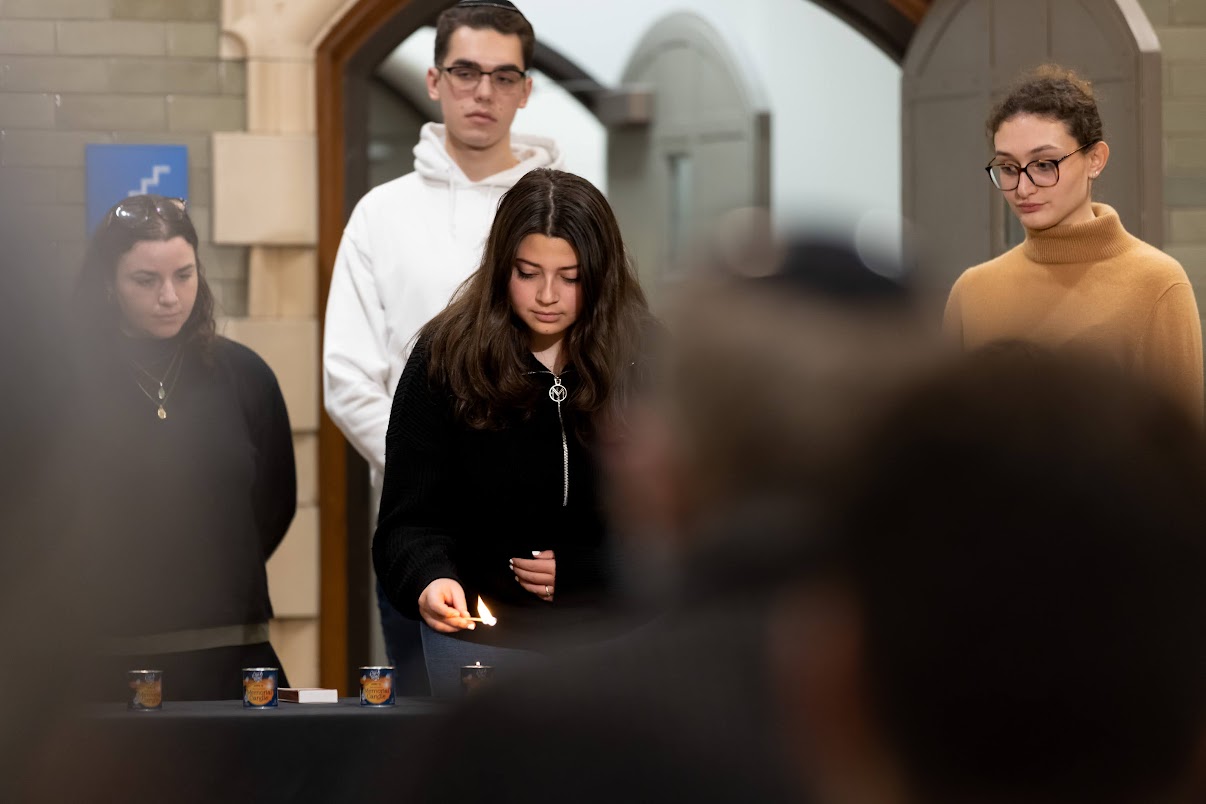 "Being a child Holocaust survivor has two meanings," said Nemes Black, born in 1941 to a Jewish family in Budapest, Hungary. "It means I was a child living through the Holocaust before 1945 and also that I'm a child of survivors, which is sometimes a double whammy." She shared with the audience some of her family's harrowing experiences following Germany's invasion of Hungary—which resulted in the murders of an estimated 560,000 Hungarian Jews—including her father's imprisonment and eventual reunion with the family that feared he was dead.
After the war, the family emigrated to Montreal. Nemes Black grew up to become first a teacher, then a clinical psychologist specializing in trauma. For more than 20 years, she has been heavily involved with the Montreal Holocaust Museum.
"The Holocaust raises many questions, provides few answers, and shows many examples of moral courage in the struggle against evil," she said. "As the late Edmund Burke said, 'The only thing necessary for the triumph of evil is for good men to do nothing.'"
To read more about Judith Nemes Black's extraordinary life and the profound responsibility she feels to keep the stories of the Holocaust alive through remembrance and education, read her recent interview with the McGill Reporter.
The act of remembrance 
Rabbi Shmuly Weiss from Chabad House led the audience in a reading of "A Prayer for Yom HaShoah" by Chief Rabbi Lord Sacks. (Chabad House is a student centre for Jewish McGill and Concordia students.) "And so, on this day, we commit ourselves to one simple act: Yizkor, Remember."
Seven members of Hillel McGill and Chabad House, each a descendant of a Holocaust survivor, lit candles honouring the memories of victims and those who lost their lives while helping Jewish people during the Holocaust. A minute of silence followed.
Student Sam Abemayor, the president of Hillel McGill, recited Kaddish (the "Mourner's Prayer") in honour of the victims of the Holocaust as well as his late father, who passed away in October.
Yael Halevi-Wise, professor in the Department of Jewish Studies and the Department of English, delivered the event's closing remarks. Professor Halevi-Wise's paternal grandfather died in the Holocaust.
"In truth, these are unspeakable subjects," she said, "and so I rarely speak about it. And very few people know that I, and many like me, carry this invisible burden every day. But what I want to say here is that, in a way, we are all Holocaust survivors—whether as firsthand victims, witnesses, spectators, or traumatized families. We are all survivors of this horror because it remains our collective responsibility to cry 'Never again!'"