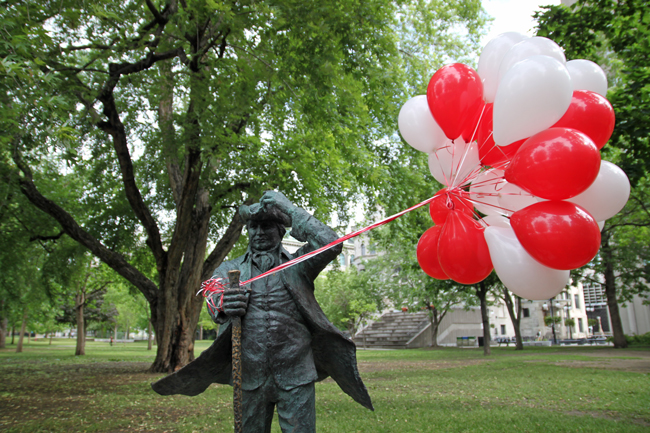 By McGill Reporter Staff
Generous maternal and parental leave programs, on-site daycare, a bucolic workplace setting and Summer Fridays – ah yes, Summer Fridays – are among the reasons why, for the ninth consecutive year, McGill has been selected as one of Montreal's Top Employers, as selected by Mediacorp Canada Inc.
The University also earned high marks for its generous vacation policy; pension plans; health and dental insurance coverage; in-house training initiatives; alternative work options (such as flexible work hours, telecommuting, etc.); and employee access to top-flight fitness facilities.
"McGill really is an outstanding place to work, and winning this recognition nine years running shows just how exceptional this University is," says Lynne B. Gervais, Associate Vice-Principal (Human Resources). "Of course we offer great benefits and working conditions, but being a top employer is about much more than that. Every day, we come to work in an incredibly dynamic environment, alongside some of the brightest minds in every field imaginable. Each day brings new research breakthroughs, or new opportunities to help budding leaders reach their potential. McGill employees can feel good about the work they do."
This year, there was an added emphasis on philanthropy "From the early years of the project, we've noticed a strong connection between community involvement and employee engagement," says Richard Yerema, Managing Editor of the Top Employers project at Mediacorp. "Organizations that develop a strong sense of community involvement in their workplace see higher levels of employee engagement – because their workforce is invested in helping the organization, along with the wider community, succeed."
An integral part of the Montreal community, McGill employees have raised over $5 million for Centraide since 2002, supporting over 350 local non-profit organizations. The University has also supplied almost $1-million of free dental treatment for some of Montreal's poorest people, and more than 1,000 legal cases have been reviewed by law students pro bono. A fuller picture of McGill's commitment to the community can be found on the McGill in the Community website.
The Jewish General Hospital, a McGill-affiliated teaching hospital, was also selected as one of Montreal's Top Employers. Among other things, the JGH was commended for "cultivating high potential employees with mentoring, career planning services and tuition subsidies for courses related to their position," and for "helping employees prepare for the next chapter in their lives with retirement planning assistance, phased-in work options for employees nearing retirement and contributions to a defined benefit pension plan."
Now in its 12th year, Montreal's Top Employers is an annual competition that recognizes the Montreal-area employers that lead their industries in offering exceptional places to work. The criteria used during the selection process focuses on physical workplace; work atmosphere; health, financial and family benefits; vacation and time off; employee communications; performance management; training and skills development; and community involvement.
Employers are compared with other organizations in their field to determine which offers the most progressive and forward-thinking programs.
This year's 35 winners were announced on April 20, in a special magazine published in The Montreal Gazette.