McGill University has taken a substantial move up the list in the recently-released Academic Ranking of World Universities (ARWU). The annual rankings by ShanghaiRanking Consultancy saw McGill jump to 78th in the world, up 12 spots from last year.
Established in 2003, the ARWU ranks more than 2,000 universities worldwide. It is considered one of the pre-eminent global rankings of universities based on research metrics.
ARWU rankings use six indicators to rank universities' academic and research performance. These include:
highly cited researchers
papers published in journals of Nature and Science
papers indexed in prominent citation databases
individual academic performance.
alumni winning Nobel Prizes and Fields Medals
staff winning Nobel Prizes and Fields Medals
Earlier, the ARWU also released its annual Global Ranking of Academic Subjects. Ten academic programs at McGill were ranked among the top 50 in the world.
The Global Ranking of Academic Subjects measured the performance of more than 4,000 universities across 54 subjects spanning five fields, including engineering, life sciences, medical sciences, natural sciences and social sciences.
Mining and Mineral Engineering earned the highest rank for McGill, coming in at 18th worldwide. Public Health was ranked as 25th globally. Here are the University's top-ranked subjects according to the AWRU.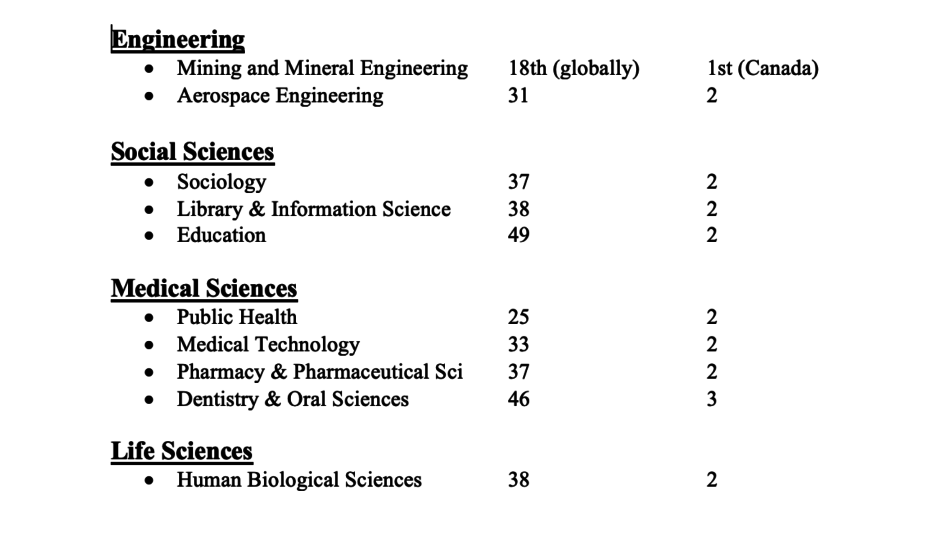 The annual ranking is based on indicators that include measures of research quality, extent of international collaboration, total number of staff winning a significant award in an academic subject; and the number of papers published in top journals and conferences.
The solid results in both ARWU rankings mark the end of a positive summer for McGill. In June, the University moved up the lists in both the QS World University Rankings and the Center for World University Rankings.