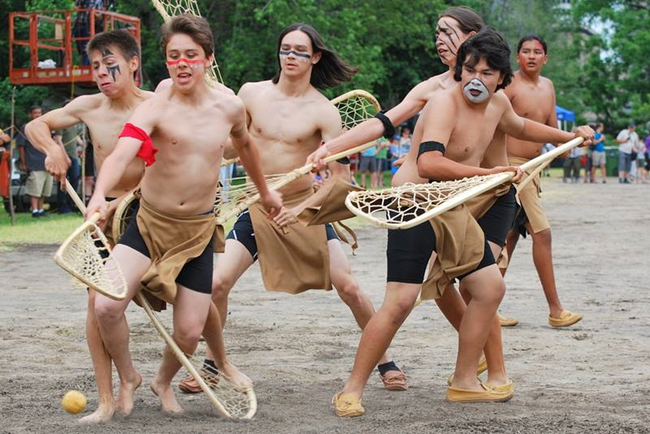 Lacrosse is celebrating 150 years and to mark the occasion, a three-day commemoration was held at McGill over the weekend, with the centrepiece attraction in the form of two field lacrosse re-enactment contests played Saturday on the lower campus field.
The first match pitted two native teams, some playing barefoot, some in moccasins, using specially constructed lacrosse sticks and an old-fashioned ball made out of deer hide and feathers. That was followed by a confrontation between the McGill varsity team and players from the Kahnawake Survival School, scripted to resemble a "national championship" game between the Kahnawake Lacrosse Club and the Montreal Lacrosse Team played on July 1, 1867, using the first set of codified rules. Both games were officiated by three referees, dressed in three-piece suits and top hats, which was the way the game was officiated back then.
Among the spectators was a trained eagle, along with its handler. The event, organized by the Canadian Lacrosse Association, the oldest governing body in Canadian sport, featured a number of special guests, including Marc Miller, a McGill law school graduate who serves as the parliamentary secretary to the minister of infrastructure and communities and the member of parliament for the Montreal regions of Ville-Marie, Le Sud-Ouest and Île-des-Sœurs.
The founding father of the game was Dr. George Beers, a Montreal dentist, who learned the game from the Kahnawake Mohawk, who were instrumental in the game's origins. He codified the rules, which were adopted in 1867 when the Canadian Lacrosse Association was formed.
Also part of the celebration was a series of lectures on the history of the game and an exhibition at the McCord Museum of Canadian History, located on the corner of Sherbrooke and University Street.
"We were really thrilled, it was a success and exceeded our expectations. I'd rate it as a 9.5 out of 10," said Jim Calder, who recently authored a book on ancient lacrosse and served as manager of the 150th celebration of lacrosse. "Our goal was to educate everyone about the traditional game and the development of the modern game. We were able to do that through the re-enacted games and the lectures that were presented. After it was over, we visited the gravesite of Dr. Beers at the Mont Royal Cemetery, where we raised a toast to him."
Related story