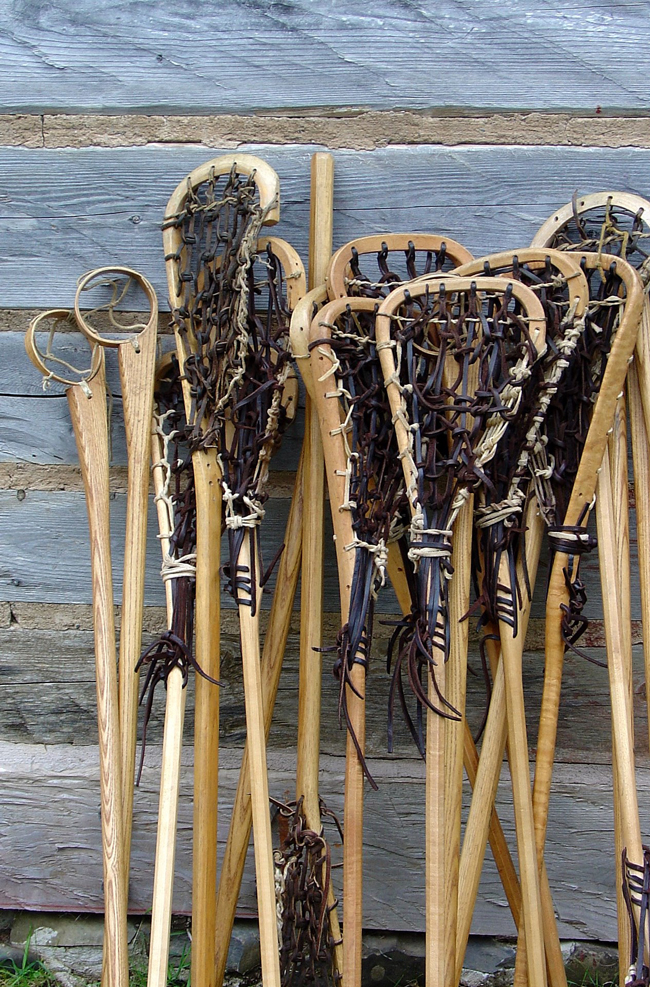 There's no question that this year's twin anniversaries – Montreal's 375th and Canada's 150th – offer a cornucopia of fun-filled parties and awe-inspiring grand spectacles – but many people are also using 2017 as an opportune moment for clear-eyed critiques of our collective history with a view to building conciliatory and inclusive ways forward for all of our communities. Earlier this year, for example, McGill's Art History and Communication Studies Graduate Student Association presented "While No One Was Looking," a combination art exhibition/print magazine/community outreach project that commemorated the written and unwritten histories of Montreal as "a city of Indigenous peoples, peoples of colour, and immigrants."
Here are two additional upcoming McGill-related events that are also drawing on this double-milestone year to reflect on the past in order to build a better future:
150th Anniversary of Lacrosse Celebration (June 16-18, 2017)
More than a sport, lacrosse is central to the identity of many Indigenous cultures across North America. McGill is partnering with the Canadian Lacrosse Foundation for a free weekend festival honouring and celebrating the historical, cultural and spiritual importance of lacrosse.
Experts from across Canada and abroad will present a series of lectures and presentations, held in Redpath Hall, that address topics such as cultural appropriation, gender and the history of lacrosse. The McCord Museum will host exhibits of memorabilia, photographs, trophies and equipment, many on loan from the Canadian Lacrosse Hall of Fame in British Columbia.
The weekend's marquee event will be two historical re-enactments, staged on the downtown McGill campus' Lower Field from 2-4 p.m. on Saturday, June 17. The first game will show lacrosse as it was likely played by Indigenous people around the time Jacques Cartier first sailed up the St. Lawrence River. The second will re-enact a match that took place between the Kahnawake Mohawk team and the Montreal Amateur Athletic Club in the late 1800s. The teams will be portrayed, respectively, by current and former student athletes from the Kahnawake Survival School and a group of McGill students and coaches. The players will wear historically accurate uniforms, and use handmade replicates of the sticks used at the time.
"We're celebrating the 150th anniversary of the modern game of lacrosse, but the game was played for many centuries earlier," says Tim Murdoch, head coach of McGill's men's varsity lacrosse team, many members of which will participate in the re-enactments. "I'm really happy that the organizers of the weekend are working very hard to also celebrate the traditional game and the important role it plays in Indigenous cultures."
Submission of the Final Report of the Provost's Task Force on Indigenous Studies and Indigenous Education (June 21, 2017)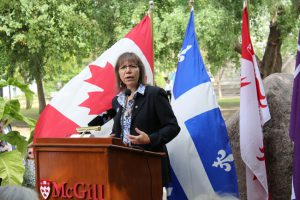 In September 2016, Christopher Manfredi, McGill's Provost and Vice-Principal (Academic), launched a task force to "increase Indigenous presence at McGill among students, staff and faculty, and to expand our relationship with the Indigenous communities locally and across Canada." On June 21, 2017, National Aboriginal Day, McGill will mark the submission of the Task Force's Final Report with an event at the Hochelaga Rock on Lower Campus.
The event, which begins at 2 p.m., will open and close with a thanksgiving address by an Elder. Scheduled speakers include Ghislain Picard, Chief of the Assembly of First Nations of Quebec and Labrador, and Ellen Gabriel, human rights activist and former Coordinator of the First Peoples' House. Community members from Kahnawake, Kanesatake and Akwesasne will attend.
The Final Report, which will be posted online a few hours before the event, is the result of "a consultation process that was widely cast within McGill, but that also engaged with many external stakeholders," says Prof. Hudson Meadwell, Chair of McGill Political Science, who co-chairs the task force with Paige Isaac, Coordinator of First Peoples' House, and Prof. Angela Campbell, Associate Provost.
Students, staff, faculty and members of the wider community were enlisted for five working groups, each addressing a theme: student recruitment and retention, academic programs and curriculum, physical representation and symbolic recognition, academic complement and research, and capacity-building and human resources. The Task Force held multiple meetings within McGill, including open forums on both campuses, and consulted with a wide range of educators across Canada and with Indigenous communities and organizations closer to home, including an open forum with elders and educators in Kahnawake. A roundtable on the downtown campus invited faculty from Canadian universities experienced in Indigenous education and Indigenous studies.
"One of the running themes through all our work is to build fruitful, respectful and reciprocal relations with Indigenous communities," says Meadwell, "in particular those on the traditional territory on which our campuses are located."
Immediately following the June 21 event, the Office of the Provost will begin building a new Office for Indigenous Strategy that will coordinate and lead Indigenous initiatives on the two campuses, and support the implementation of the Final Report's Calls to Action.
Throughout the summer, the McGill Reporter will highlight the many other ways the McGill community is celebrating and marking Montreal's 375th and Canada's 150th anniversaries, including concert, talks, the launch of the promenade Fleuve-Montagne and a solar eclipse viewing party. A full calendar is online.