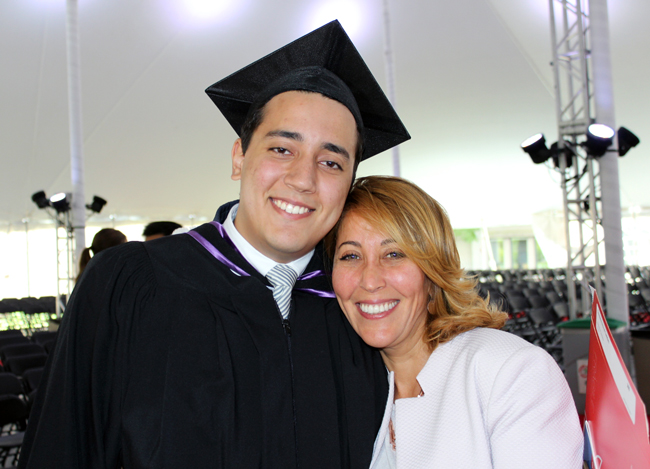 By McGill Reporter Staff
Amelle Liazoghli and her 21-year-old son Ach Gaddes, were wreathed in smiles Thursday at the Faculty of Management's Convocation ceremonies.
Liazoghli, a physician practicing in Dubai, almost didn't make it to see her eldest son receive his Bachelor of Commerce degree.
Liazoghli was shocked when the Canadian Embassy in Abu Dhabi denied her application for a temporary resident visa, also known as a visitor visa, which would have allowed her to attend Thursday's graduation ceremony. After publicly telling her story, and after a lot of calls from her and various supporters, including McGill officials, in the end she got her visa in time.
"I have tears of joy today. I wanted Ach to study at McGill, one of the top universities in finance. It has been my dream of many years to see him graduate, but when I applied for my visa to attend and was refused, I found it unbelievable."
She said she decided to fight the decision and went public because she thought it was so unfair. For many people who are intimidated by the system, she said, it is hard to fight, but she felt it was something she had to do.
Flanked by his younger brother, Rayen Gaddes, 13, the newly minted McGill graduate said, "It is the happiest day of my life – it was fantastic to be able to get my degree with all of my family present at the ceremony. I am so happy that my mother who I am very close with is here today. After all that hard work and those late nights it is all worthwhile."
Liazoghli is a Tunisian citizen, as are her sons. She has two siblings who are Canadian citizens. She travels frequently for her work to the U.S. and to the EU, and has visas for both.
Ach Gaddes was accepted to a graduate program in London, and is moving there right after his convocation at McGill.
On a day of smiles, photos and flowers, one family was happily getting ready to continue celebrating together.