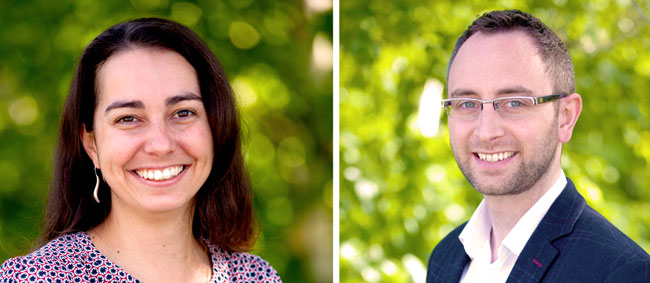 By James Martin
Remember the classroom chestnut about the three Rs? The future of cutting-edge research hinges on the three Cs: communication, collaboration and connection. A new initiative from the Canadian Institute for Advanced Research (CIFAR) aims to help promising early-career researchers develop their skills as leaders and collaborators. Two McGill professors are in the first cohort of 18 CIFAR Azrieli Global Scholars: Corinne Maurice, assistant professor in the Department of Microbiology and Immunology, and Kieran O'Donnell, assistant professor in epigenetics and epidemiology in the Department of Psychiatry.
The CIFAR Azrieli Global Scholars program is open to researchers who are in the first five years of their first academic appointment. Scholars receive $100,000 CDN in undesignated research support (meaning it could be used to buy equipment or to pay student and postdoctoral researchers) and a two-year appointment to one of CIFAR's 14 research programs, which are global networks of leading interdisciplinary researchers who "tackle questions across four broad areas: improving human health, creating successful societies, using technology to make life better, and sustaining life on Earth."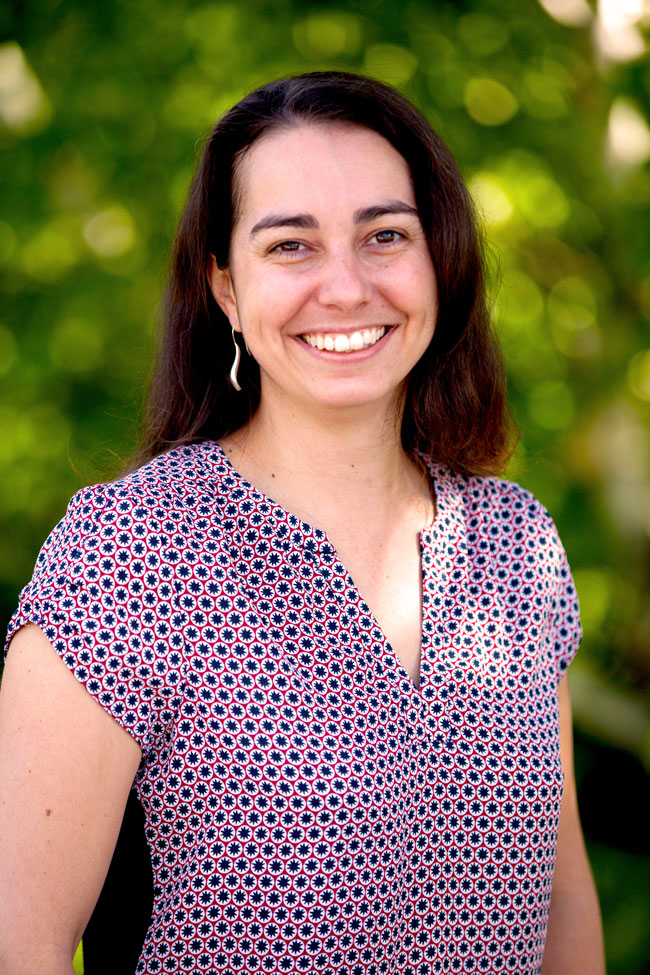 Corinne Maurice came to McGill in January 2015 and is the Canada Research Chair in Gut Microbial Physiology. Her research focuses on better understanding the interactions between bacteria and bacteriophages (viruses that attack bacteria), and how we might modulate those natural relationships to get better results from antibiotics and other interventions.
Although we have long appreciated the importance of a healthy gastrointestinal tract, Maurice's field is surprisingly new. So new, in fact, that it wasn't even the subject of her PhD research at the Université de Montpellier in France. "I focused on bacterial and viral communities in aquatic systems," she says, adding with a chuckle, "So I basically went kayaking on Mediterranean lagoons." As she was finishing her doctorate, other researchers began publishing the first seminal papers using data from the Human Microbiome Initiative, a four-year quest to identify and sequence all the microorganisms in the human body  – basically, the microbe version of the Human Genome Project.
"So when I started looking at postdoc opportunities, the field of human microbiome research kept coming up on my radar," she recalls. "I thought it was so cool that you could look at humans as micro ecosystems; I'd never considered the human body that way. During my four-year postdoc with Peter Turnbaugh at Harvard University, I transitioned to the human gut. But I'm still working on bacterial communities and the viruses that affect the bacteria."
Kieran O'Donnell also had an a-ha moment when it came to choosing a postdoc path. While finishing his PhD in clinical medicine at Imperial College London, where he studied the long-term effects of maternal prenatal anxiety or depression on child development, he attended a conference in Boston. There, McGill epigenetics researcher Michael Meaney gave a presentation on how a mother rat's nurturing activity strongly affected whether their babies grew up to exhibit anxiety-like or depressive-like behaviours.
"He was unpacking the biology of something we have known for years:  that what happens early in life can have a sustained impact on brain and behaviour," O'Donnell remembers. "I immediately wondered if similar molecular mechanisms could be at play in humans." That question led to five years working as a postdoc in Meaney's lab at the Douglas Hospital Research Centre, and now O'Donnell's current appointment as a principal investigator at the Ludmer Centre for Neuroinformatics & Mental Health.
Much of his research focuses on understanding what is happening, at the molecular level, during the prenatal development period – particularly with respect to a mother's anxiety, depression or stress – with the ultimate goal of one day being able to identify people who may be at risk for adverse mental health outcomes such as ADHD or depression.  In order to get the richest understanding of how the "persistent influence" of early development plays out over a lifetime, O'Donnell works with multiple cohorts around the world, including a large group of British twentysomethings that have been studied since they were in the womb.  His postdoc appointment was through CIFAR/NeuroDevNet, so he is excited at the prospect of continuing his collaboration with CIFAR's "really dynamic, interdisciplinary" Child & Brain Development Program.
Maurice is joining the CIFAR Humans & the Microbiome Program. "What the Global Scholars program means for me," she says, "is being part of this incredible network of highly established people working at the forefront of their own research themes – and understanding how I could develop my research theme either by collaborating with other people who are either new in the field or already established."
She's also excited about the Global Scholars leadership and communication training. As part of the application process, candidates were asked to explain their research to people from other disciplines. "It's obvious why my peers are interested in the microbiome," says Maurice, "but why should people in the social sciences care about it?  That was extremely valuable for me. It got me out of my comfort zone and pushed me to think about the next big thing. If you want to move things forward, you have to interact with people from a variety of fields."
O'Donnell calls that interview exercise "fascinating," and looks forward to more leadership training throughout the next two years.
"It's just not something that universities often offer to junior faculty," he says, "but it's something that I think will be crucial to my success. Modern day science requires leaders in their fields to communicate broadly and effectively to diverse audiences. You need to be able to engage with the public – but in a reasonable way, not in a sensational way. For my own work, I'm acutely aware of the irony of telling women not to get stressed about being stressed. You have to communicate in a measured manner."
He points to the great advances made in cardiovascular research, beginning with the Framingham Heart Study, a longitudinal study that began in 1948. "That study coined the term 'risk factor,'" he says. "Now, a doctor can take several risk factors – your cholesterol levels, whether you smoke, your blood pressure – and use that to predict the likelihood of a coronary event over a five- or 10- or even 15-year period. We can't do that in mental health, yet, but that's where we want to get to: identifying the biological, the psychological and the psychosocial factors, that could be entered into a prediction algorithm to identify those most at risk.
"But for my research to have that kind of impact, I will need to interact and communicate with policy makers and the people who will effect change at the policy level. With this dedicated leadership training component, I don't have to learn those skills on the fly, and I'll be able to more effectively communicate with a variety of audiences and ensure a much wider impact."