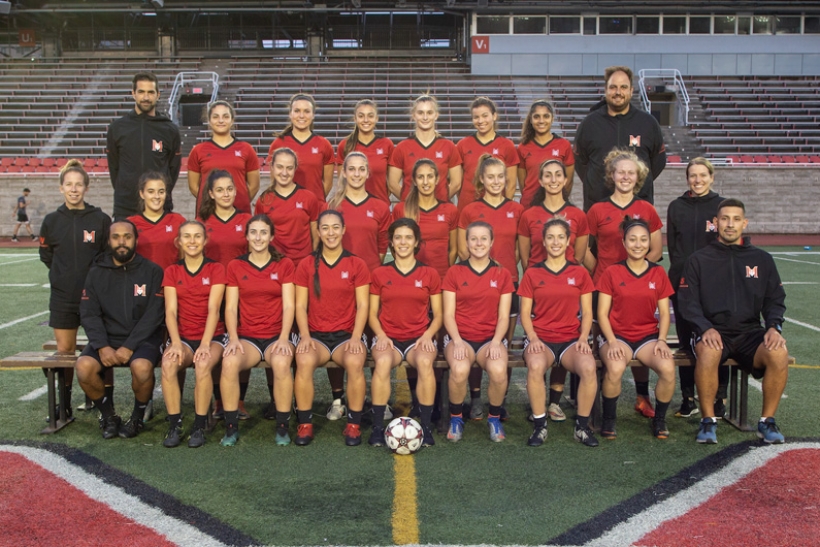 In keeping with the strong tradition of McGill athletes giving back, one team is going the extra mile (well actually, more like 4,900 miles) to make an impact in the greater community.
This spring, the McGill Martlets soccer team is travelling to Paraguay to volunteer at shelters and hold soccer clinics for local youth. The initiative was spearheaded by Lisa Perrett, a defender from Vancouver, B.C. who suited up for the Martlets for five seasons.
Perrett, who now works as a nurse back in British Columbia, is excited for her former teammates and what they're about to experience. "This trip has a three major goals," she said.
"For one, we hope that our time in Paraguay will strengthen the Martlet soccer community – there's nothing like long flights and jet lag to bring a team together. Second, this trip is a sweet chance to train in South America and compete against local, professional women's teams to help the team prepare for the upcoming season. Finally, my biggest hope is that this trip will help our whole group engage with global issues, like poverty and gender inequality, in a way that motivates us to become more engaged global citizens after the trip."
Female empowerment
Perrett and the Martlets collaborated with SportAid, a Vancouver-based organization that facilitates these types of volunteer trips. This year, the Kerr family's generous donation for women in sport enabled the soccer team to hire Kelsey Wilson as a full-time assistant coach. Female empowerment is a cause close to the team's heart, and is something they'll emphasize during their time abroad.
"We thought it was a great way to promote women athletes," said Sophie Barlos, a fourth-year forward from Winchester, Mass. "That's where the idea started and we've been building from there."
The team will be assisting in other ways as well. For part of the trip, they will be helping install a water system at a local community soccer field.
"Obviously, the interactions with the community will be the biggest part of this whole thing," said head coach Jose-Luis Valdes.
In addition to volunteering, the Martlets will be suiting up for exhibition games against local teams.
"I'm looking forward to playing soccer against some new opponents," said Barlos. "I really enjoy just kicking the ball around."
"We're going to be doing lots there, and I'm thrilled for the opportunity," Valdes said.
The players are enthusiastic about the prospect of traveling abroad, giving back to the local community and personal development.
"I'm looking forward to getting out of my comfort zone a little bit," said Nathalie Brunelle, a third-year centre back from Beaconsfield. "It'll be interesting to live a life I've never been exposed to. We want to see how they live, eat how they eat, and really immerse ourselves in their culture."
Lead by example
Valdes hopes his team will live in the moment during the once-in-a-lifetime trip.
"I want to see how they deal with not having WiFi and without your phone," he said, smiling.
He knows that the team's impact could last a lifetime.
"I want the team to talk to all the young ladies who aren't allowed to play soccer and set an example for them and say, 'You're a female. You can still play the sport and you can still be a professional. You can still be a doctor or a dentist or whatever you'd like to be."
It's a sentiment echoed by his players.
"I would love to show anyone that you can play the sport you love, and you can excel in every other aspect of your life," said Barlos.
Perrett will be watching from afar.
"I can't wait to see how that plays out," she said.
Thinking of contributing? For more information, visit the Martlets' Seeds of Change page. Donations made on the day of #McGill24 (March 13) will be matched by the University.