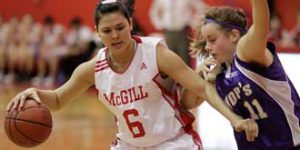 By Jim Hynes
Sportswriters and fans tend to exaggerate. In sports, when we talk about tragedy striking, we usually mean something more akin to adversity, serious misfortune, or just plain disappointment. It's rarely about real-life, human calamity. Ask Anneth Him-Lazarenko, a sophomore forward on the McGill Martlets basketball team who has had to face both a painful injury and a true family tragedy in the past 18 months.
On April 2, the 5-foot-10 forward from Ste. Dorothée, Que. became the first basketball player from a Quebec school to be awarded the Tracy MacLeod Award, a national honour from Canadian Interuniversity Sport which recognizes determination, perseverance and unwavering spirit. (She also won the Mac Teskey award for demonstrating courage and morale worthy of honourable mention at the 33rd annual McGill Intercollegiate Sports Awards Gala held last April 8. For more on the Gala see below.)
"When I heard that I won the CIS award I felt happy, I felt really honoured to win a big, national award," Him-Lazarenko said. "But at the same time it reminded me of my whole situation again. It was a hard year."
That hard year began late in her highly successful rookie campaign, when she tore the anterior cruciate ligament (ACL) in her right knee in a Jan. 31, 2009 game against UQAM. The 22-year-old history and geography major in the Faculty of Education knew immediately what had occurred, and what she was facing. She tore the ACL in her left knee playing basketball when she was 14.
"As soon as I went down I knew it was my ACL," Him-Lazarenko said. "I started crying right away, not so much because of the pain, which was really bad, but because I realized everything I would have to go through all over again."
What she had to go through was surgery and rehab, lots of it, care of the staff at the McGill Sports Medicine Clinic.
"It was painful, especially at the beginning, when they are trying to give you back your range of motion," she said. "A repaired ligament is like a brand-new elastic band, it's not stretched yet. But as you go forward it slowly gets better."
Dad diagnosed with cancer
She was much better, and working on her return to action, when her father, 51 year-old Gerardo Him, was diagnosed with advanced pancreatic cancer at the end of August 2009.
The news was devastating. A former college basketball player himself, Gerardo Him is and has always been his daughter's biggest fan, even now as he fights for his life. He's the reason she first became involved with basketball at age eight, even though she wasn't all that interested at the time, she recalled with a laugh.
"My father definitely loved basketball more than I did back then. He still loves it."
After two unsuccessful attempts at treating his cancer, which made him dangerously weak, Gerardo Him's doctors are now resigned to making him more comfortable.
"It's hard," Lazarenko-Him said. "I'm just happy he's still there. In my entire basketball career my mom and dad have been at every single game, whether it was in Quebec, Laval, Montreal, Pennsylvania, or anywhere else," she said.
"My dad never, ever missed a game. At our last game, he had spent the entire day at the hospital and drove up to Laval University (in Quebec City) with my mom to see me play. Even though he was tired and weak he still came to the games. He said that when he was watching me play it was as if his cancer would disappear during those two hours and he was able to forget that he was sick."
Him has every reason to be proud of his daughter. She finally re-joined the Martlets last November and helped turn them around after a slow start. The team slowly but surely battled its way into the Quebec University Basketball League playoffs, where they dropped the championship game to Laval.
Comeback a success
Him-Lazarenko herself, meanwhile, led the QUBL in scoring with an average of 15.0 points per game and was third in rebounding, pulling down an average of 7.8 per game. She finished the season sixth in field-goal shooting (.472), and ninth in free-throw shooting (.603). She was also McGill's top scorer seven times in her 13 games and was the team's leading rebounder an equal number of times. In March, she was named to the QUBL's All-Conference team.
"Anneth has been an inspiration to me, her teammates and those around her," said Martlets head coach Ryan Thorne, who put her name forth as the Quebec nominee for the Tracy MacLeod Award. "Though she battles physical and emotional challenges daily, her work ethic and positive attitude continues to motivate us to do all that we can and enjoy every moment we have with our loved ones."
Him-Lazarenko will return for her third season of Martlets basketball in the fall. After completing her current degree, she plans to pursue a Master's in Education that she hopes will lead to a career in teaching. She'd like to keep playing basketball too… as long as her knees hold out.
The Tracy MacLeod Award is named after a former member of the Brandon University Bobcats who broke her lower leg during a game in 1993. Five months later, after numerous surgeries, she had her leg amputated eight inches below the knee. Defying all odds, she was back on the court less than three months later, playing with an artificial limb.