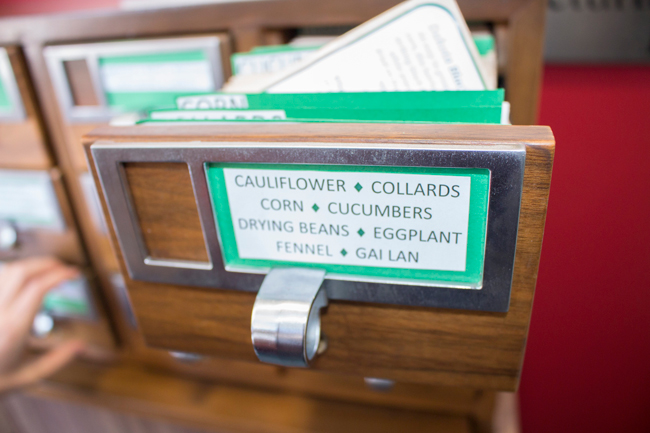 While these last two frigid days have proven that winter is not quite done just yet, a simple ceremony at Macdonald campus this past Monday helped plant the seeds of hope that spring is indeed just around the corner.
Not by accident, the Macdonald Campus Seed Library was launched on March 20, the first official day of spring. Housed in the Macdonald Campus Library, the Seed Library offers McGill students, staff, faculty and alumni free access to some 130 varieties of seeds – including vegetables, flowers, herbs and a few fruits. The service is free and people who are registered can even order seeds to be delivered to a downtown McGill library for their convenience, as they would with a book.
While the concept is gaining popularity in public libraries, this is the first academic seed library of its kind in Quebec and third in Canada.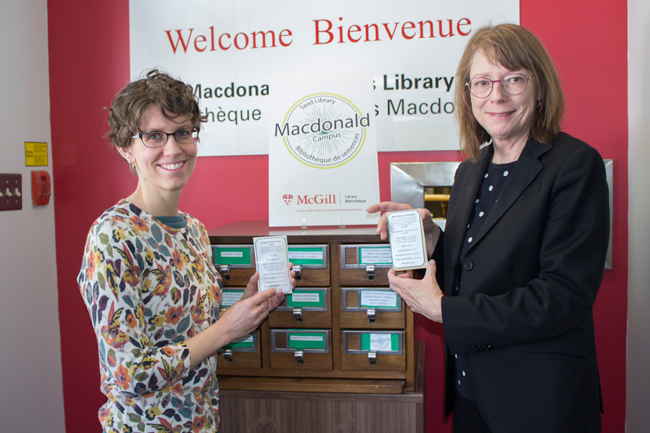 "The idea is to give people the opportunity to grow some of their own food and to promote local food growing and local agriculture," says Dana Ingalls, the Liaison Librarian at Mac. "We are also trying to promote biodiversity. Large-scale farming tends to grow only a few species, so we're trying to promote heirloom seeds, species that are a little rarer."
Some of the collection's local heirloom seeds, developed in the Montreal region, include three types of tomatoes (Montreal Tasty Red, Meme Beauce and Plourde) and two kinds of melons (the Montreal melon and Oka melon).
The resource also includes material on a wide array of gardening topics, from vertical gardening to growing food in a short season. Also, Ingalls will be scheduling a series of workshops throughout the year, including ones on seed starting basics, composting and how to properly can your surplus harvest so that you can enjoy the fruits of your labour during the long winter months.
Because of Montreal's shorter summer, the planting season for many of these seeds must begin indoors, usually in early to mid-April. Once the risk of frost has passed, usually sometime in mid- to late May, the shoots can be transferred to the outdoor garden.
The March 20 launch turned out to be even more popular that Ingalls had expected. The collection began with almost 450 packets of seeds (neatly filed away in recycled library card catalogues). By day's end, only 183 packets remained. "I was pleasantly surprised by people's enthusiasm," says Ingalls. "But why not? For people on a tight budget, we offer free seeds and free gardening resources. And, it's fun. It gives people something fun to do near the end of winter when everything is blah."
Ingalls isn't worried that the popularity of the Seed Library will be its ultimate undoing, with the collection being quickly depleted. The bulk of the original collection came from generous donations by farms and "many seed companies and local farms are happy to donate seeds to this kind of initiative."
In an even more organic twist, a number of McGill staff have already come forward to donate seeds they have preserved. Ingalls, herself, an avid gardener, has donated her own Sugar Pod Pea seeds that she had grown back in her native Oregon.
Interestingly, people who request seeds from the collection are considered to be "borrowing" them, again, as they would with a book. Although not required, users are encouraged to preserve some seeds from their harvest at the end of the season and give them back to the collection. "Of course this is easier with some varieties than for others, like beans and peas which are very easy to save," says Ingalls. "Other ones can be a little more difficult. So in order to encourage and support that we have seed-saving books and some online resources. We will also be offering a seed-saving workshop later in the year closer to the more harvest time in late September or early October."
Find out more and register online with the seed library