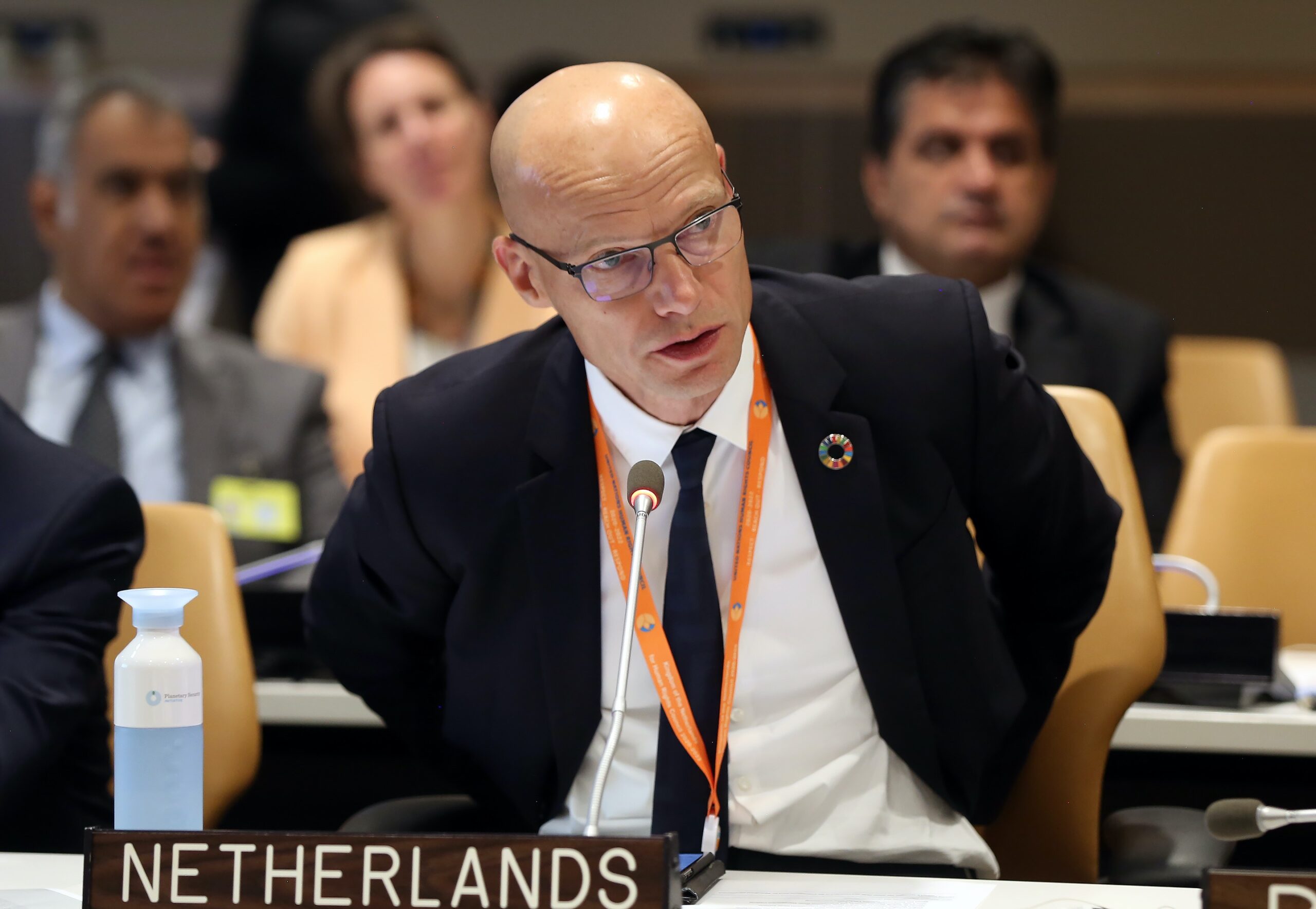 A UN climate report earlier this year warned of a "now or never" moment to limit the mean global temperature rise that threatens the breakdown of our planet's climate systems. Even with nations around the world attempting to reduce future carbon emissions, climate warming will continue to drive severe weather events for decades to come. The impacts of these events are being felt around the world and they disproportionately affect the most vulnerable populations, deepening poverty and inequality.
Despite these challenges, we have the capacity to implement sustainable solutions in population hotspots. Through collaborative and holistic approaches rooted in the concepts of nature-based design, engineers, urban planners, architects and policy makers are implementing resilient living solutions, reinventing water-management practices and adapting built environments to minimize damage caused by climate-induced natural disasters. 
The ninth Trottier Symposium on Sustainable Engineering, Energy, and Design will explore how we can incorporate nature-based solutions to build resilience and sustainability in our communities.
In advance of the free online symposium, which will take place September 13, the Reporter asked the two featured speakers about these challenges. Here is the first of those Q&As, with Henk Ovink, a leading authority on water and sustainable urban development (Responses have been edited for brevity.)
*****
Henk Ovink was appointed by the Cabinet of the Netherlands in 2015 as the first Special Envoy for International Water Affairs for the Kingdom of the Netherlands. He is Sherpa to the UN & World Bank High Level Panel on Water, and Sherpa for the UN 2023 Conference on Water.  He served on President Obama's Hurricane Sandy Rebuilding Task Force and developed and led 'Rebuild by Design', the Task Force's resilience innovation challenge.   
Ovink is the former Director General for Spatial Planning and Water Affairs and Director National Spatial Planning for the Netherlands. He teaches at the Harvard University Graduate School of Design and the London School of Economics and holds a research position at the University of Groningen.
The Water as Leverage program is Ovink's brainchild, born out of his ceaseless drive and firm belief that the world can be changed through water and by design, leaving no one behind.  
How did you first get interested in water issues?
Water and climate change are directly linked. We know this by default and from disasters. The climate crisis is a water crisis. Nine out of 10 natural disasters are water-related. Between 2001 and 2018, droughts, floods, landslides and storms caused over US$1.7 trillion in damage worldwide, according to the UN, impacting over 3.4 billion people, the majority in Asia. Without water, there is no energy and no food. But too much water and ever-increasing 'extremes' also go hand in hand with far too little water – periods of drought align with the flow of refugees and increased conflicts. We are depleting our natural water supplies at a ruinous rate, and sea level rise is jeopardizing our cities and deltas.
As I have learnt over the past decade, working around the globe, in every region, on every continent, with different people and partners everywhere, it is water that can drive us apart, cripple our lives, destroy our environments and our economies, and strengthen the impacts and origins of climate change. But it is also water that enables us to come together and do better, catalyzes the changes we need, and is the true inspiration for sustainable development, lasting partnerships, and transformative climate action.
How is the "Rebuild by Design" approach being expanded elsewhere?
Working in the United States after Superstorm Sandy, as senior adviser to President Obama's Hurricane Sandy Rebuilding Task Force, water was the main driver of our work: its devastating impact and its transformative capacity not only to rebuild better, but also to leapfrog towards a more resilient future. Water informed the solutions for moving ahead, looking not back but towards the future. It capacitated and empowered communities at risk, the people and their institutions. Water helped inspire all to come together, despite distrust in government and within society, despite different needs and interests, and despite different opinions.
One of the task force's initiatives was a design competition called Rebuild by Design, aimed at quickly generating implementable design solutions. The competition brought the region together in developing transformative actions for a resilient recovery. At the presentation of the results to the project partners, Damaris Reyes, from the community partnership Good Old Lower East Side, said, "Rebuild by Design made us sit on the same side of the table; but we can easily sit back on the other side again." In other words, trust — so much needed for transformative actions that last —comes by turtle and leaves by horse. Investing in people is not easy, but it is a necessity and amazing. We need a process, an approach, of continuity, consistency, and commitment — we need it through an approach driven by "science and solidarity."
What is the 'Water as Leverage' program?
Water as Leverage for Resilient Cities Asia is the program I initiated to spur this collaborative action, to make it concrete, to identify needs and opportunities while building partnerships across all layers of society, across all institutions and their silos, across everything and everyone. Water as Leverage is living proof of both the need for action and the opportunities we can implement, if only we drive our actions inclusively, holistically, and sustainably.
The program brought me to Khulna, Bangladesh. In the fall of 2019, just weeks after Cyclone Bulbul had made landfall, my partner for action, Mr. Abir-ul-Jabbar, the city's chief planning officer, told me, "the mangroves saved Khulna City!." Khulna, Bangladesh's third-largest city, sits at the convergence of the Bhairab, Rupsa and Mayur Rivers, serving as a port and an important gateway on the northern edge of the Sundarbans. This magnificent mangrove forest, twice named to the UNESCO World Heritage List, is treasured as the home of amazing flora and fauna. The mangroves are beloved by local communities for providing livelihoods and sustaining the region. While the Sundarbans suffered damage during the cyclone, the mangroves in fact slowed wind velocities, sparing inland cities from devastation. Khulna City is a testament to the long-term value of investing in water and nature, not only to sustain daily life, but also to dull the catastrophic force of climate disasters.
What advice do you have for spearheading climate adaptation projects for water in other countries?
Together, we must leapfrog ahead and invest more and better in water capacity, land management, and infrastructure – blue, green, and grey. It is time to scale up our investments in integrated, inclusive, and sustainable water programs and projects. Doing so pays off, according to the World Meteorological Organization and the United Nations: Every US$1 invested in safe drinking water in urban areas yields more than US$3 in saved medical costs and added productivity. For every US$1 invested in basic sanitation, society earns back US$2.50. In rural areas, US$7 is gained or saved for every US$1 invested in clean drinking water. So far, we have failed to seize this opportunity. We continue to invest in infrastructure projects from the past, taken off the shelves, to fill economic stimulus packages. Focused on jobs alone for fast economic recovery, these projects offer no added value for integration, inclusion, or sustainability. The 2030 Agenda for Sustainable Development and the 17 SDGs should lead the way for recovery, really preparing us for the challenging future ahead. Investing in water across the 2030 agenda is the added-value enabler we so urgently need.
While we all know preparedness pays off, in terms of climate resilience, preparedness offers a return on investment of five or 10 times or more. And this is counting only the losses prevented and risks reduced. If we take into account the investment opportunities and added value – from better health, increased security, improved ecology, a decreasing gender gap and strengthened youth capacity – the benefits are numerous. Why shy away from sustainable investments, increasing resiliency, and opening up our portfolios for more and a much wider range of opportunities?
The Trottier Symposium on Sustainable Engineering, Energy, and Design will take place online Sept. 13 at 6:30 pm. The event is free and will be hosted in English. Register here.