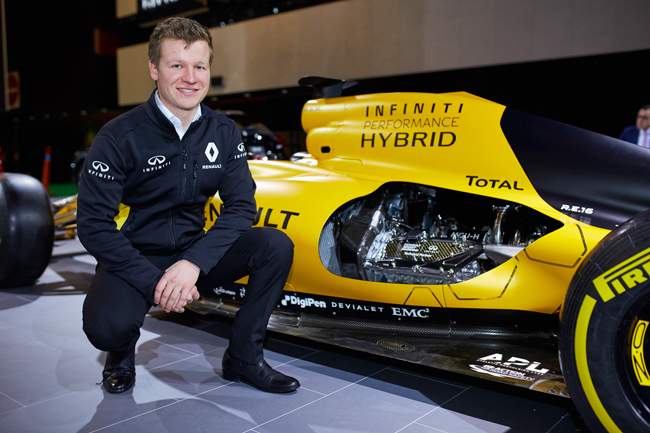 Catching up with Engineering student Félix Lamy, Infiniti Engineering Academy winner
F1. Like a handful of other sports franchises, just the mention of these two characters alone is sufficient to set the hearts of fans racing. A truly global phenomenon with millions of spectators worldwide, it is an intensely competitive circuit that is the ultimate test of man and machine. And for engineering students, perhaps also the ultimate place to land an internship.
Last summer, U2 Engineering student Félix Lamy earned just such an opportunity when he won the first Canadian running of the Infiniti Engineering Academy contest. Fast forward eight months, and the first half of Lamy's prize – a six-month stint as an intern on the illustrious Renault Sport Formula One Team in Enstone, England – is coming to a close. It was a chance to catch up with the 21-year-old and get his take on what life is like in the fast lane.
"It's been an amazing experience," said Lamy. "Working with such dedicated professionals and contributing to cutting-edge engineering projects has been really cool."
The business of designing, operating and maintaining a Formula One racing car is an immensely occupying enterprise. In the case of Renault's team, over 1,000 people are part of a group that is dedicated essentially to a handful of cars that are driven only a few thousand kilometers per year. But, needless to say, these are not ordinary cars.
"The cars generate so much downforce they could drive upside down in a tunnel," explained Lamy. "They weigh only 700 kilograms, but have nearly 1,000 horsepower."
However, Lamy also confided that he has never had the chance to pilot one of the vehicles. "Unfortunately that's only for the drivers," he said. But at a recent photo shoot following a test session in Barcelona, a stand-in had to be found for team driver Nico Hülkenberg and Félix was given the nod to sit behind the wheel. "It was on the starting grid, in pole position, so it was kind of cool," he said.
But the reality of an internship has also meant a few less-than-exciting opportunities. "Before the program began, I had been hoping to work on vehicle dynamics projects, but when I started, I was designing pit stop equipment." he said. "It was not what I expected at first but after all it was part of the learning curve. Since then I have had the opportunity to work on Composites R&D projects."
Overall, it has been a demanding internship, with long days of 11 hours or more and a lot of time spent in meetings. The focus on detail was an eye-opener for Lamy, who stressed that it was like nothing that was ever done in class.
Lamy was keen to credit his education at McGill for giving him a strong sense of the fundamentals. "Some of the other people in the program have really specific focus to their studies, like a Bachelor's degree focused on engine design," he said. "I think my studies at McGill, combined with the work in design teams, really helped me in how I approach problems."
Lamy's participation on the McGill Formula SAE team was absolutely critical to his time as an F1 intern. "We were competing against the best teams in the world, and I found the work we were doing in composites, aerodynamics and vehicle dynamics very similar to what I am doing here now in F1, with the same principles and vocabulary," he explained. "I wouldn't be here if I hadn't had the experience on the McGill Racing Team."
This last point brings up Lamy's advice to fellow students: "Students need to invest themselves in design teams," he said. "You'll get a chance to apply your engineering skills on unique projects and you'll gain crucial hands-on experience."
Looking forward, Lamy's next assignment is six months at INFINITI's European Technical Center in Cranfield, UK, after which he will return to complete his degree in Mechanical Engineering. Despite this rich internship history, it is sometimes difficult to remember he has yet to finish his degree.
Looking forward, Lamy sees himself becoming the lead engineer in a highly technological project with a team of engineers who are all committed and passionate about their work – even if it isn't motorsport-related.
With all the talent and experience he has to offer, no matter what domain Félix Lamy chooses to focus his skills on, it is clear you'll find him in one place: the fast lane.