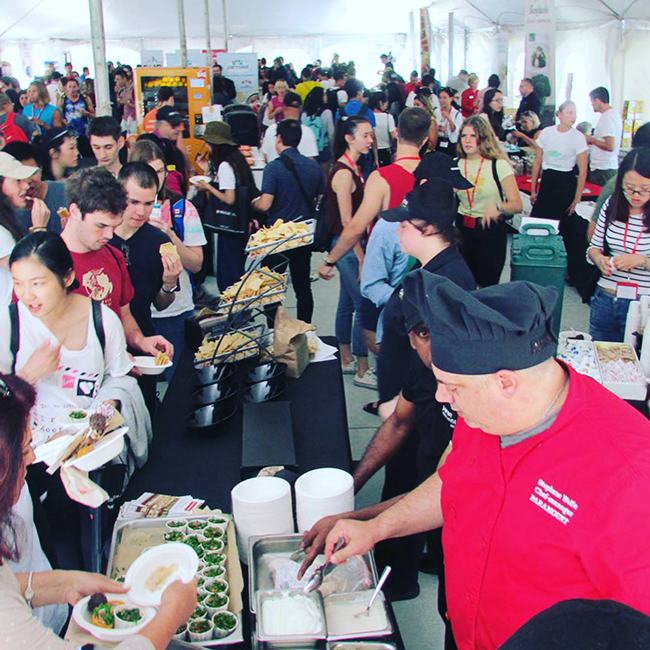 Fabulous food fair feeds thousands for free
Imagine being a first-year student from out of town during your first week at McGill. You're away from home, probably for the first time, and having to fend for yourself. While pizza is almost always a great idea, it might seem less so after having it for a third-straight night.
Then, in the midst of all your Orientation activities, you come upon a large white tent on lower campus exuding any number of wondrous aromas.
Food. Glorious food.
Aug. 30 marked the annual McGill À la Carte Food Show, a festival of fine eats (and drinks) hosted by Student Housing and Hospitality Services. More than 40 McGill providers were on hand, dispensing delicious delectables to anyone with an appetite.
A quick peek at any one of the compostable plates wielded by happy samplers revealed a veritable international cornucopia of treats – from burritos and sushi to croissants and bite-sized burgers.
"It's hard to give an exact number, but we figure that we fed between 7,000 and 8,000 people," says McGill's Executive Chef, Oliver de Volpi. "Our providers served about $50,000 worth of food to students, staff, faculty and regular Montrealers just passing by. It's our way to open up to the community and say 'Welcome to McGill.'"
One of the underlying themes of the event – aside from 'no stomach left unfilled' – was zero waste. To this end, virtually everything – from the plates, bowls and napkins, right down to the utensils and toothpicks – were made of compostable material. Each waste station was managed by 'waste educators' who directed people to the appropriate bin to discard their refuse.
"There wasn't much food leftover at the end, but any extras were given to the students at the Open Air Pub [also on lower campus] and to Residences," says de Volpi. "Of course, we can't achieve zero waste but our environmental footprint must have been negligible."