Picture this: it's early October and midterm season has just begun. You wake up determined to hit the McLennan until you've finished that assignment. You pack up your bag and make the trek over to your favourite study spot – only to find it full. We get it; it happens to the best of us – or at least it used to. It turns out, as with most things nowadays, there is an app for your studying woes. In response to a growing message from students about the lack of available seating, the McGill Library is working with a student-founded organization that has just the solution to this conundrum. Introducing the Waitz occupancy technology and app.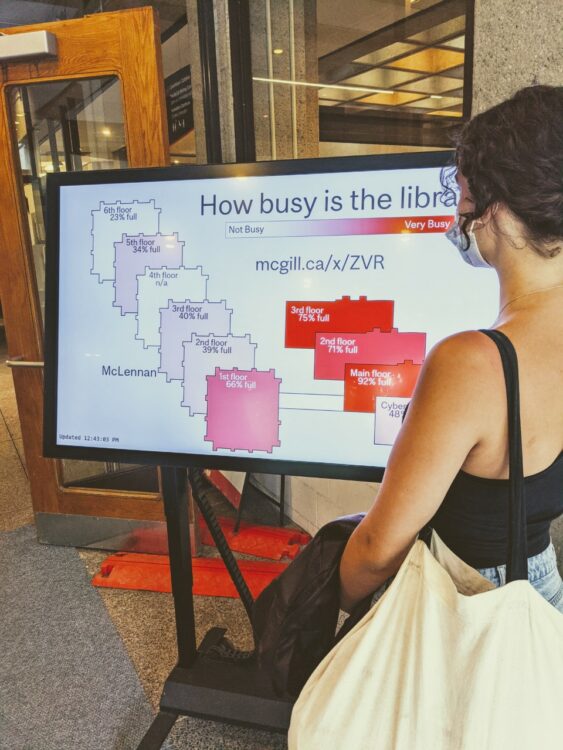 Using completely anonymous Bluetooth and Wi-Fi usage sensors in main library study locations, Waitz can estimate the number of people in a seating area within 80–95 per cent accuracy depending on the size of the location (bigger locations are more accurate). Waitz was launched formally at the McLennan-Redpath Library Complex in late February 2020 – then COVID hit. 
"As more Library spaces open up this fall, the Waitz sensor technology and app is important, now more than ever because it allows students to see how busy McLennan-Redpath spaces are in real time BEFORE heading out to the Library. Waitz is a proactive way for students to make informed choices about a high-traffic area on campus," says Katherine Hanz, Associate Dean, User Services. 
Waitz was founded by four college students who were tired of looking around for a seat at their library. Now, Waitz provides this service to universities across North America, helping thousands of students find a spot every day. "We came up with Waitz when I was a student at UC San Diego," says Waitz Founder and CEO, Nic Halverson. "We started in a university setting and deeply value student privacy. We created our sensor technology with that in mind so we never collect any personally identifiable information when tracking building occupancy."
To use this new tool download the Waitz app (available for both Android and iOS devices) or visit the Library's Waitz visualization page to access real-time occupancy rates. Screens displaying Waitz occupancy info for McLennan-Redpath are also stationed at the main doors of the complex.