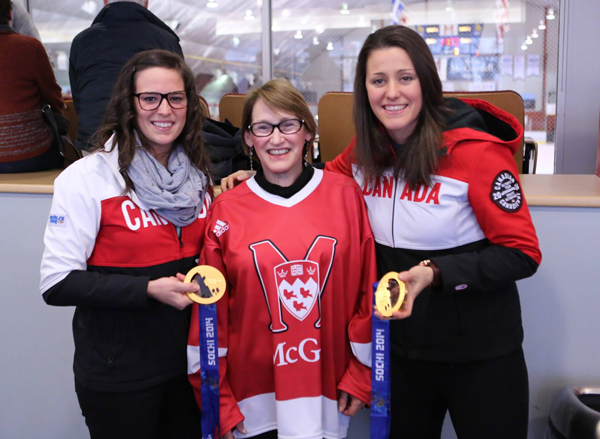 By Earl Zukerman
Katia Clement-Heydra scored the game-winner and added a helper as No.2-ranked McGill pulled out a 4-3 thriller to draw first blood over the top-ranked Montreal Carabins in Game 1 of the RSEQ women's hockey league championship series, Sunday. The Martlets were buoyed by a boisterous crowd of 412 at McConnell Arena that included Principal Suzanne Fortier and Olympic gold medalists and proud McGillians Charline Labonté and Mélodie Daoust.
McGill, which leads the best-of-three affair 1-0, can claim the Dr. Ed Enos Cup by winning Game 2, scheduled for Thursday (7 pm) at UdeM's CEPSUM Arena. If a tie-breaker is needed, it is slated for Saturday afternoon at McConnell Arena. The start time for a rubber match is yet to be determined, depending on if the Redmen will be hosting a playoff game against Carleton that evening.
McGill took a 3-0 first-period lead, then wilted in the middle stanza as Montreal rallied to knot the score at 3-3, setting the stage for Clement-Heydra's heroics at 4:54 of the third period.

"Kitty's scored some big goals for us this year and none bigger than that one," said Peter Smith, who improved his record to 391-136-31 lifetime as head coach of the Martlets. "It was the end of a shift, she was tired and I thought she showed a lot of courage by getting that puck in the net. It was a heckuva shot."
Leslie Oles, who easily had her best game since mid-January, was a constant threat, shift after shift. She gave McGill a 1-0 lead, then assisted on Stefanie Pohlod's third of the playoffs to put the Martlets ahead 3-0.
"Leslie was terrific out there," said Smith. "She competes every game, is such a tough player to play against and made a lot of things happen."
The other McGill marksman was Pamela Psihogios, who tallied her first point in 16 regular season and playoff contests.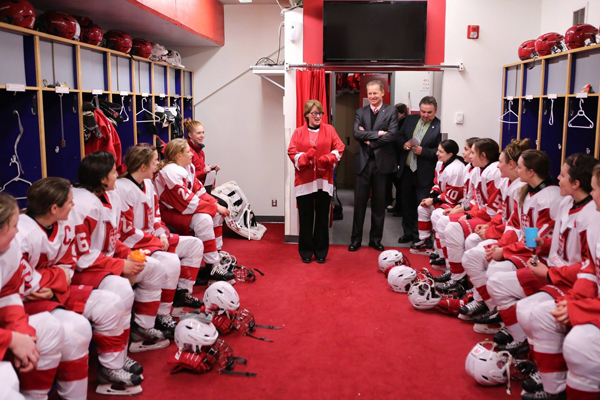 The momentum seemed to change almost immediately after UdeM defender Elizabeth Mantha drew a cross-checking penalty for knocking McGill sniper Gabrielle Davidson into the boards behind the Carabins net with just over six minutes left in the opening stanza. Davidson, who led the CIS in goals with 28 in 20 games, was down on the ice for about five minutes but eventually skated off on her own steam. She did not return to the ice.
"We were all very nervous about the way that she went into the boards," said Smith. "She went in hard and it looked like her whole body went into the boards all at once. I don't have a complete update but she's a little sore all over and it seems that she'll be OK."
The Martlets played a little tentatively after they lost the services of Davidson and in the ensuing middle period, Ariane Barker, Sophie Brault and Marion Allemoz.replied for the Carabins to even the score at 3-3.
McGill, which had a 31-20 edge in shots, went 1-for-3 on the power-play, while the Carabins went-0-for-4
Goaltender Andrea Weckman made 18 saves for the victory, improving to 3-0 in the post-season. Carabins goalie Elodie Rousseau-Sirois registered 26 saves and was saddled with her first playoff loss in three starts.
The Martlets improved to 31-5-0 lifetime against Montreal but are 4-4 in the last eight confrontations going back to last year's playoffs, where the Carabins lost the opener 6-1 but rallied to claim the series in three games en route to winning their first-ever CIS national championship.
MARTLET MURMURS: Canadian Olympians Charline Labonté and Mélodie Daoust, both products of the McGill Martlets, were on hand, with their gold medals to perform the ceremonial faceoff with Principal Suzanne Fortier. After the first period, Labonte and Daoust signed autographs for hundreds of children (and more than a few adults!) in the arena lobby.