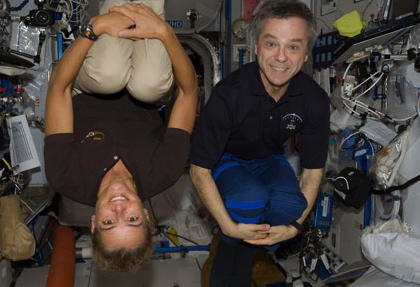 McGill grad to take part in first-ever Women in Science, Engineering and Medicine Symposium
By Neale McDevitt
Julie Payette doesn't believe in problems, only solutions. "I'm an engineer through and through," says Payette (B.Eng '86), only the second Canadian woman to have flown in space. "I'm a doer and a let's-put-it-together-type of person who loves to solve problems with existing solutions or devise new solutions for concrete problems. I don't spend much time worrying about things that don't work. I fix them."
So when asked what obstacles has she faced over the course of her illustrious career in predominantly male-oriented fields (she's an engineer, a military pilot and an astronaut, to name but a few of the items on her impressive CV), Payette pauses to think.
"When I went to my pre-university physics classes and my engineering classes at McGill, I was often the only girl," she says. "But I don't remember thinking much about the [negative] side effects [of being a woman]. I knew I was where I belonged."
Payette will be returning to her alma mater this weekend as a speaker at the first Women in Science, Engineering and Medicine Symposium taking place on Oct. 12-13 at the Redpath Museum. Part of McGill Homecoming 2012, the event is being held to commemorate and celebrate the 100th anniversary of Carrie Matilda Derick being appointed Canada's first female professor.
Child of the Apollo era
Like many children growing up in the 1960s, Payette was irreversibly influenced by the heroism and sense of adventure that marked the Apollo era of space exploration.
"I grew up sitting on the floor of the gym of my primary school watching people flying on a rocket and shooting to the moon and driving a Jeep across its surface," she says. "And even though I had all the wrong characteristics – I was the wrong gender; I was the wrong nationality; nobody in my family, including myself, had ever set foot in an airplane; and I didn't even speak the same language – I knew this was what I wanted to do. I wanted to be an astronaut."
After graduating from McGill in 1986 cum laude in Electrical Engineering, Payette worked as a system engineer with IBM Canada (1986-1988); research assistant at the University of Toronto (1988-1990); visiting scientist at the IBM Research Laboratory, in Zurich, Switzerland (1991) and research engineer with BNR/Northern in Montreal (1992), conducting research in computer systems, natural language processing and automatic speech recognition.
It was in the early 1990s that Payette decided to take the plunge and apply to become an astronaut at the Canadian Space Agency (CSA). Typical of her never-back-down attitude, Payette was undaunted by the enormous odds stacked against her at the beginning of the CAS's selection process that drew some 5,330 applicants.
"There are very few certainties in this world, but there is one that is absolute – if you do not apply for something you have zero chances of getting it," says Payette. "That was the philosophy I had. I said 'Hey I don't think I'm going to get in. I don't even think I'm going to make it through the first round. But I've wanted to do this my whole life, so I might as well do my best and try.' "
And her best was more than good enough. In June 1992, Payette got the call that she had been waiting for her entire life: the CSA had selected her to become one of four astronauts.
Constantly underestimated
Being chosen, however, was just the first hurdle to clear. Training to become an astronaut was incredibly demanding and Payette remembers it as a time "when I first really felt that I was almost always underestimated in terms of my capacity and capabilities. I felt like I had to prove myself constantly."
But Payette refuses to blame this strictly on being a woman. "I had so many characteristics that were not the norm of the people who were in the milieu. Not only was I a girl, I was also was a non-military person, I wasn't the pilot, I was French-Canadian and I was certainly the only one out there with long curly hair," she says with a laugh. "Which characteristic had more predominance? I certainly did not have the savvy – and still don't – to figure all this out.
"But I did know one thing. By going out and getting some of the credentials that are highly respected in this particular world then I would establish enough competency to make my mark. I went full-speed at gaining the credentials that I knew would help to get me a seat on that spacecraft."
So Payette rolled up her sleeves and got busy.
After her basic training in Canada, she worked as a technical advisor for the Mobile Servicing System, an advanced robotics system contributed by Canada to the International Space Station.
In preparation for a space mission assignment, Payette obtained her commercial pilot's licence, studied Russian and logged 120 hours as a research operator on board reduced gravity aircraft.
In February 1996, Payette obtained her military pilot captaincy on the Tutor CT-114 "Snowbird" jet. Two months later, she was certified as a one-atmosphere, deep-sea diving suit operator. She earned her military instrument rating in 1997.
On May 27, 1999, Payette finally found herself on that seat aboard the Space Shuttle Discovery as it was about to be launched for its nine-day, six-million-mile journey to the International Space Station.
And, after all those years working toward this single goal, what was Payette thinking during the countdown to takeoff from the Kennedy Space Center in Florida? "It was not very romantic," she says with a laugh. "An astronaut has to be very focused – even on the day of your first ever departure to space. There is no room for error and your biggest fear is to not do the job that you've been trained to do. My only thought was on achieving my immediate objectives, which, as soon as we got into space eight and half minutes later, meant controlling the system to open the cargo bay doors of the space shuttle which are vital to cool down the electrical system.
"Even when the windows doors opened and I got my first glimpse of the absolutely magnificent view of Earth orbiting at my feet, I didn't stop and say 'somebody pinch me' because I was busy checking at my instruments," says Payette. "It was only further into the mission that I really started grasping the immense privilege it is to fly and to see the Earth from that wonderful perspective."
Ten years later, Payette would return to space, this time as the flight engineer on the crew of the Space Shuttle Endeavour on the 29th Shuttle mission to the International Space Station. The 16-day mission included travelling 10.5 million kilometers in 248 orbits around the Earth.
On top of the world
Despite her success, Payette is not naïve when it comes to imbalance in the workplace. "Things are not equal and they've never been equal. Certainly in a country like Canada and in a city like Montreal there about as equitable as they are anywhere else in the world, but we still have a long way to go," she says. "But whenever there's a group that is underrepresented in science and technology, which is the backbone of our knowledge-based society, then we are missing out on the work of potential contributors. In the end, we all lose."
But Payette is quick to point out that, despite the inequities, women can achieve their goals – provided they keep their eye on the prize and don't dwell too much on any obstacles in their way. "When you're in the midst of competing and bettering yourself and going full speed after something you've wanted all your life, you tend to have very little time for that kind of reflection," she says. "You do what you can and you deal with your setbacks and you go out and try again. It wasn't always easy for me, but there was always this amazing goal out there called going to space and that was all the motivation I needed."
Somewhat surprisingly, when asked about some of the highlights of her career, Payette's first response isn't space-related, however. "I remember one of the first times I flew an airplane solo. I was in a small airplane with a propeller and two seats just orbiting around and doing my work to earn one of my first pilot's licence. And I remember thinking 'Isn't this amazing? I have wanted to do this since I was a kid without ever having been in an airplane before and now I'm here, right where I belong,' " she says. "And that's what I wish for young people everywhere – that they find their way, that they find their voice, that they find their path and that they find where they belong, because we all belong somewhere."
Women in Science, Engineering and Medicine Symposium; Oct. 12-13; Redpath Museum Auditorium. Open to the public; free admission. For more information, including the complete schedule of events, go here.