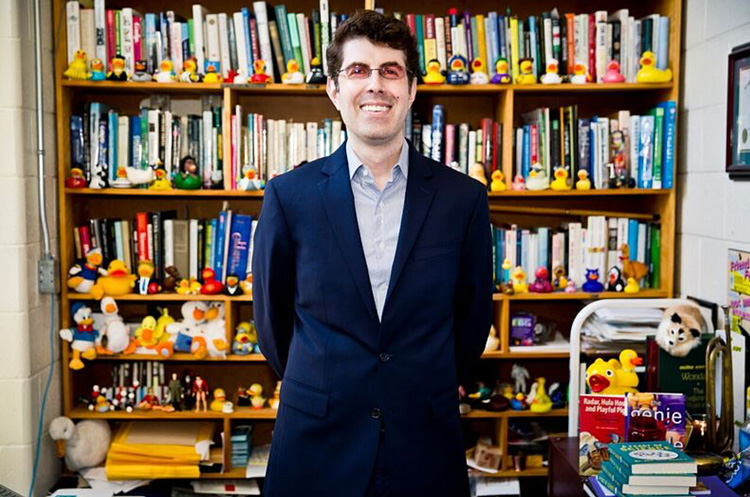 More and more of us get our news and information from social media. But along with interesting and funny online material, social media also propagates unfiltered health scams, junk science and conspiracy theories.
Jonathan Jarry (BSc'03) is unpacking anti-science attitudes as the newest science communicator with McGill's Office for Science and Society (OSS). The goal of the OSS is "Separating sense from nonsense," and Jarry is doing that using social media. The OSS also does public outreach including a weekly newsletter, film screenings and the annual Trottier Public Science Symposium at the end of October every year.
A bilingual Montrealer, Jarry wanted to be a firefighter as a kid, then a journalist, then a geneticist in high school. He has an undergraduate degree in Biochemistry from McGill, and a Master's in Molecular Biology from l'Université de Montréal.
In some ways, Jarry has combined his childhood wishes, because as a science communicator he is putting out symbolic fires caused by sometimes dangerous online scientific and medical misinformation.
Boom goes the internet
In June he "broke the internet"— meaning posting an online hit – when a two-minute video he made called  This Natural Trick Can Cure Your Cancer became hugely popular. The video claims to be about a miraculous natural cure that big pharmaceutical companies have been hiding for decades. Toward the end, however, it is revealed that the video is just an elaborate hoax – the kind that has duped thousands, if not millions, of viewers.
"I'm happy about the viral video," says Jarry. "It has reached 13.5 million people, so I'm also more than a little flabbergasted by its success."
Clearly Jarry's video sendup of medical quackery hit a collective nerve. But Jarry says he is most proud of his work as a science educator.
"It's easy to fall for bad research, and it's also easy to wave the flag for science indiscriminately," he says. "Hitting a fair middle is hard and challenging. When an expert on a topic I've discussed publicly, tells me 'That was a fair assessment of the evidence,' that's something to be genuinely proud of."
Debunking pseudoscience since 1999
This is what the OSS does. The OSS is a one-of-a-kind institution founded at McGill in 1999 by Chemistry Professors David Harpp, Ariel Fenster and Joe Schwarcz, with the support of then Principal Bernard Shapiro, and Lorne Trottier, (BEng'70, MEng'73), businessman and philanthropist, and the largest donor to the Faculty of Science at McGill.
Schwarcz is the Director of the OSS, and a well-known debunker in his own right. Author of sixteen books, veteran of print and broadcast media, and winner of many awards, Schwarcz describes himself as the host of the longest running radio show (39 years) on chemistry in the history of the world.
"Of course," he laughs, "It may well be the only radio show on chemistry in the history of the world."
Schwarz says there are a handful of individuals working on separating good science from pseudoscience, but the OSS is unique in Canada.
"As far as I know the OSS is the only university-centered operation focusing on debunking fakery, and shining the spotlight on what is happening in the world of science," he says. "A key goal for us is demystifying the complexity of science."
Skeptical, but funny
To that end the OSS's Jarry has a bi-weekly YouTube show called Cracked Science, now in its second season, featuring longer videos, posted every Friday. Recent episodes looked at Gwyneth Patrow's "Goop", and why conspiracy theories are so popular.
Jarry also does a podcast with cardiologist Dr. Christopher Labos called The Body of Evidence. They explore important medical topics while bickering in a friendly fashion.
Jarry says it's important to make the topics he tackles interesting and humorous, following in the footsteps of people such as Jon Stewart and John Oliver, because skepticism can sometimes be a bit dry.
And skepticism, funny or not, applies to science itself, too, says Jarry.
"We have this idealistic vision of the scientific enterprise," says Jarry. "Science is really just another human activity, one that has noble goals centered on curiosity and the advancement of knowledge, but still an imperfect activity."
To advance the scientific enterprise the OSS is holding its annual Trottier Public Science Symposium on October 29 and 30 at the Centre Mont-Royal. The subject of this year's Symposium is Minding the Future: Living in a High-Tech World. You can register here.
You can follow the OSS on Facebook page and on Twitter.