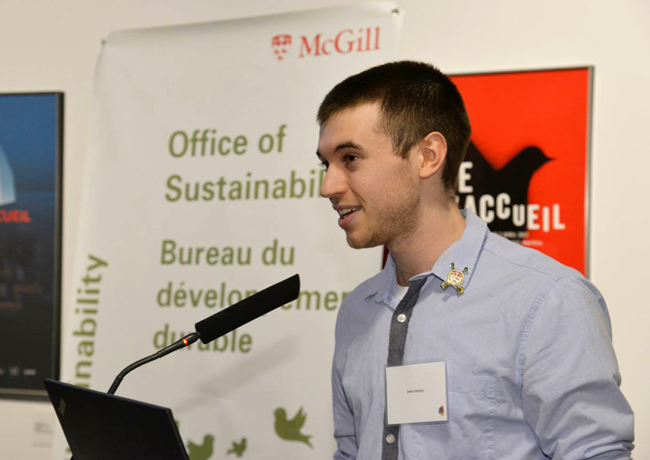 By McGill Reporter Staff
John Lindsay, who graduated on June 2, leaves McGill with a degree in Environmental Science (Renewable Resource Management), an Emerald Key award, and a passion for… food. But not necessarily a love for pizza and poutine – the staples of many students. Lindsay's hunger, so to speak, is to make the world a better place through more sustainable food practices and policies.
"I use food as a lens in my studies. Everyone has to eat, after all," says Lindsay. "Food production has one of the largest greenhouse gas footprints, contributing to climate change. Negative environmental impacts from food production include deforestation and the pollution of soil, water and air, as well as land compaction and biodiversity loss. With increasing meat consumption, millions and millions of animals suffer on Concentrated Animal Feeding Operations.
"There are economic impacts on rural farmers in Canada, the United States and abroad, who are losing their livelihoods to large agribusinesses, while consumers are becoming increasingly reliant on food banks and cheap food to survive," continues Lindsay. "Maintaining the status quo of this system would be disastrous."
Academically, Lindsay used lessons learned from the multi-disciplinary Environmental Science program to create two research courses. One was an applied student research project with eight other students, called The Real Food Challenge, which seeks to use third-party certifications to shift away from industrial junk food toward sustainable 'Real Food' in campus cafeterias. The other was his honours project, titled Socially-Sustainable Food Procurement for McGill University, where he researched ways of making food procurement at McGill more sustainable.
Lindsay says his primary inspiration for work in sustainability was reading the work of environmentalist and author Bill McKibben. But it was when he took classes at the McGill School of Environment, specifically a class called Montreal Urban Sustainability Experience (MUSE), that the light went on.
In MUSE, students are enrolled in two courses: one about understanding Montreal's natural history, and another exploring some of the sustainability initiatives in Montreal. He explored urban agriculture initiatives such as Lufa Farms, and visited the Saint-Michel Environmental Complex, which sorts all recycling waste for the Island of Montreal. From there, his interests expanded to Santropol Roulant, the McGill Farmers' Market, and then to McGill cafeterias.
Through his work as Food & Dining Sustainability Coordinator, Lindsay expanded the scale and impact of food and waste education initiatives in McGill's cafeterias. He also improved food procurement auditing and reporting to better assess and actualize changes in institutional food procurement. Over the past year, he focused on improving the scope and impact of fair trade on campus. Those efforts played a role when McGill received the Fair Trade Campus of the Year Award for excellence in educational and operational commitment to fair trade.
On April 3, Lindsay was rewarded for his hard work by winning the coveted Emerald Key Award, given annually to a student who has made an outstanding and enduring contribution to the sustainability movement at McGill.
Marisa Albanese, Interim Executive Director of Student Housing and Hospitality Services, and Professor Julia Freeman, who presented Lindsay with the Emerald Key Award, described him as a student who exhibits genuine passion for the wellbeing of people and the planet, both in the classroom and in his extracurricular pursuits.
As much as he has accomplished during his time at McGill, Lindsay's natural drive finds him looking outward, beyond the Roddick Gates. "Please get involved outside of the classroom," he says when asked for words of advice for new students at the School of Environment. "Montreal is a vibrant city with many learning opportunities. You can only learn so much from school. The deepest learning comes from getting your hands dirty."