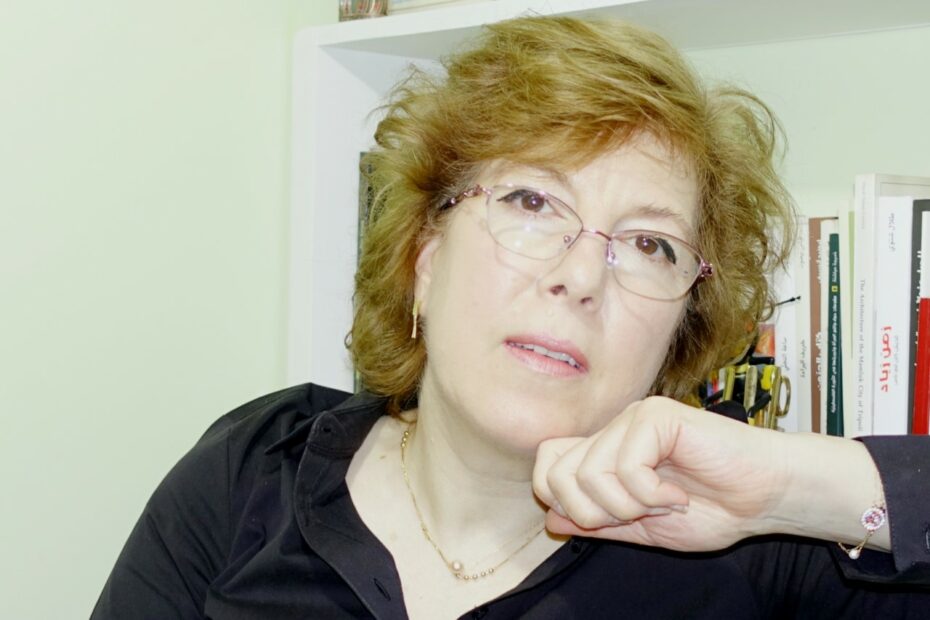 Rula Jurdi Abisaab, Associate Professor of Islamic History at McGill's Institute of Islamic Studies, novelist and poet, has won the prestigious Khayrallah Prize for her novel Camera Obscura. Set among Lebanon's Druze community, the 2017 novel explores the individual struggles of three different women against social and gender boundaries.
The Moise A. Khayrallah Center for Lebanese Diaspora Studies at North Carolina State University awarded Abisaab the Prize, which "honours those whose original artistic productions and projects focus on any aspect of life in Lebanon, or among Lebanese immigrants, whether in the past or present."
Akram Khater, director of the Khayrallah Center, said in a statement that the prize's selection committee was "particularly impressed by the multi-layered, multi-generational novel Camera Obscura.'
"It is truly a tour de force of storytelling made all the more engrossing by a fluid text that flows effortlessly across borders to speak of transnational lives that are simultaneously grounded in intensely intimate local moments captured by camera and narrator."
Abisaab, who was born in Venezuela to Lebanese parents, called the award "a rare gift… given how scarce literary awards are in connection to Lebanon and the Arab World."
What the camera reveals – and doesn't
The Latin title of the novel – literally hidden camera – is an elliptical reference to the old practice of examining eclipses without looking directly at the sun to protect the eyes.
The novel touches on many themes, including gender relationships "in a patriarchal society," mysticism, religious faith, sexuality, colonialism, resistance to puritanical militant religious movements – many of the contradictions inherent in what a camera reveals – and doesn't reveal.
"I challenge the idea that the camera witnesses things as they are," said Abisaab.
Drawn to Lebanon
Abisaab's parents travelled to Lebanon for a visit when she was three years old, and she's returned regularly to the country ever since, including during the 1975-1990 civil war, during which she studied at the American University of Beirut.
She later studied and taught in the U.S., and arrived at McGill in 2004, where she teaches Islamic history.
"My research is specifically the 15th to 17th century Safavid period in Iran," Abisaab said. She also teaches modern history, including the relationship between Marxism and Islam in Lebanon and Iraq.
Balancing academia and literature
"I was very happy to join McGill and the Institute because it's really a fine department. It's the kind of intellectual atmosphere that allows you to grow – it has a very strong sense of collegial relations."
Abisaab, who is currently publishing her third collection of poems, says she has finally achieved the right balance she has long sought between academic pursuits and literary ambitions.
"I'm doing what I want now. I'm very happy academically speaking because there's a lot I want to do. But the literary aspect is strong and becoming very prominent. I'd like to focus on that aspect, but I also have a lot of academic projects that I'd love to finish."
"I'd love to continue planting roots in Quebec, it's a unique place," she noted. "The Québécois and Canadian heritages work for me on many levels, intellectually and emotionally. And the Lebanese and Arab diaspora is huge here."
The McGill Institute of Islamic Studies has a long history of multidisciplinary studies, with scholars in philosophy, anthropology, modern and ancient history, as well as joint appointments.
"We've been part of the Faculty of Arts for 18 years, so that links us with other departments – history, psychology, sociology. It makes us that much stronger."
Gender equality and racial diversity are critical issues for her, Abisaab noted, "and McGill supports a number of wonderful initiatives in that sense. There's another stretch to go, but I see a very clear openness on the part of McGill to meet such goals."
Read the Khayrallah Prize announcement.