Weeam Ben-Rejeb is the recipient of this year's Centre Culturel Islamique de Québec (CCIQ) Memorial Award.
Established by the University in 2018 in commemoration of the six men who lost their lives on January 29, 2017, as a result of the massacre at the Centre Culturel Islamique de Québec, the award recognizes a McGill student who has demonstrated a particular commitment to fostering the inclusion of Muslims within Quebec and Canadian society.
Alienated – but undeterred – by Islamophobia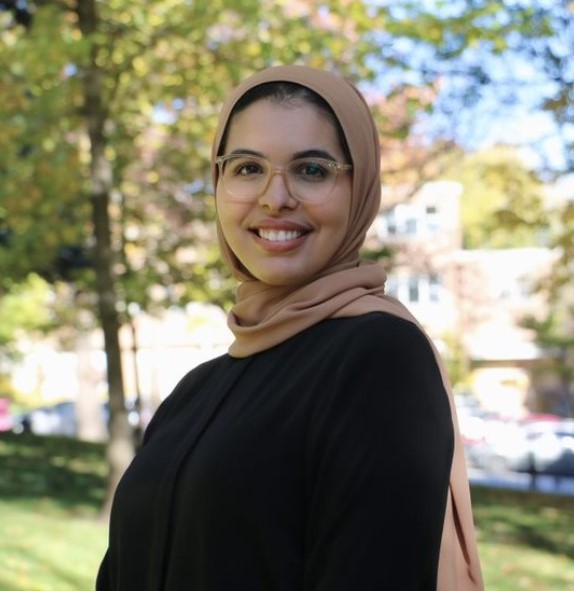 A native French speaker born and raised in Montreal, Ben-Rejeb spent her high school years in Ottawa before returning to her hometown to begin an Arts degree at McGill. While she says she felt returning to Montreal would be like "coming back to her roots," the move marked a turning point in her experience of discrimination and harassment.
"It makes me sad to say it, but I definitely felt a very big difference as soon as I moved back," she recalls. "In my first year, I experienced the most overt Islamophobia in terms of comments in the streets or people screaming at me."
The contrast with the relatively inclusive community she had known in Ottawa left Ben-Rejeb questioning her own sense of belonging.
"I think that's when I realized that there's so much road to still be paved in terms of fostering understanding and inclusion," she says. "I think that was the moment I knew I couldn't just be passive about it."
Speaking out against Bill 21
With a degree in Sociology and International Development Studies behind her, Ben-Rejeb is now in her second year of a BCL/JD degree. As a Law student, Ben-Rejeb has been an outspoken advocate against Quebec's secularism law, known as Bill 21. She believes the legislation, which prohibits various public sector employees from wearing religious symbols at work, has a disproportionate impact on minority groups, Muslim women notable among them.
"My main message has been to not only emphasize that the law harms Muslim women's employment prospects, but also that it harms the sense of belonging of religious minorities in Quebec," she says.
"I believe that we cannot foster Muslim inclusion without strongly advocating against the law, and challenging the dominant discourse which sees the hijab as a sign of oppression."
Bringing diverse voices together
As lead coordinator with the McGill student-led Coalition Against Bill 21, Ben-Rejeb was instrumental in organizing a panel event in March 2022, inviting representatives of diverse communities – Muslim, Jewish and Sikh – to discuss the personal and professional implications of Bill 21.
Held in collaboration with McGill's Institute of Islamic Studies, 'Living with Loi 21: Second-class citizenship in Quebec today' drew an audience of over 100. Panelists included Fatemeh Anvari, a Gatineau primary schoolteacher who was removed from her teaching position because she wore the hijab; Faiz Lalani, a lawyer involved in an appeal against the bill; Zeinab Diab, a Ph.D. student examining Islamophobia and its effects in Quebec; and, Rabbi Lisa Grushcow, an outspoken advocate for Jewish and queer Montrealers.
Pasha Khan, Chair in Urdu Language and Culture and Associate Professor at the Institute of Islamic Studies, lent his support to the event, especially in helping to initiate contact with Fatemeh Anvari. Khan praised Ben-Rejeb for her efforts in persuading Anvari to share her story publicly and described her success in winning the CCIQ Award as "truly a matter of pride".
"Weeam worked tirelessly on the Loi 21 panel at McGill, which brought together a stellar group of speakers," he said. "She richly deserves this award, given all of her work against Islamophobia."
Helping others "see beyond the veil"
Ben-Rejeb was encouraged when audience members at the 'Living with Loi 21' event said that hearing Fatemeh Anvari's story about losing her job as a teacher and the impact on her students "helped them see beyond the veil".
Countering the polarized political debate around Bill 21 with personal stories like this is an example of a humanizing thread that runs through Ben-Rejeb's advocacy work, from her early efforts volunteering at Discover Islam events run by McGill's Muslim Students Association to her more recent work on bringing visibility to Muslims in the legal field through engagements with the Women of Colour Collective, Avocats sans frontières and the L.E.X. Outreach program.
"To me, the most important contribution I can have is to use my voice for positive change," she says. "This is what I hope to continue to do during my time at McGill, and beyond as a future lawyer."