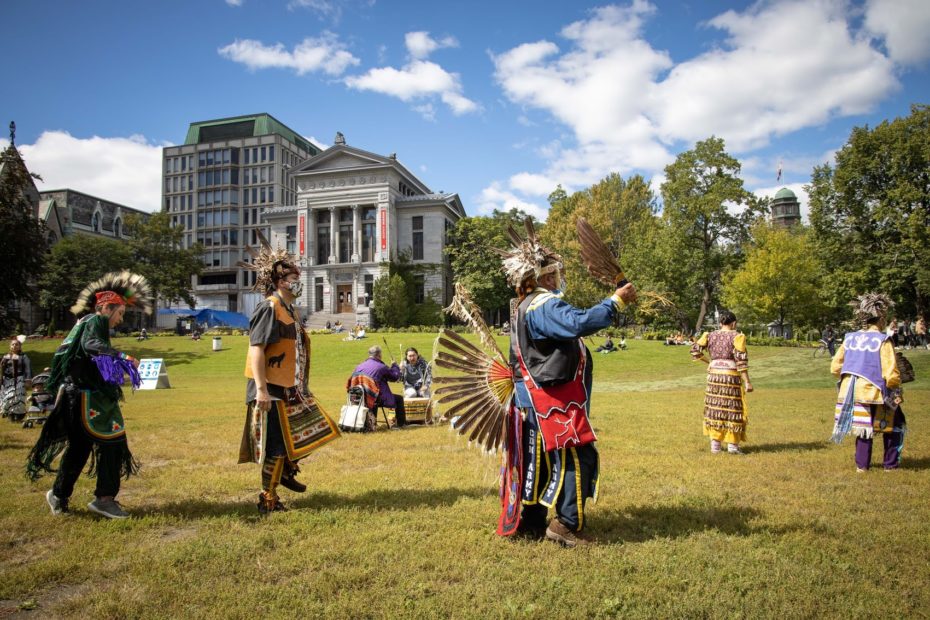 When the First Peoples' House team pondered how to adapt this year's Indigenous Awareness Weeks to the harsh reality of a pandemic, they scaled back their usual two-week comprehensive program to a couple of virtual celebrations.
What did not change was their focus on wellness.
"Right now, there's a lot of focus on people staying well – mentally, physically, emotionally, spiritually," said Thomasina Phillips, interim manager of First Peoples' House, which is known as the home-away-from-home for Indigenous students at McGill. "So these events are aiming to support that goal."
She notes that Pow Wows across North America have moved online for "quarantine dance specials."
"So it's good to keep in line with what people are already doing. That's why we're doing a virtual event at McGill rather than cancelling it outright. We're hoping that in this period of uncertainty, these events inspire positivity and compassion and encourage people to continue concentrating on their wellness."
A healing journey
First Peoples' House shared its virtual Pow Wow on social media on September 18. The 23-minute video (which can be viewed at the bottom of this article below the photo gallery) includes a ceremony featuring the Red Tail Spirit Singers drum group and dancers Don Barnaby, Marian Snow, Ray Deer and his family of dancers. As she has done in previous years, Phillips also danced in the Pow Wow.
The ceremony was filmed earlier this month on McGill's downtown campus; the group had previously held a similar event at a hospital in Kahnawake in June to lift the spirits of isolation-weary elders.
"Dancing is a way for Indigenous people to give thanks and transmit prayers for themselves and for others," Phillips said. "A lot of dancers begin dancing as part of their own healing journey and give prayers for those who can't dance or who are not well.
"We feel this event is really special and really needed at this time."
Raising Indigenous culture awareness
McGill has hosted a Pow Wow on the lower field of the main campus each September since 2001. Beginning in 2011, the Pow Wow has been complemented by the Indigenous Awareness Week (later expanded to Indigenous Awareness Weeks). As has been customary since 2018, the Hiawatha Wampum Belt flag flew over the McCall-MacBain Arts Building on the day of the virtual Pow Wow launch, in recognition of the history and continued significance of the Montreal region to the Haudenosaunee people.
In his recorded welcome to the virtual Pow Wow, McGill's Provost, Christopher Manfredi, called the annual September events "an important opportunity to welcome Indigenous community members to our University, to share in celebration, and to raise awareness of Indigenous teaching, culture, and custom, we are also working hard at ensuring that Indigenous experiences, forms of knowledge, and ways of teaching are integral to the academic fabric of the University, and that Indigenous faculty, staff, and students are welcomed to and supported within the McGill community."
Wellness and the mind-body connection
The next virtual event will be held on Thursday, Sept. 24 at noon. Two highly-regarded Mohawk healers, Geraldine Standup and her son, Mike Standup, will give a live presentation on wellness.
Phillips said these community elders "have done a lot of work with people around spirit work and re-awakening, focusing on wellness outside of what we would consider traditional western approaches."
The Standups have several decades' experience working as traditional healers with organizations such as the Native Womens' Shelter and Native Friendship Centre in Montreal, and First Nations health clinics in Toronto. They recently started a spiritual teachings program at Kahnawake Shakotiia'takehnhas Community Services.
The Standup's 30-minute presentation on the importance of the mind-body connection and its impact on our daily health, will be held on Thursday, Sept. 24 at noon. A question-and-answer period will follow. Registration for the free event is now open.