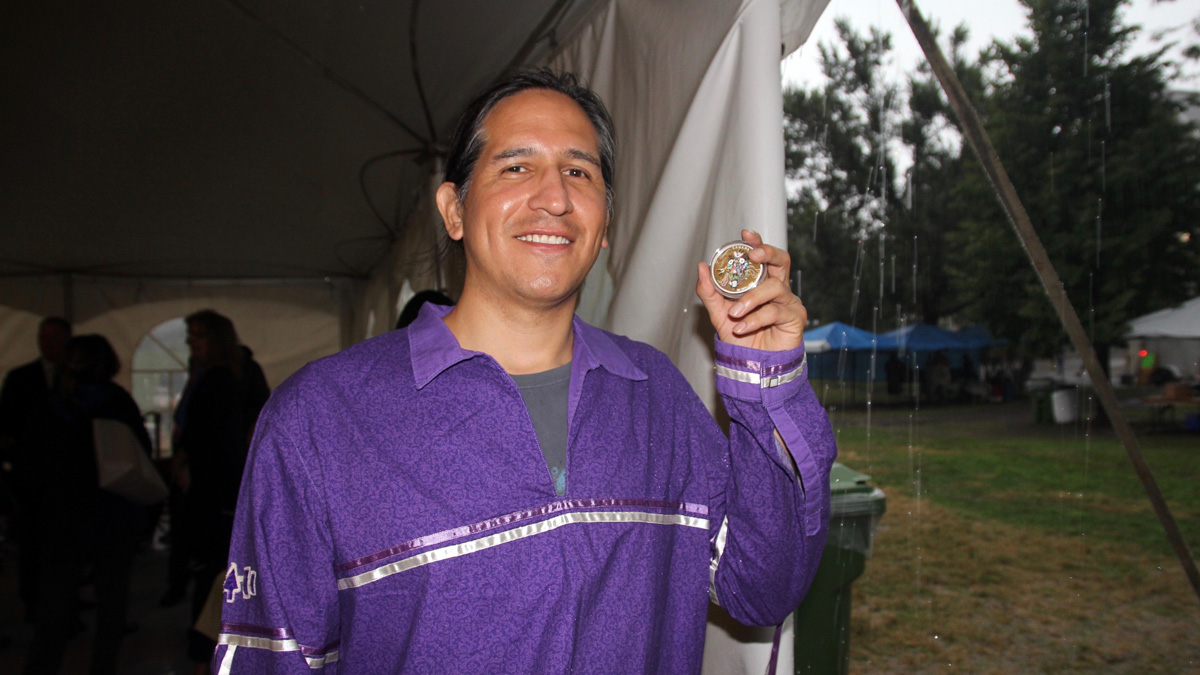 Even the grey sky and driving rain couldn't take the lustre off the new collector coin unveiled by the Royal Canadian Mint on lower campus earlier today.
The vividly coloured silver coin depicts the pageantry of the Fancy Dance, a modern Indigenous art form that is a powerful expression of Indigenous pride and heritage. Fittingly, the unveiling ceremony took place just moments before the opening of First Peoples' House 17th Annual Pow Wow.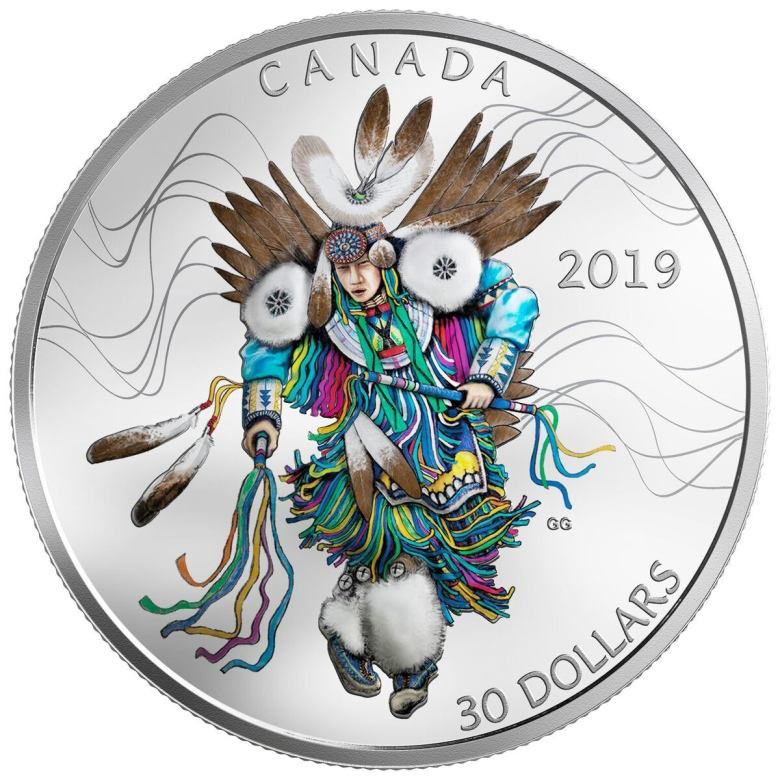 A male dancer dominates the 2-ounce coin's face, with finely detailed engraving adding a sense of movement and splashes of colour highlighting the intricate nature of his regalia. As the image's creator Kanien'kehá:ka artist Garrison Garrow, explained to the crowd at the unveiling, details of the regalia have been pulled from various Indigenous people's traditions, from the Thunderbird of the Plains peoples to the Iroquois design on the apron.
"It was a difficult challenge to do this design because it is a Fancy Dance and there is a lot of energy in that dance and there is a lot of power," said Garrow. "I wanted to try and capture some of that in a static image. I hope that I did that."
Mark Miller, Member of Parliament for Ville-Marie—Le Sud-Ouest—Île-des-Sœurs, praised the coin for its craftsmanship but also for its symbolism. "Federal governments banned this type of regalia that people wear so proudly today. It's being brought back from a very dark place," said Miller. "Our governments, our people, were complicit in putting it down. Today is but a symbolic gesture – but a very important one – to keep shining the light on the beauty in the traditions that keeps the culture, the language and the lives of people vibrant."
Indigenous drummers played between speakers, a sound that echoed the hard rain that pounded the tent. "Welcome to McGill University under the rain," said Louis Arseneault, Vice-Principal (Communications and External Relations). Arsenault spoke of the land upon which McGill – and the unveiling ceremony – was situated. The land, he said, "has long served as the site of meeting and exchange amongst Indigenous people… We acknowledge the diverse Indigenous peoples whose footsteps have marked this territory on which peoples of the world now gather."
Less than 30 minutes later, the very place where Arseneault stood was marked by the footsteps of Indigenous people as they opened the 17th Annual Pow Wow with the traditional Grand Entry.