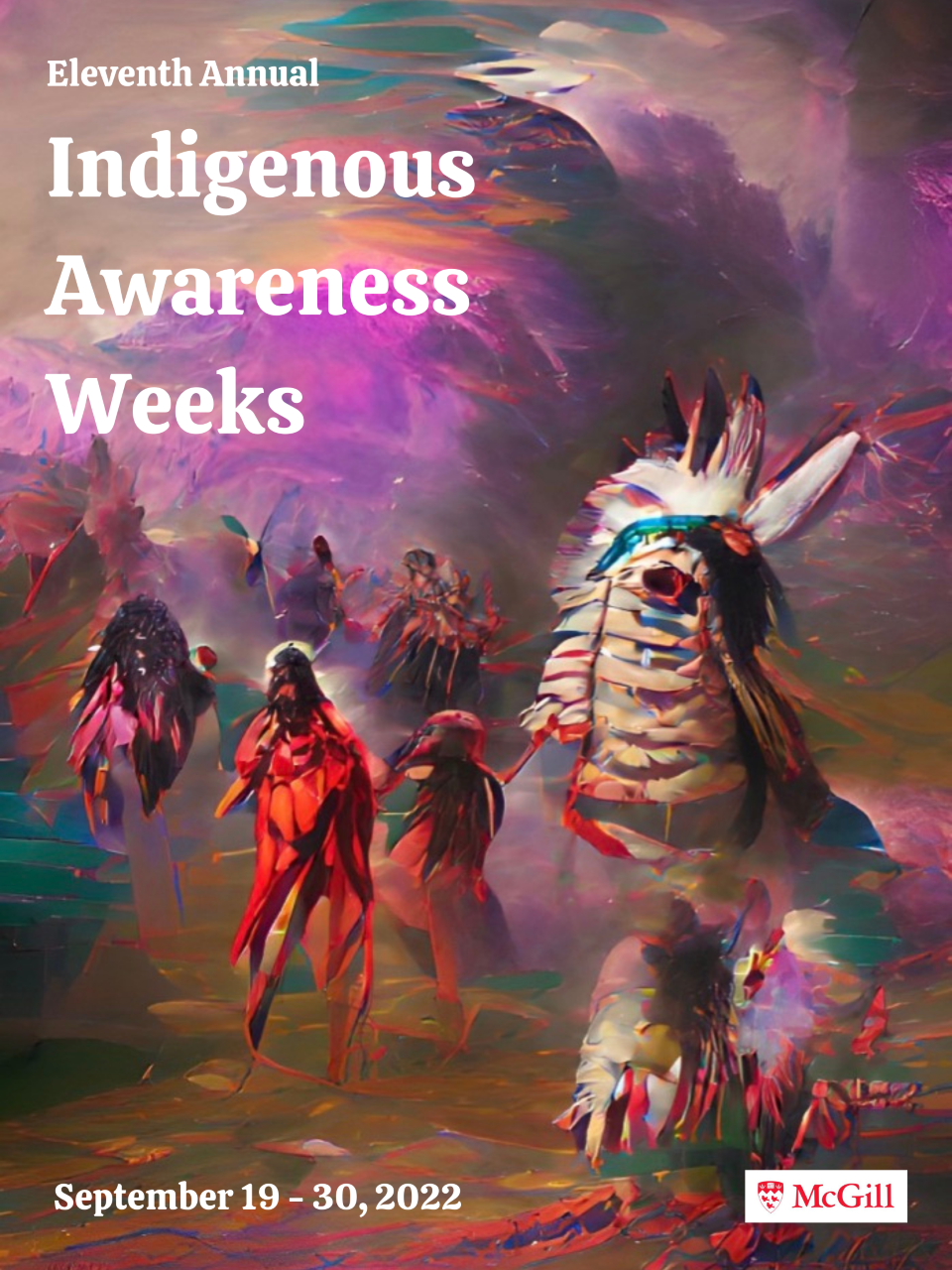 The sense of delight at the core of the theme for McGill's upcoming Indigenous Awareness Weeks (IAW) – Coming together again – is palpable.
"We haven't been able to gather in person for Indigenous Awareness Weeks since 2019. So, it's an exciting time," says Aneeka Anderson, Communications Assistant, Indigenous Initiatives and one of the organizers of IAW. "We can gather again. We can celebrate in person. We can come together, join hands, hug – whatever – in celebration of our peoples at McGill."
McGill's eleventh iteration of IAW runs from September 19–30. The lineup is varied, highlighting everything from film screenings and traditional cooking to a political roundtable and the We Will Walk Together/Skàtne Entewathahìta event (September 30) that will feature an outdoor ceremony honouring the children who never returned home from and the survivors of residential and day schools.
"It's all about Indigenous celebration, representation, and visibility on campus. It offers a wide array of opportunities for the McGill community and the Montreal community to come out and listen to Indigenous speakers, meet Indigenous artists, attend talks, attend film screenings," says Anderson. "We've prioritized having visibility for diverse Indigenous peoples. We have events that address First Nations, Inuit and Métis issues."
Twenty-first McGill Pow Wow
Of course, there will be Pow Wow (September 23), long a campus highlight. This year marks the 21st Pow Wow held at McGill. It will feature Hoop Dance demonstrations, Inuit throat singers, Maori Haka dancers and a host of Indigenous vendors.
"I'm looking very forward to the Pow Wow," says Celeste Pedri-Spade, McGill's inaugural Associate Provost (Indigenous Initiatives). "This gathering has been bringing together people from different nations as many of our gatherings have been doing since time immemorial."
Pedri-Spade, who began her mandate on September 1, says Pow Wow serves many functions.
"Pow Wow is a celebratory event, but it is also very much a spiritual event because it is through song and drum that we develop our relationship with one another and kitchi manitou," says Pedri-Spade. "It is also a political event because people come together to talk about important issues that are relevant to their community and nation."
She also says that McGill's Pow Wow is important because it shows the University in a new light, as a space that is welcoming to different Indigenous cultures. More than anything, it celebrates the confluence of all cultures.
"You don't have to be Indigenous to attend Pow Wow," says Pedri-Spade. "It is for everybody –all humanity. We have what we call inter-tribals. Anyone in attendance can enter the circle and dance, walk or move however they want. Everyone is welcome."
IAW highlights
One of IAW's featured participants is Cassidy Caron, President of the Métis National Council (MNC). Caron will take part in a virtual presentation on September 21, during which she will discuss the past, present, and future of the Métis Nation. A Q&A will follow the presentation.
"I'm really interested to hear what President Caron will have to say, as she is the first-ever woman president of the MNC," says Anderson. "I'm so happy that she is participating and I can't wait to welcome her virtually to McGill."
On September 28, Mike Kanentakeron Mitchell, a knowledge keeper from Akwesasne and former Grand Chief, will deliver a presentation on the meaning and history of lacrosse in Indigenous communities.
The presentation is a perfect lead up to the varsity lacrosse game that will be played on September 30 between McGill and Queen's. This first Legacy Game is dedicated to both Orange Shirt Day and Indigenous contributions to the game of lacrosse.
"We [Indigenous Initiatives] have been working closely with McGill Athletics to plan an event honouring the Indigenous roots of lacrosse," says Anderson. "It is important that we know and honour the history of lacrosse and the stewards of the game."
The game will include an opening ceremony, half-time performances, and a closing ceremony involving the awarding of legacy sticks to the teams.
Behind-the-scenes efforts
Pedri-Spade encourages members of the McGill community to take in at least one IAW event. "These are fantastic learning opportunities," she says, "and there really is something for everyone."
Pedri-Spade ends the interview with a shout-out to the people who have put together what promises to be a great IAW.
"I want to say chi-miigwech – thank you – to the amazing staff and community members who have made this possible. It takes many, many months to plan this and people have been working behind the scenes on this long before I stepped into this new position. I am happy and honoured to participate in and support these amazing events."
Indigenous Awareness Weeks runs from September 19–30. Check the IAW website for the full schedule.