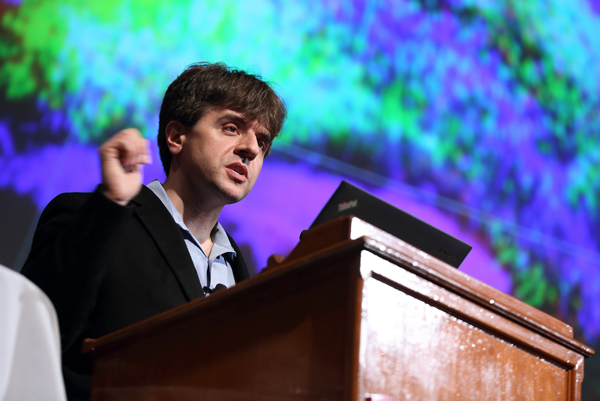 By Meaghan Thurston
A record crowd of just under 500 people attended the annual Beatty Memorial Lecture on Thursday, Oct. 16 with Dr. Karl Deisseroth of Stanford University. Dr. Deisseroth is a practicing psychiatrist and the researcher behind two revolutionary tools for studying the brain: optogenetics, a technique that uses light to control neurons; and CLARITY, a revolutionary method of making brain tissue transparent to observe neural connections and activity. The Deisseroth lab is committed to solving the mysteries of psychiatric disease, and has employed optogenetics and CLARITY to control and examine the brain's complex circuitry as has never been done before.
Thanks to their research, new hope is emerging for the individuals suffering from "treatment-resistant" diseases. "We can now look at the great complexity of depression," said Deisseroth. "We can now listen in on the activity that is taking place deep in the brain."
Using optogenetics, the Deisseroth lab has already demonstrated in mouse models that symptoms of anxiety and depression, as well as of drug addiction and Parkinson's disease, can be improved using non-invasive light-treatment. "By 'turning down' [the activity of] a small population of cells we can eliminate the rewarding effects of cocaine," Deisseroth explained. Using CLARITY, preliminary studies have revealed an abnormality in the neuro-connectivity of autistic brains. "[Using CLARITY] we saw unusual features that CLARITY helped us be confident of – ladder like connections that are not normally seen," he explained. "This structural abnormality would be very hard to see without CLARITY."
Deisseroth's 'star-power' among neuroscience communities worldwide was confirmed at McGill. Many attendees at the lecture, which included a contingent of McGill's homecoming crowd, jostled for front-row seats. Following the lecture, Peter Shizgal, Professor of Psychology at Concordia University demonstrated to Dr. Deisseroth that CLARITY is being employed here in Montreal, revealing a mouse brain that had been made transparent using the Clarity technique.
Watch a recording of the lecture here.